Vietnam is a long coastal country stretching 1650 kilometers (1,025 miles) from north to south. Dotting its narrow landmass are beautiful cities, beaches, and exotic locations. Getting around from place to place can seem overwhelming however because there are so many options to travel Vietnam by air, land, and water.
In this article, we've outlined the different ways of traveling around the country: from fastest and most convenient to budget and boutique options, coupled with slower transportation that takes the scenic route or direct and short means of getting to your destination. We hope this comprehensive guide to domestic travel within Vietnam will help you make the most efficient use of your time in this amazing country!

Listed below are all the ways you can travel Vietnam (click on each link to jump straight to the section):
2)   Travel Vietnam by Private Car
5)   Travel Vietnam by Motorbike
1. Travel Vietnam by Air

Why travel Vietnam by plane?
The fastest way to get around Vietnam is via domestic flights. While it can be more expensive compared to other modes of transport, it is often the most efficient way to get around for those seeking to see much of the country within a limited amount of time. And depending on who you fly with (as well as time of year), an airline ticket can in some cases be cheaper than a train ticket. For most people, it is also the most comfortable means of transport.
When it comes to the domestic airlines operating in Vietnam, you have three choices –
Vietnam Airlines, a full-service, government-owned airline.
Vietjet Air, a low-cost carrier.
Jetstar Pacific, also a low-cost carrier.
Vietnam Airlines, being full service, is the only one of the three that include food/refreshments (determined by flight length), and checked baggage inclusive within the ticket price. On the low-cost budget carriers, the ticket price is generally only inclusive of a 7 kilogram (15-pound) carry-on bag, and no meal. Options for meals and checked baggage will cost additional fees.
So, where can you fly between?
The three biggest airports in Vietnam are HCMC (Tan Son Nhat) in the south, Hanoi (Noi Bai) in the North, and Danang in the central region. Being the main airports, all three airlines have multiple flights every day between them. There are also several other airports scattered around the country. We won't list all the airports but will mention the more popular destinations.
In the centre, along with Danang, there is Quy Nhon which is a little further south, Hue, which is North of Danang, and Dong Hoi, which is further North again.
Up North, with Hanoi, are a couple of smaller airports, including Haiphong, which is up near Halong Bay.
It's important to note that direct flights aren't always available between all airports, and not all airlines fly the same routes. For example, Vietjet is the only airline that flies direct between Danang and Can Tho, just as Vietnam Airlines is the only one to fly direct between Danang and Nha Trang.
Which airports can you use to get to certain destinations that don't have their own airports?
Danang is used to get to Hoi An. Hoi An is about a 40-minute drive from the airport.
Dong Hoi can be used to get Phong Nha Ke Bang National Park, which is about an hour away.
Can Tho, being in the Mekong, is a great way to access that area. It saves considerable time on the road between HCMC and Can Tho.
Hanoi can be used to access Sapa and Halong Bay.
(We've compiled a chart that shows which major airports are served by major Vietnamese airlines below, See official websites for a full list of destinations and flights)

| Ho Chi Minh to | Vietnam Airlines | Vietjet Air | Jetstar Pacific |
| --- | --- | --- | --- |
| Da Lat | X | X | X |
| Da Nang | X | X | X |
| Dong Hoi | X | X | X |
| Hanoi | X | X | X |
| Hue | X | X | X |
| Nha Trang | X | X | X |
| Phu Quoc | X | X | X |
| Quy Nhon | X | X | X |
| Hanoi to | Vietnam Airlines | Vietjet Air | Jetstar Pacific |
| --- | --- | --- | --- |
| Can Tho | X | X | |
| Da Lat | X | X | X |
| Da Nang | X | X | X |
| Dong Hoi | X | X | |
| Ho Chi Minh City | X | X | X |
| Hue | X | X | |
| Nha Trang | X | X | X |
| Phu Quoc | X | X | X |
| Quy Nhon | X | X | X |
| Danang to | Vietnam Airlines | Vietjet Air | Jetstar Pacific |
| --- | --- | --- | --- |
| Can Tho | | X | |
| Da Lat | X | | |
| Ha Noi | X | X | X |
| Ho Chi Minh City | X | X | X |
| Nha Trang | X | | |
So, which airline to choose?
Well, that depends on several factors, including, personal preference, price, flight times and flight availability.
As a matter of general ratings, Vietnam Airlines is generally considered the highest quality and most reliable, followed by Vietjet, and then Jetstar. It's also important to note that the budget airlines are more prone to flight time changes, delays, and even cancellations. It's perhaps better to consider those issues as more often the rule, rather than the exception. This leads us to an important point: It's a very good idea to spend your final night in Vietnam, in the city that you will be flying out internationally. Purchasing last minute international tickets, due to delayed or cancelled domestic flights, can be a very expensive exercise.
Something else to consider if you're planning on traveling to Vietnam during holidays like Christmas and Tết (early February 2019). You should book flights far in advance to beat the crowds of families returning home for the holidays. Seats become limited, and as such, ticket prices rise dramatically.
So, how to book airline tickets?
It's strongly recommended you use the airline's official websites:
Vietnam Airlines
VietJet
Jetstar Pacific

2. Travel Vietnam by Private Car 
Renting a car in Vietnam generally means that you will rent a car with a local driver. Drivers must have a Vietnamese driver's license and if you're not a Vietnamese citizen or a resident you must have a minimum 3-month VISA to be eligible to get a driver's license. Please also note that international driver's licenses are not currently recognized here and at present, only citizens from certain countries can legally drive in Vietnam; if you're unaccustomed to the chaotic traffic, it is probably not a good idea to drive in Vietnam anyway.
Renting a private car with a driver is a great option for travelers looking to explore short distances around their surrounding area comfortably and safely. Renting a car with driver for multiple days is not really feasible unless you are willing to pay for accommodation and meals for the driver as well (read the terms of your rental agreement carefully). Additionally, if you book a one way trip over multiple days, then you will have to incur the cost of the driver returning the car back to the original city in which you rented it. That being said, renting a private car with a driver in Vietnam is relatively inexpensive, and by comparing prices between companies you'll find that prices range from around $50 to $100 USD per day, depending on the type of car.
If you do rent a car with a private driver, be aware that most drivers in Vietnam only speak rudimentary English. Ensure you have a written address of your intended destinations, along with a maps app downloaded on your phone (Google Translate helps as well!). If you require someone who is fluent in English, then you will need to hire a guide, which will increase costs.
3. Travel Vietnam by Bus
While we don't recommend traveling Vietnam by bus, it is the cheapest means of transport between cities. For instance, to travel from Ho Chi Minh City to Nha Trang (over 400 kilometers) by bus, the ticket will only cost you around $8 USD. Overnight sleeper buses are often cheaper, with berths to lie down and sleep. The bus is the preferred way for Vietnamese to get around the country, so if you're looking to travel like a local, this is the way to travel!
Risks of traveling by bus
As a disclaimer, traveling via bus comes with inherent risks: Most bus drivers in Vietnam drive very fast and reckless, so injuries and deaths due to accidents are not unheard of. Even if you do end up with a safe driver, you have no control on the behavior of other road users. Additionally, travelers often complain about the theft of their personal belongings while they sleep, along with their luggage stored during transit. Few (if any) bus company employees speak English, so if an issue occurs in transit, you will likely be on your own.
Moreover, if you are tall or larger than the average Vietnamese, sleeping onboard overnight buses may prove to be an uncomfortably sleepless experience. Bus companies will provide you with blankets, but they are never cleaned. Toilets are quite rare on buses and are often broken, so you will have to wait long periods of time for bathroom break stops. The limited opportunities to get off the bus means passengers don't have time to take photos or explore outside the bus during transit.
Furthermore, rides may be longer than advertised as many of Vietnam's roads are in poor condition. Combined with Vietnam's traffic, it's better to try and entertain yourself with a book or electronic device than try to count down the time. When you reach your destination, factor in the cost of a taxi, as most bus stations are located on the outskirts of cities (away from central attractions).
How can I book bus tickets?
The easiest way to book a bus journey is to go directly to the bus office and book in person, but you can also reserve seats online. Our recommended companies for comfortability and safety include Futabus, The Sinh Tourist, and Mai Linh. These companies often provide water and blankets, along with wet wipes for the journey. Futabus' website is in English, book your tickets here, and to see bus schedules for The Sinh Tourist, you can click here. To compare rates for buses, you can check out this website which gathers information from multiple companies. You may also be able to ask your accommodation to help.
In summing up bus travel in Vietnam; if you're looking for the cheapest option, comfort is secondary, and the driving habits of the locals is of no great concern, then a journey by bus is a great option. Personally, for longer bus trips over 3-4 hours, planes and trains would be our preference.
4. Travel Vietnam by Train
Trains provide an authentic (albeit longer) way to get around Vietnam for cost-friendly prices Trains are safer than buses, along with avoiding the traffic and accidents of Vietnamese highways. They are more comfortable, far more relaxing (with increased legroom), and provide an unforgettable sightseeing experience.
And because the train line runs almost the entire length of the country, using it to stop off at different places as you travel in either direction can be a great way to experience a big chunk of the country. The trains run through many of the main cities and towns, but if yours doesn't actually take you to your exact destination, you'll find that a short taxi or bus ride can take you the rest of the way.
An example of this would be getting to Hoi An from Danang train station. You'll find a list of stations/timetables on the  Man in Seat 61 website, but a quick rundown on the stations that service the main tourist areas between HCMC and Hanoi are Nha Trang, Quy Nhon, Danang, Hue, Dong Hoi, and Ninh Binh. You can also catch an overnight train from Hanoi to Lao Cai, which services Sapa.
There are several seating/accommodation options on Vietnam's trains, including hard seat, (it's a wooden seat) soft seat, (padded/cushioned seat), along with hard berth, (a compartment of 6 berths) and soft berth beds (a compartment of 4 berths). Obviously, the length of the journey will help you decide which option would be the preferred.
Risks of traveling by train
As with any means of transport within Vietnam, you should be aware of the risks which come with taking trains to get around. Onboard hygiene is lackluster, and bed sheets and pillows are not changed often (you may want to bring your own, or perhaps purchase a 'silk' sleeping bag liner when in Vietnam). Most trains depart either HCMC or Hanoi, and then travel the full length of the country over something like 36 hours.  As such, bathrooms may not be cleaned as often as they should during the journey, and amenities like toilet paper may become scarce.
If you book a sleeping berth, (soft berth usually has 4 beds, hard berth has 6) and you don't book the whole cabin, then be aware that you will sharing with strangers.  If this is the case, then you will obviously need to be wary of your belongings. Earphones and/or earplugs might not be a bad idea to help to block out noises. And while you can purchase food and drinks on board, it's perhaps not a bad idea to bring some along with you, as well.
How can I book train tickets?
The official Vietnam Railways site is https://dsvn.vn/#/ and while you can purchase tickets through them, you may have issues getting the site to accept foreign credit cards.  Navigating the site for non-Vietnamese speakers may also be a problem. A very helpful site, which was mentioned above – https://www.seat61.com/Vietnam.htm – has just about everything you need to know about train travel in Vietnam.  While you can't actually book tickets through them, it is very easy to navigate your way around. As far as actually booking tickets, there are a couple of options. You may be able to ask your accommodation if they can do it for you, or you could use an agent like https://www.baolau.com/
Both options will result in a small commission being paid over and above the ticket price, but for peace of mind, it may well be worth it.
5. Travel Vietnam by Motorbike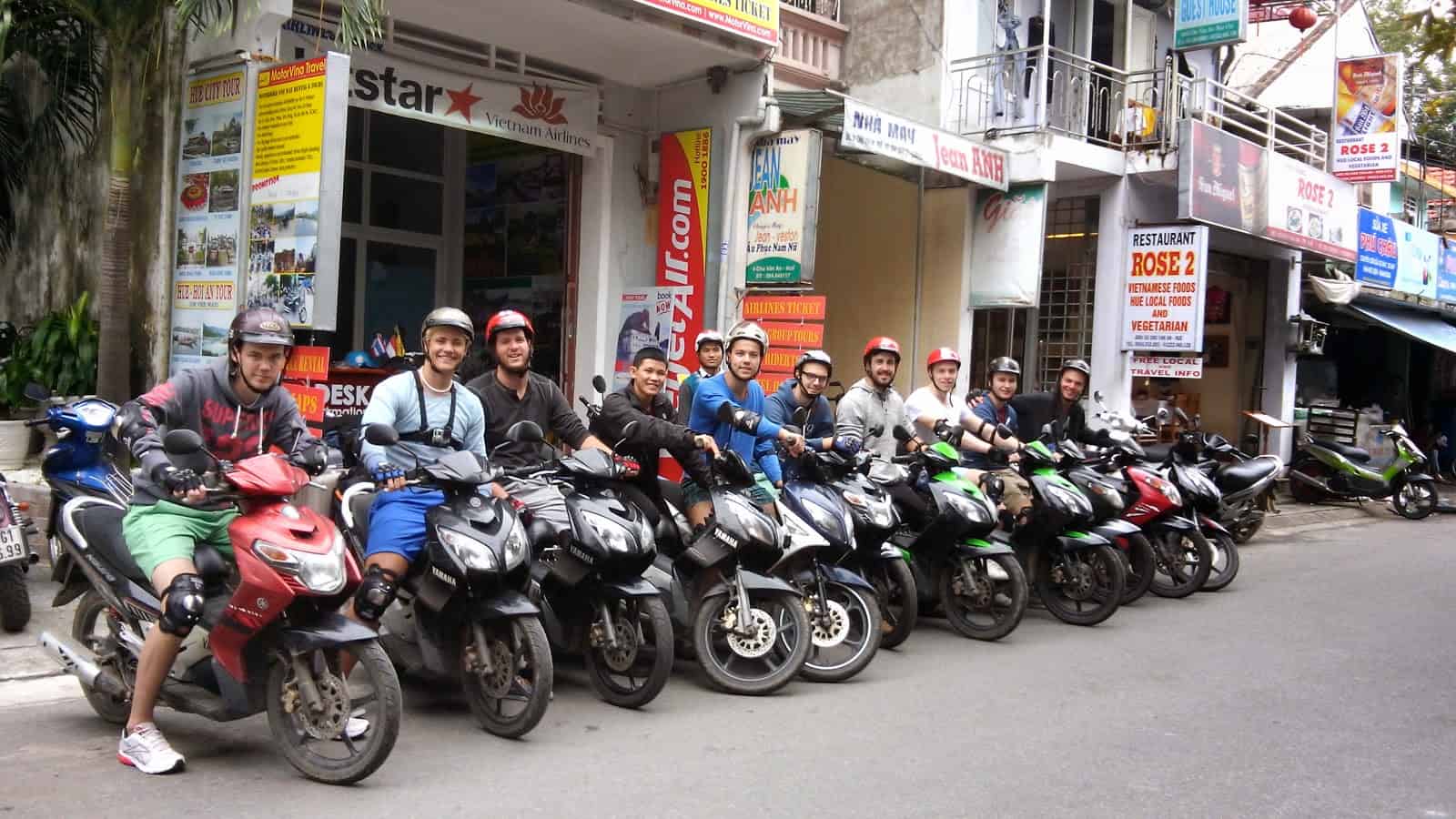 Traveling by motorbike is the ultimate "local" way to experience a nation where motorbikes far outnumber automobiles. Motorbike travel avoids all the inconveniences related to using buses and trains, with the exception of heavy traffic.
Driving license in Vietnam
Like self-driving a car in Vietnam, the same licensing, and therefore insurance, issues apply.  While doing it legally for some citizens from some countries is possible, most cannot. And while many visitors to Vietnam do hire bikes to get themselves around, and do it successfully and without incident, the fact remains that most are technically doing it illegally. All going well you will no doubt have a wonderful experience, but if you are not 'legal', and therefore not insured, and things do go bad, then it is potentially going to become a very expensive exercise. It might be a good idea to speak with authorities in your home country beforehand, to ascertain exactly where you stand when in Vietnam.
Insurance and security
In preparation for your motorbike journey, you should inquire about insurance through your home country. If you drive without a license, it's at your own risk as most insurance companies will not cover you. Crashes do happen in Vietnam, and if you are seriously injured and do not have insurance, you may have to deal with expensive medical care and the costs could run you into the hundreds of thousands of dollars if you need to be airlifted out of the country.
If you still wish to rent a bike, and are fully licensed and insured Tigit Motorbikes is a reputable motorbike rental business which operates out of Ho Chi Minh City, Danang and Hanoi. Tigit is a responsible company which offers their customers western-quality service (unlike its competitors), and they only sell and rent quality Honda motorbikes which are bought new, are regularly serviced and well-maintained. You can book a long-distance travel packet based on the western model of renting cars—it will cost you $250 USD for 1 month or $10 USD day. If you'd prefer a guided tour, there will be all-inclusive packages.
6. Travel Vietnam by Water
Some areas of Vietnam—like Halong Bay and parts of the Mekong Delta—are only accessible via boats. Moving around these areas via guided tour boats is the safest way to experience these natural wonders.
Halong Bay tours range from luxurious, overnight cruises for $200+ USD per pax via companies like Bai Tu Long Bay Cruise to $45 USD budget day tours provided by Charming Vietnam Travel. If you're looking to only spend the day exploring, guided tour boats leave from Tuan Chau Pier and cost around $20 USD. The Mekong Delta hosts an array of boat excursions as well, including Mekong Boat and Experience Travel Group who provide extensive options for luxury, mid-range, and budget tours for all travelers.
For either tour, make sure you bring some form of waterproof bag/container to prevent damage to your phones/cameras.
However you choose to travel Vietnam, we wish you a safe and pleasant journey as you explore this incredible country! If you want to experience some fun and authentic Vietnam Tours while traveling to Ho Chi Minh City, please check out XO Tours!