After you have done a tour of Ho Chi Minh City(notice some tube house style architecture) and if you have an extra day in your travel itinerary, short outings are a great option and incorporated themselves in your Vietnam day tour. 
*We recently put together for you an itinerary for exploring Ho Chi Minh City as part of our Custom Itineraries for Vietnam series.
Fortunately, outside the city, there are several things to do where you can go to get away and experience a different environment.  Just hours away from Ho Chi Minh City, you can find beaches, jungles, swamps, islands, rivers, villages, and more.  Whether you are traveling alone, with kids, or in a group, there is a unique experience near HCMC for everyone!  Here is our take on the Top 5 places to go from Ho Chi Minh City. 
Top 5 destinations from Ho Chi Minh City:
---
1. MEKONG DELTA
The Mekong Delta is the fertile region south of Ho Chi Minh City where farmers grow the majority of Vietnam's supply of rice, durian, and other fruits and vegetables.  The Mekong River, which starts at the Tibetan plateau, flows into a series of 9 small tributaries which finally empty into the sea.  The delta region is home to farmers and small business owners who live a relaxed pace of life. 
This region is incredibly vast, but fortunately, it doesn't take too much time to really get a feel for the area.  The waterways and canals in the delta are what predominantly connect one area to the next, so much of the exploration in the delta is centered around the waterways.  Some activities you can take part in are fishing, canoeing down the canals, and eating fresh fruit from floating markets.  A trip on a sampan boat (a type of canoe) down the backwaters is especially fun because the surroundings are incredibly peaceful and mystical.  Many tours will also take you to durian orchards, rice paper factories, fruit candy factories, rice fields, and local markets.  Another site that you may want to visit in the Mekong Delta is the 'fish toilet'.  In this unique example of the 'circle of life', the fish toilet is a specific outdoor makeshift toilet where humans go to the bathroom in the river, and then the bottom feeder fish digest the excrement.  Ironically, river fish are an essential part of the human diet in this region… 🙂
The Details:  The Mekong Delta has many small towns where tourists can visit to get a feel for the region.  Some are closer to Ho Chi Minh City than others, while some offer more of an authentic experience than others.  For instance, Cai Be is one of the locations where you can do most of the Mekong Delta activities and is considerably less touristy than My Tho or Can Tho.  If you take a tour to the Delta, they will arrange a bus or car transport for you.  The best way to explore this area is through a tour so that you can experience all the unique activities there, and you can easily do many of the activities in one day.  The drive from Ho Chi Minh City to the general delta region will be around 1.5 to 2 hours.  Take a look at our recommended unique tour companies that will take you out to the Mekong Delta.  

---
2. CAN GIO ISLAND
Also known as Monkey Island, Can Gio Island is actually a series of small islands just jutting out from the mainland near HCMC.  This nature reserve comprises of 80,000 hectares of mangroves and water coconut forests.  During the Vietnam-American war, this area was severely deforested by agent orange, resulting in a vast decline of native flora and fauna.  Today, a Vietnam's UNESCO recognized biosphere, this swampy mangrove forest is home to hundreds of monkeys and crocodiles.  Inside the nature reserve is Lam Vien Can Gio, the crocodile sanctuary where the island's crocodiles live together.  Although this area is fenced so that the crocodiles can't escape, the barriers don't keep the monkeys out.  The interaction between the native crocodiles and monkeys can be quite unique; naturally, these creatures are this area's main attraction as well.  
The monkeys here are comical at times but quite mischievous.  They steal anything from anyone if they can, and they enjoy taunting the local salt-water crocodiles.   In the forest reserve, you can feed the crocodiles with eels or small snakes which may sound creepy but ends up being an interesting experience.  You can also fish for crabs, watch bats, and feed monkeys.  Can Gio island is also a historical site, as the mangrove forest was an important guerrilla base.  Many life-size models are dispersed throughout that show you some of the activities that were performed there during the war.  Finally, though there are beaches and a few beach resorts there, they are not especially noteworthy.  They may be worth a visit if you want to relax and get away from the heat, but they are hardly the best beaches that Vietnam has to offer.  Be sure to take plenty of insect repellent and sunscreen, and be careful not to have food or drinks as the monkeys may be tempted to snatch them away from you.  
Details:  Can Gio island is one of the best single day travel ideas from Ho Chi Minh City, but it is fairly straightforward so it can be easily visited on your own, as long as you are comfortable with the idea of public transportation in Vietnam.  To get there by public transportation, you need to take bus #20 at the Ben Thanh bus station (in front of Ben Thanh Market) to Nha Be district.  After about 45-50 minutes, you will arrive at the Binh Khanh ferry terminal.  This ferry ride across the Nha Be river will bring you to Can Gio district.  From there, in order to enter Monkey Island and the mangrove forest, you need to take bus #90 to Can Thanh.  The bus will pass mangrove forests on both sides and you will need to get down at Lam Vien Can Gio.  This is the entrance for the main attractions.  The entrance fee is 30-35,000 VND per person.  In order to visit the guerilla base, you can take a canoe ride which goes down the mangrove forest canals and takes about 10 minutes.  It will cost around 500,000-600,000 VND for 6 people. 
---
3. CU CHI TUNNELS AND CAO DAI TEMPLE
Throughout the Vietnam-American War, the Viet Cong built an enormous network of tunnels that were used as meeting points, hiding places, supply routes and more.  The Viet Cong (North Vietnamese fighters) often spent many days or weeks at a time in the tunnels, speaking to their sheer strength and will power.  Not only were the tunnels elaborate, but the traps and unique weapons that they used in conjunction with the tunnels were astoundingly innovative.  Ultimately, their ability to use the tunnels as a means to house troops and move supplies greatly contributed to the eventual withdrawal of American troops.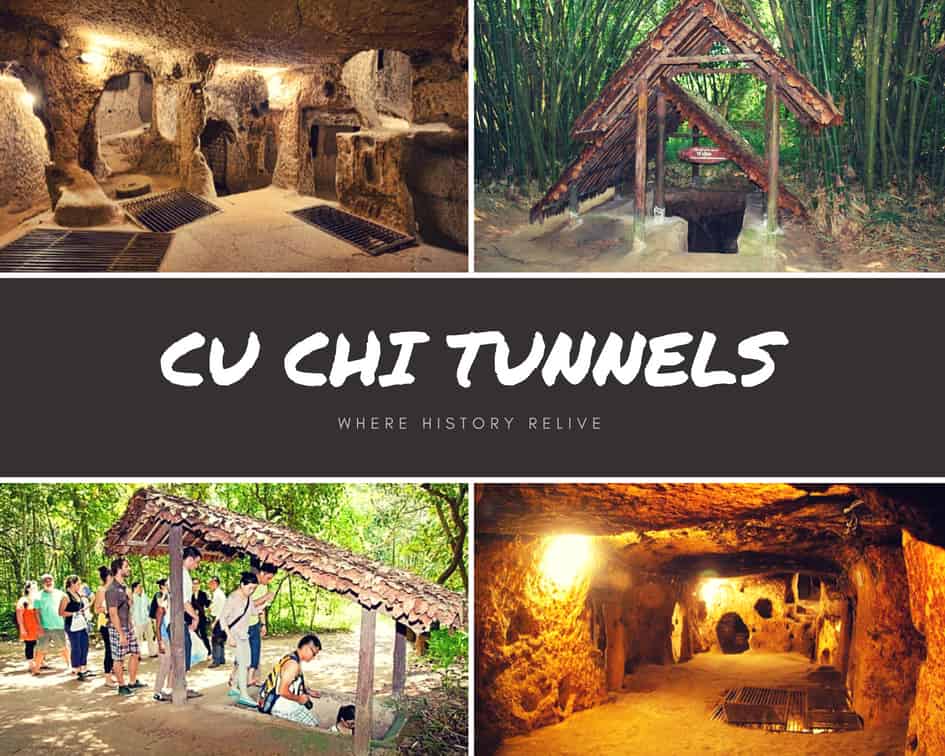 Today the Cu Chi Tunnels are a big tourist attraction near Ho Chi Minh City.  At the tunnels, tourists can get a greater insight into life in the area.  They show you how the residents and soldiers repurposed war materials to make everyday items, how they survived for long periods of time in the tunnels, and even how they passed supplies to soldiers within the tunnels.  They also have a shooting range there where visitors can shoot the military guns used at the time. The tunnels are a great way to spend half a day understanding an integral part of Vietnam's history.  On the way there or back, you can make the trip a little longer and stop at the Cao Dai church. Cao Dai is a new religion created in Vietnam but already has a massive following. They have built a beautiful temple in Tay Ninh near Cu Chi, which is also the main centre for the religion.  If you time it right, you can view a service where hundreds of monks pray at one time.  It is quite a sight! 
Details:  To get to Cu Chi, you have a few different options.  You can take a private car, open tour bus, or public bus.  If you prefer a full tour of Cu Chi tunnels and the surrounding area, many tour companies offer a car or boat tour, but keep in mind that tours to Cu Chi are offered for free as well.  When you arrive there if you are not part of a tour group, a tour operator that works there will herd you into a group and give you a free tour, which is the exact same as the pre-booked tours although the operator's language skills may be better in the paid tour.  Many of the open tour buses leave at 8 am and will cost around $5 for both the ride and a tour of the tunnels.  Or, if you want to go by public transport, you can take bus #13 from the BẾN CV 23/9 bus station (between Lê Lai and Nguyên Thi Nghia streets) for about 7000VND per person.  The last stop on the route is Cu Chi, which will take about 1.5 hours to get to. Once you are dropped off at the Cu Chi bus station, take bus #79 which is the bus will take you to the tunnels. It takes about 45 minutes to get to the tunnels using the #79 bus and costs 6000 VND per person. Make sure you tell the bus driver that you want to get off at the tunnels. Note that there are two tunnel sites – the main one is Ben Dinh and the other one is Ben Duoc.  Most tours will take you to Ben Dinh, but the public bus stops at a T-junction where you will get off and walk to the right to get to Ben Dinh.  It's about a 20-minute walk from the junction to the Cu Chi ticket counter. Admission to the tunnels is 90,000 VND per person.
At the Cao Dai church, a mass is held at 6 am, noon, 6 pm and at midnight.  Most tourists go to the midday service.  They have built a balcony that overlooks the main service hall so that you can get a really good view of the ceremony.  Many tour companies, especially the open tour bus companies, offer a complete tour that takes you to Cu Chi, the Cao Dai church for the midday service and back for around $7-10.  Most tours in Vietnam start early around 8 am so if that doesn't work for you, a private tour may be the best option.
---
4. VUNG TAU
Vung Tau has historically been an important seaport for Vietnam, especially during the French rule.  It was also a strategic military base during the Vietnam-American War. Interestingly, Vung Tau was one of the epicentres of the Indochina Refugee Crisis in the late 70s because of its access to the sea and its proximity to other countries in South East Asia.  This area was the launch point for many of the 'Vietnamese Boat People', the local residents who fled to neighbouring countries after the end of the war.  Despite its controversial history, nowadays Vung Tau is a small, yet bustling, coastal community and an important centre for Vietnam's offshore oil drilling industry.
Only 2 hours outside Ho Chi Minh City, many locals visit Vung Tau as a quick beach getaway.  If you have been to many international beaches, the beach itself in Vung Tau may pale in comparison as it can often be dirty and littered.  That being said, Vung Tau is quite the charming town with plenty of other activities to fill your day besides a beach visit.  There are small mountains that surround Vung Tau and are a quick hike up.  If hiking is not your thing, there is a gondola ride up the biggest mountain for a great view of the bay.  And if you're a foodie, Vung Tau is a great place to try out local specialties like 'banh khot' that can be hard to come by elsewhere.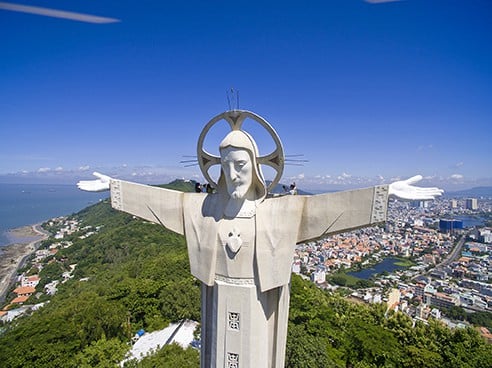 Details:  To get to Vung Tau by bus or coach, many of the open tour bus companies run 12- to 16-seater air-conditioned vans which run every 15 to 30 minutes and drop you off in the centre of the town.  Many of them will even give you a free bottle of water for the trip.  Alternatively, you can hire private transport vehicles from the main taxi companies in Ho Chi Minh City (Mai Linh and Vinasun) or your hotel can easily arrange a private car for you.  The drive takes roughly 2 hours.  Until recently, there was a very convenient Hydrofoil that ran between the harbours of Ho Chi Minh City and Vung Tau but a fire on one of the vessels in February has suspended all hydrofoil travels.  
---
5. HO TRAM BEACH
Also located in the Vung Tau province, Ho Tram beach is possibly one of the best beaches within close proximity of Saigon.  The area where Ho Tram is located was originally known as a sanatorium where the diseased would be taken for holistic treatment.  Nowadays, it is simply a small fishing and tourism town with pristine beaches and very few hotels.  With renewed plans currently underway to increase development in the area, many speculate that the Ho Tram area will become the next Nha Trang.  Recently, a Canadian development company built the magnificent hotel The Grand Ho Tram Strip, a Vegas-style resort and casino, the only one of its kind in Vietnam.  
Currently, Ho Tram is visited mostly by wealthy Vietnamese as a quiet retreat and by tourists looking for an escape from the bustling cities.  As a result, the Ho Tram beach and nearby Ho Coc beach are immaculately clean.  In fact, The Grand Ho Tram resort has flattened their proximate beach area quite far out so not only is the water clean but also relatively safe as you can go quite a ways into the water and still only be waist deep.  If you are traveling with kids on a Vietnam family holiday, this resort on Ho Tram beach is a safer choice since the beaches in Vietnam are generally unmanned.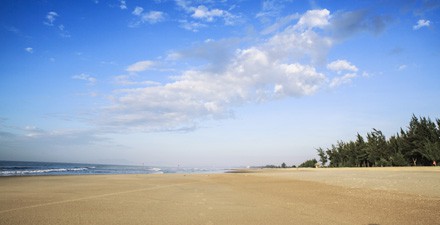 Details:  Ho Tram beach is more remote than Vung Tau, so getting there can be arduous by public transportation – in fact, you would have to go to Vung Tau first and then find your way to Ho Tram from there, but it is still a 45-minute trip from Vung Tau.  The easiest way to go to Ho Tram beach is by private car or shuttle.  The hotels in Ho Tram can arrange a shuttle or car for you from Ho Chi Minh City.  If you have a room booked, the shuttle is free of charge.  Without a booking, the prices vary depending on which mode of transport you prefer.  The Grand hotel even offers a helicopter pick up if that's your style!!  By road, Ho Tram beach is 1.5-2 hours away from Ho Chi Minh City. 
---
We hoped you enjoyed these tips for exploring outside HCMC. Remember, if you are short on time and want to explore HCMC, we offer a Forbes acclaimed tour of the sights of Ho Chi Minh. Check it out!