Vietnam is a great country to visit with kids. Not only because it is one of most affordable countries for families to travel to; it also offers many fun and interesting activities for travelers of all ages and will open the minds of your children to a unique foreign culture. In recent years, there has been a massive growth in the number of people coming to Vietnam which has helped spur the development of reasonably-priced family accommodation options, theme parks and activities targeting families with children. With so many things to do in Vietnam for families, it may be hard to separate the wheat from the chaff, so we put together this guide to summarize the top experiences we believe children will love in each area of this magnificent country!
TABLE OF CONTENTS:
(Please click on the links below to jump directly to the topic you want to explore)
Great Activities for Kids in Saigon
Saigon is arguably the best place in Vietnam for traveling with kids. It's a much younger city compared to Hanoi, and has the same kind of youthful energy you might expect from a country where the majority of the population is under the age of 33. Because Saigon is also the largest city in Vietnam with the most families, the city also boasts way more child-friendly activities than anywhere else in Vietnam, as summarized below.
3 Hoa Binh, District 11
Average Time Spent: 5 hours
Price: 160,000 VND ($7) for those over 1.4 meters; 120,000 for 0.8-1.4 m; free under 0.8 m
Opening Hours: 9 am-6 pm on Monday to Saturday; 8:30 am to 6 pm on Sundays
In Vietnam's hot, humid climate, any chance for a refreshing aquatic activity is welcome. In Saigon's District 11, you'll find such a place in Dam Sen Waterpark. Adults and children alike can relax and cool down—a great (and cheap!) way to escape the notoriously hot Saigon afternoons.
The park has a whimsical decoration scheme, with structures like mushrooms and dragons nested in between the wave pools and water-slides. Dam Sen is the most popular waterpark is Saigon and will be packed with local, especially during the weekends and holidays.
Vietopia
02-04 Đường số 9, District 7
Average Time Spent: 4 hours
Price: 190,0000 VND ($9) on weekdays; 280,000 VND ($12) on weekends
Opening Hours: 8 am-4 pm on Tuesday-Friday; 9 am to 7 pm on weekends
Vietopia is a unique entertainment center for young children that allows them to put themselves into the shoes of a working adult within a miniature city. Kids can try out a playful variation of many adult jobs, from astronauts, to firefighters, to archaeologists, etc. They will be provided costumes and the children must undergo "training" for each job, just like real professionals. Each activity lasts about 20 to 30 minutes. The area is fully air-conditioned and there is a food area.
Although the staff at Vietopia don't speak much English, most of the play areas don't require English to enjoy. We mostly recommend Vietopia for children under the age of 12.
Artinus 3D Art Museum
2 Đường số 9, District 7
Average Time Spent: 2.5 hours
Price: 260k ($11.50) on weekdays and 300k ($13) during the weekend
Opening Hours: 9 am-6 pm on weekdays; 9 am-8 pm on weekends
Artinus is a huge 3D museum located nearby Vietopia, so your kids can easily visit and enjoy both locations in the same day! Artinus covers 2 floors and is filled with unique 3D painted backgrounds that you can insert yourself into, for some truly memorable photos. We love that there are place-marks showing you where to stand to get the best photo possible. Kids will feel like they've walked straight into Alice in Wonderland when they pass through the doors of Artinus. The huge variety of backgrounds will keep your kids busy for hours, and the best part is that you'll have a camera full of timeless souvenirs at the end of the day. 
Protip: We would recommend visiting this museum on weekdays when it will be much less busy.
Binh Quoi Travel Village
48/10 Dien Bien Phu, Binh Thanh District
Average Time Spent: 3 hours
Price: Free; buying food or renting a bungalow will cost upwards of 200k ($9)
Opening Hours: 9 am-11 pm daily
Although Saigon has some great public parks, they are not always clean or well maintained. Binh Quoi, on the other hand, is privately owned land and provides an endless expanse of well-manicured grass, quaint stone outcroppings, and lush flora that offers a great escape from the chaotic streets of the city.
Binh Quoi Village also has other amenities, such as a monkey bridge, an evening street food market, a fishing pond, bungalows, and an outdoor restaurant that offers a massive buffet on weekends.
It should be noted that Binh Quoi is split into three parts. The restaurant and huge park are at Binh Quoi 1, a sports complex is located at 2, and 3 is a smaller park. Binh Quoi 1 is probably the best place for families.
Exploring The City Like A Local For Families
Going on a street food adventure — If you kids love excitement, there is nothing quite as thrilling as exploring the lessor known areas of the city on a scooter food tour. Your children will love being part of the hectic Saigon traffic instead of having to dodge it. XO Tours, which is run by a team of educated women, offers the safest way for families to experience the motorbike and street food culture of Vietnam!

 

Exploring the parks —

Saigon is famous in Vietnam for its many large public parks.  It doesn't hurt, either, that Saigon's public parks are generally in the middle of the action, surrounded on all four sides by slowly cruising motorbikes and street food stalls. Parks are some of the best places in Vietnam to see the local people relax, play and eat. 

Tao Dan is one of Saigon's incredible parks. (Photo: ttnotes.com)
Some of Saigon's best parks for children include:
23/9 Park, District 1

Le Van Tam Park, District 1

Tao Dan Park, District 1

Ho Ban Nguyet Park, District 7

Gia Dinh Park, Go Vap District

Hoang Van Thu Park, Tan Binh District
Saigon Day Trips for Families
Saigon is a very exciting place, but the breakneck pace of life there can become a bit much sometimes even for children. Luckily, there are lots of day trips from Saigon that can provide a break from the chaos of the city.
Bike Tours in the Mekong
For the active family, a bike tour is a great way to get some exercise in while sightseeing in Vietnam. Areas like the Mekong Delta are ideal for cycling, due to the beautiful scenery and flat terrain. Companies like Vietnam Bike Tours organize private family cycling tours, from day trips to week-long excursions.
In addition to organizing tours, a support vehicle is provided by Vietnam Bike Tours in the event of any issue, along with being able to transfer your family to the next stopping point if they are tired. These tours are designed to accommodate special requests, including biking level and the age of your children.
Cu Chi Tunnels
The Cu Chi tunnels is a network of intricate tunnels located northwest of Saigon that were dug during Vietnam's war for independence from the French and then expanded during the Vietnam-American war. The tunnels were mostly used by the Communist guerrillas to hide from their enemies and to transport supplies. The tunnels also hosted their own communities of Viet Cong fighters and their families and were integral in helping the guerrillas survive aerial bombing by the Americans. Today the Cu Chi Tunnels is one of the most popular tourist attractions in Vietnam and offer a fascinating look into the life of the people that lived there.
You can book a private tour with an English-speaking guide who will walk you through the different levels of the tunnels. Through this experience, you'll learn about what it was like to live in the tunnels full-time.
Above ground, the tunnels host a shooting range with Vietnam War-Era weapons, which is an exciting activity for adults and older children alike. It's not cheap though, with each bullet costing $1 USD and up, depending what type of gun you shoot.
You can get to Cu Chi via motorbike, public bus, tour bus, private car, and even by boat. Keep in mind that there are two sites for the Cu Chi tunnels: The more popular Ben Dinh, where tunnels have been widened to accommodate western visitors, and Ben Duoc, which was part of the original tunnel complex and is located a bit further away. Entry tickets to Cu Chi costs 90,000 VND ($4) per person but most tour operators will include the cost in their tour price.
Can Gio
Kids will be fascinated by the wild monkeys and alligators at Can Gio's famous "Monkey Island." The huge forests and beaches of Can Gio are also a great place for children to explore.
Half the appeal of Can Gio is the trip there. It's a suburban district of Saigon, and to get to the side with Monkey Island and the beach you'll have to cross the river on a ferry and ride down a scenic highway. You'll whiz by deep green rainforest stretching as far as the eye can see, and children who love nature will be enraptured by the area's charm.
Ending the day at one of the fresh seafood shacks lining Can Gio's oceanfront is a great way to top off a fun day trip to Can Gio!
Although you can visit Can Gio on your own, the area is quite large and with so many different things to see, you might consider booking a tour through a reputable tour operator. 
Great Activities for Kids in Hanoi
Because Hanoi is a much older city than Saigon, it is full of a colorful old-world charm with which kids and parents alike can fall in love. Saigon may have a greater volume of children's activities because it is a younger city and has more land to work with, but Hanoi is the most-visited city in Vietnam for a reason: it's got a lot to do in a relatively small area. Here are some of the best activities to do with kids in Hanoi.
Water Puppet Shows
Average Time Spent: 2 hours
Price: Varies, but usually around 200k ($9.5)
Opening Hours: Varies, but shows usually take place in the evening
Skilled puppeteers, standing behind a stage filled with water, reenact stories from rural Vietnamese life, including harvesting, fishing and ancient folklore. The puppets are animated by up to 8 puppeteers hidden behind a split bamboo screen. Both children and adults alike will be delighted by the technicolor puppets on sticks that appear in this traditional Vietnamese storytelling medium.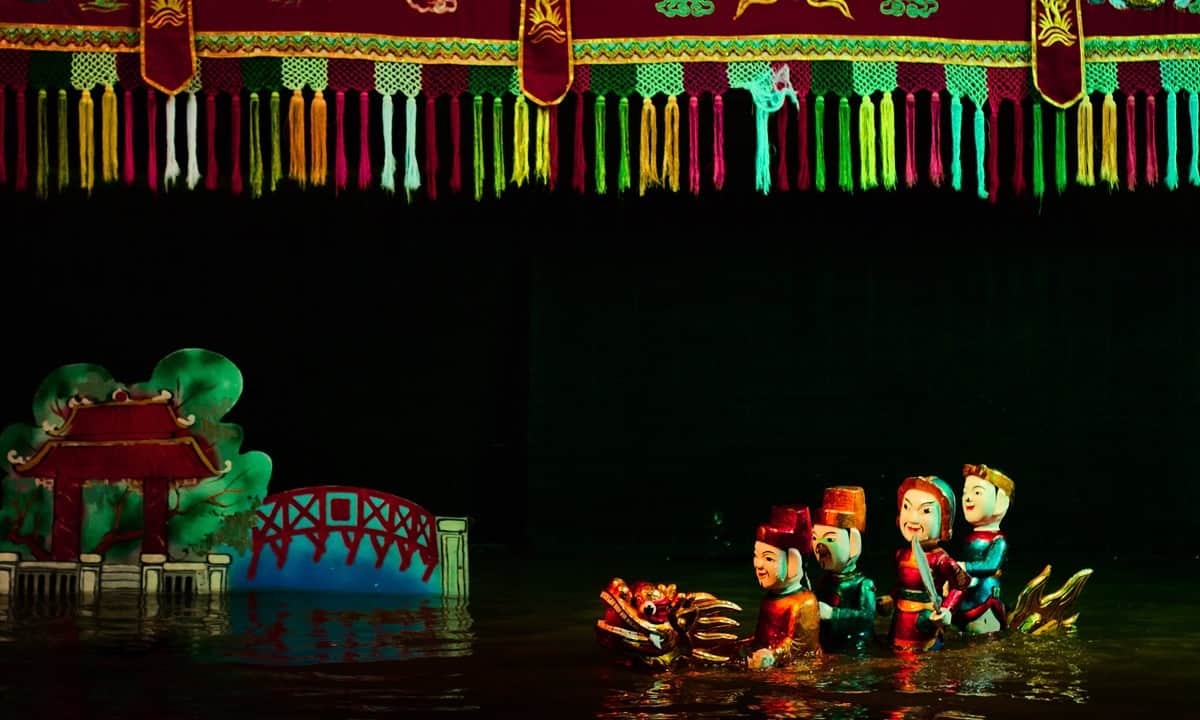 There are a lot of venues for water puppet shows in Hanoi. Some of the most popular are:
Thang Long Water Puppet Theater, 57b Dinh Tien Hoang, Hoan Kiem District

Vietnam National Puppetry Theater, 361 Truong Chinh, Thanh Xuan District

Vietculture Space, 16 Le Thai To, Hoan Kiem District
West Lake Mini Golf
79 Vo Chi Cong, Tay Ho District
Average Time Spent: 2 hours
Price: 100k ($4.5) for kids; 120k ($5.5) for adults
Opening Hours: Noon-10 pm on weekdays; 10 am-10 pm on weekends
Mini Golf is a great activity for families. It's active enough to keep kids occupied without being too intense, competitive without being cutthroat, and it takes just the right amount of time (about two hours) for a fun night out. West Lake Mini Golf is located just next to perhaps the most upscale part of Hanoi. There are a lot of good dining options nearby, so it is a perfect way to fill one of the evenings on your family's Hanoi itinerary.
Tiniworld
229 Tay Son Street, Dong Da District
Average Time Spent: 3 hours
Price: 100k ($4.50)
Opening Hours: 9:30 am-9:30 pm
Tiniworld is a great kids activity for those under 11 years old. The most central location of the place has two floors with a ball pit, a fishing pond, a toy room, a room dedicated to building with Legos, a figurine-painting station, and a computer lab. Most of the clientele are Vietnamese, but children have a way of bonding with any playmates regardless of language. In fact, it will provide a good experience for your kids to immerse themselves in the culture.
Exploring the City
Roaming the Old Quarter

— Kids will never tire of the sights in the Old Quarter, the tourist center of Hanoi. Every street is swarming with people and motorbikes, and either side is lined with shops or street food vendors. It's very crowded, but it is also the pinnacle of Vietnamese Street Culture.
The Toy Street —

A guide of what to do in Vietnam with children would not be complete without mentioning Luong Van Can, Hanoi's Toy Street. It is packed with dozens and dozens of toy stores. Many of the wares sold are cheap knockoffs, but you can also find quality handmade stuff if you look hard.

Botanical Gardens/Hoan Kiem

— Hanoi's public parks aren't as impressive as Saigon's, but the botanical gardens near Hoan Kiem Lake are incredible. They are huge and fairly well-maintained, offering kids a much-needed respite from the cramped streets of Hanoi. Hoan Kiem Lake itself is also great for families, as it's calm and pretty but surrounded by the bright sights and sounds of the city.
Hanoi Day Trips for Families
As mentioned previously, Hanoi is a very tightly-concentrated city and does not have many activities that allow children and families to really spread out and get some fresh air. There are some great places outside the city, though.
Bat Trang Pottery Village
Bat Trang is a hands-on way for kids and adults to have fun and learn about traditional Vietnamese crafts projects in an authentic setting. Tour-goers will be brought to the village's ceramics studio and taught how to hew their own items on the pottery wheel. The classes are well-led and peppered with interesting information about local culture. The village itself is also a fascinating place for families to explore together, with delicious food stalls and ancient temples dotting its streets.
The village is just on the other side of a river about 13 km from central Hanoi, and the satisfaction your child will get from taking home a bowl or cup they made themselves will be priceless.
Ba Vi National Park
Hiking in Ba Vi National Park is a great outdoor activity for families that like the idea of a real jungle adventure. It lies on a heavily forested mountain about 65 km from Hanoi's Old Quarter, and is definitely not for those unwilling to get their hands dirty. There are multiple trails on the mountain, and they go by gargantuan pine trees and roaring waterfalls. You'll come across all kinds of wildlife on the way up, including a wide variety of birds and bugs, so remember to bring bug spray. Another tip is to get a map as you enter the park at the bottom of the mountain; they are not available anywhere else along the route.
There are some really cool pagodas at the top of the mountain, as well as a huge statue of Ho Chi Minh. Kids will love reaching the hallowed monuments after trekking all of the way up the mountain — they will see it as the reward at the end of a long quest.
Duong Lam Ancient Village
Duong Lam is over 1,200 years old, and it shows in the antiquated and quirky charm of the town. It was home to kings and famous generals in days of old, but it has a lot more to offer than history. Kids will love stretching their legs on the locally-run bicycle excursions through the surrounding countryside, where they will zoom past rice paddies, people making gooey candies in front of their houses, and grazing water buffalo. Many of the tours also take you into the houses of local families to eat a meal.
The streets of the village itself are clean and spacious, without nearly as many motorbikes as large Vietnamese cities.  It's a wonderful place for kids to get away from the hustle and bustle of Hanoi.
Great Activities for Kids in Danang
Danang has only recently emerged as a major city in Vietnam. It is big and fairly well-developed but does not have as many activities targeted to kids as Saigon and Hanoi. Children who only like organized activities might see this as a negative, but those who like running on the beach and venturing up mountains will probably love Danang.
Exploring the City
Hitting the Beach —

Danang has the best beaches of the major cities in Vietnam (the best beaches of all are found in Nha Trang, described below).
For instance, there is My Khe, which sports a boardwalk, some of the whitest sands in Vietnam, and water so blue you'll hardly believe it's natural. Unlike most beaches in Vietnam, My Khe is kept free of garbage, and kids will be able to play on the open expanses of pale, pristine sand for hours.
There's also Non Nuoc Beach, which is a little more secluded and not as touristy. The sand and water are similarly idealistic, but the mountainous backdrop and the odd black fishing boats that float in the deep water give Non Nuoc a more solitary feel older children may enjoy more.
Sun World Danang Wonder (Asia Park)
1 Phan Dang Luu, Hai Chau District
Average Time Spent: 5 hours
Price: 100k ($4.50) for children, 135k ($6) with buffet; 150k ($7) for adults, 235k ($11) with buffet
Opening Hours: 3 pm-9 pm on weekdays; 3 pm-10 pm on weekends
Kids love a good amusement park. Unfortunately, most of the ones in Vietnam are old and dangerous. Not so with Asia Park in Danang. The roller coasters and other thrill rides are actually well-maintained and clean. They might be too intense for young children, but older ones will likely have a great time. The main attraction is the 115 meter (377 foot)-high Ferris wheel, which offers an impossibly gorgeous view of the city, the ocean, and the mountains.
Visitors to the park note that it is a great opportunity to soak in Vietnamese teen culture, which will be fascinating for kids 13 and up. They also comment that one of the best activities in the park is the all-you-can-eat buffet included in one of the ticket combos.
Danang Day Trips for Families
As we mentioned above, Danang is surrounded by a lot of natural landmarks that make for great day trips. Let's look at activities that are especially good to do with kids, though.
Ba Na Hills
Ba Na Hills is about 42 km from the center of Danang. It's a bit of a drive and then a bit of a ride up the mountain in one of the world's longest cable cars. It's a pretty journey though, and children will love it. Besides, it is well worth it for families willing to put aside a day — Ba Na Hills is almost certainly the best theme park in Vietnam.
As you enjoy the beautiful view on your way to the top, you'll be able to gain a new perspective on the Danang-Hoi An region. The newly-opened Golden Bridge has quickly become Vietnam's top sightseeing attraction, suspended between two giant hands as it overlooks panoramic mountain views. 
The park itself is basically a strange mixture of old Europe and fantasy elements, so there is something for both young and older members of the family to enjoy. The Fantasy park offers some fun rides and lots of games for kids. Culturally, the park  has a lot of walk-through exhibit halls that offer a great backdrop for family photos. 
Ba Na Hills child's ticket is 600,000 VND ($26) and an adult is 750k ($33). If you think 1 day at the park is not long enough and want to stay the night, you can stay at the Mercure Bana Hills French village. 
Cham Islands
A Cham Islands tour is a great way to spend the morning and afternoon with families that appreciate rustic beaches. A boat will take you to the first island, which is home to a quaint fishing town with some souvenir vendors and ice cream stalls on the outskirts. Walking through the town will bring you to an ornate pagoda where the family can relax with an iced tea. The island also has a museum showcasing specimens of local wildlife preserved in jars. Kids interested in ocean critters will love it.
At an agreed-upon time, the boat will bring tour-goers over to another island that is decidedly more beach-oriented. Adults can lie back under the palm trees while kids play on the clean beach and in the warm water. Everyone will also be given an opportunity to go snorkeling from a boat a ways offshore. A healthy meal is served at the island's bungalow restaurant afterward, and reviewers rave it was one of the best they had in Vietnam.
Activities for Kids in Smaller Cities
Saigon, Hanoi, and Danang are the three largest cities in Vietnam but there are many other smaller cities up and down the country that are just as fun for kids and families.
Mui Ne
If your family is looking for a relaxing beach getaway, look no further than the beaches of Mui Ne. A well-known spot for water sports, Mui Ne is the perfect play to try your hand at surfing, kitesurfing, and windsurfing.
Mui Ne's sand dunes are perhaps the largest expanses of wide open space you'll come across in the entire country of Vietnam. The expanses of red or white sand (depending on which dunes you visit) stretch further than the eye can see. Children can hike the dunes on foot like explorers in the desert, and the older ones who are comfortable behind the wheel can rent a quad-bike to zoom up and down the sand. Your family can even rent a hot air balloon to float over the dunes, although that's significantly more expensive.
There's also the fairy stream, which is amazing in its own right. The spectacularly-colored rock formations to be viewed while splashing through rushing one inch-deep water are otherworldly. 
The town of Mui Ne is small and sleepy. Don't expect to find organized activities specifically for kids here like in one of the big cities. The fishing village at the seashore is very interesting for kids who want to see the exciting side of local life, though. The tours that can be booked in town or online will take you to the fishing village, the fairy stream, and both sand dunes in an open-air jeep.
Nha Trang
When it comes to Vietnam's beaches, Nha Trang is second to none. Nha Trang is protected from the powerful mid-Vietnam wind by its barrier islands and mountains, so the weather is absolutely gorgeous. Kids will be enraptured by this tropical paradise, and their parents will love it just as much.
Resorts in Nha Trang are built to western standards, and it has become one of the country's most popular tourist spots. One of the best places to stay in Nha Trang with kids is at the massive Vinpearl Resort complex. Adjacent to the resort is Vinpearl Land, featuring a whole slew of kids activities — an aquarium, roller coasters, and a large water park.
Hoi An
Hoi An is not a huge city, but it is easily one of the most popular tourist destinations in Vietnam and a great place to bring kids. It's only about 30 minutes from Danang and its beautiful beaches, but there is enough to do just in Hoi An to keep your family occupied for days.
In the center of Hoi An is the rustic Old Town, which is full of charming sights. There are the old, pre-colonial houses. There is a covered "dragon bridge"  that you may have seen printed on Vietnam's 20,000 VND note. There are lots of cute little shops selling clothing, high-quality leather, handmade jewelry and souvenirs. Not to mention the many inexpensive street food stands, many of them selling desserts like ice cream rolls that kids will love. And once a month, the center of town lights up with a floating Lantern Festival.
If you're looking to introduce your children to local culture, the sprawling farmlands surrounding Hoi An is a great area to explore. There are some great tours that will take travelers through the rice paddies and with stops at local houses to learn more about the culture. Some of the countryside tours will even offer interactive activities like casting fishing nets, how to make reed mats, cook local food and even how to navigate the river on the basket boats traditional in the area.
Another good idea to try in Hoi An with kids is a cooking class. Hoi An cuisine is famous for being some of the tastiest in Vietnam, and families who learn how to make it together will form everlasting memories in addition to getting a taste of local flavor. Kids love tackling projects with a tangible result, too. Hoi An Food Tour's Eco Cooking class is fun and healthy, and it includes a ride in a basket fishing boat.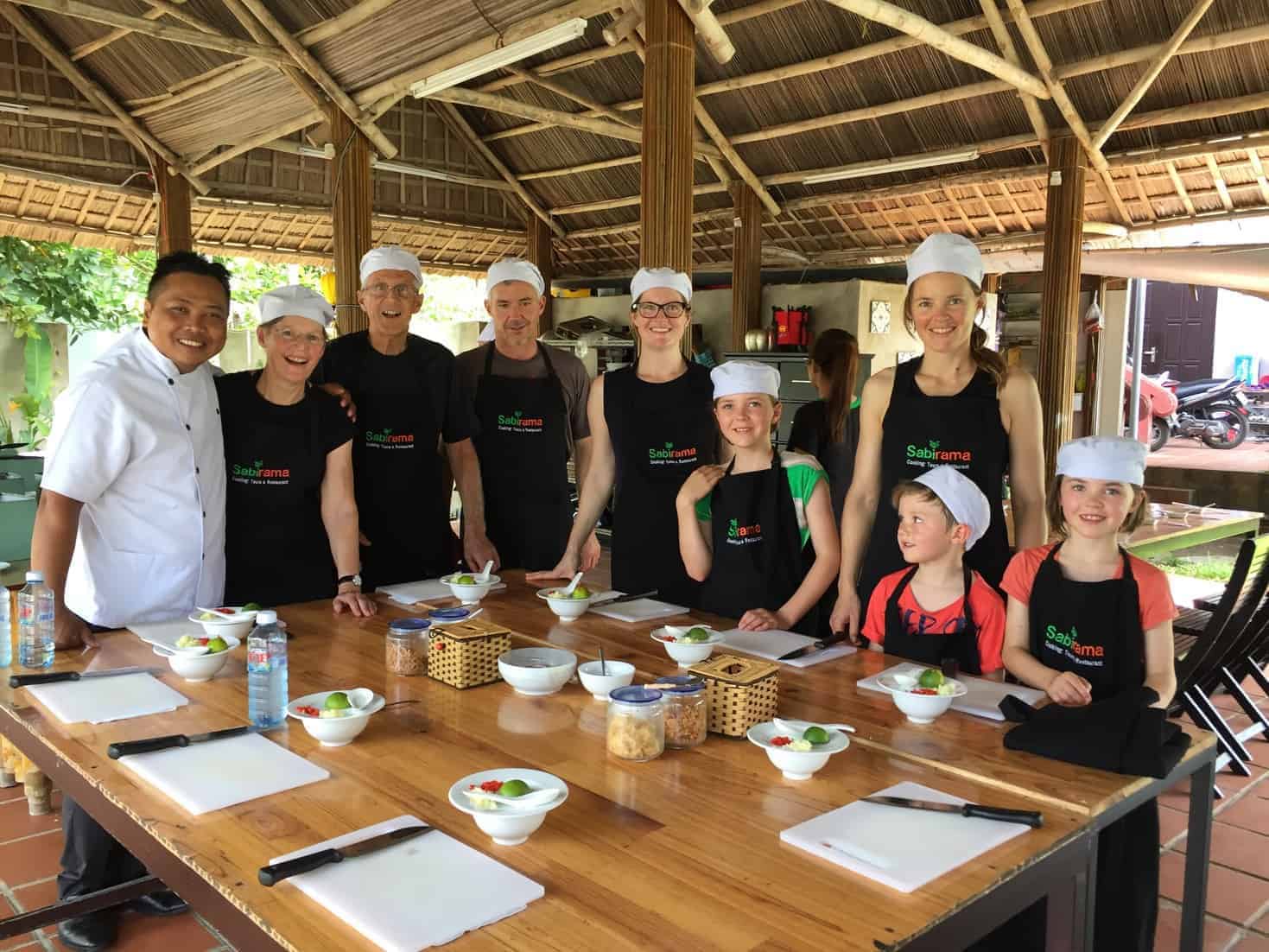 Halong Bay
The famous Halong Bay is scenic with plenty of activities for children and parents alike, most of which are provided by a Bay Cruise. During most cruises, you'll have opportunities to kayak in the bay and take excursions to some of the caves in the area, which will make children feel like they're in an adventure movie.
Paloma Cruise offers ships with 20 cabins where you can purchase a family suite with balcony for 3 people. Families may also enjoy adjoining cabins with connecting doors. For a 2 night and 1 full day cruise for a family, it will cost about $350 including food, excursions, on-board activities, and a suite. The company also has private boats it can arrange upon request.
Other cruise companies such as Jasmine cruises or Starlight cruises offer the same services at similar prices.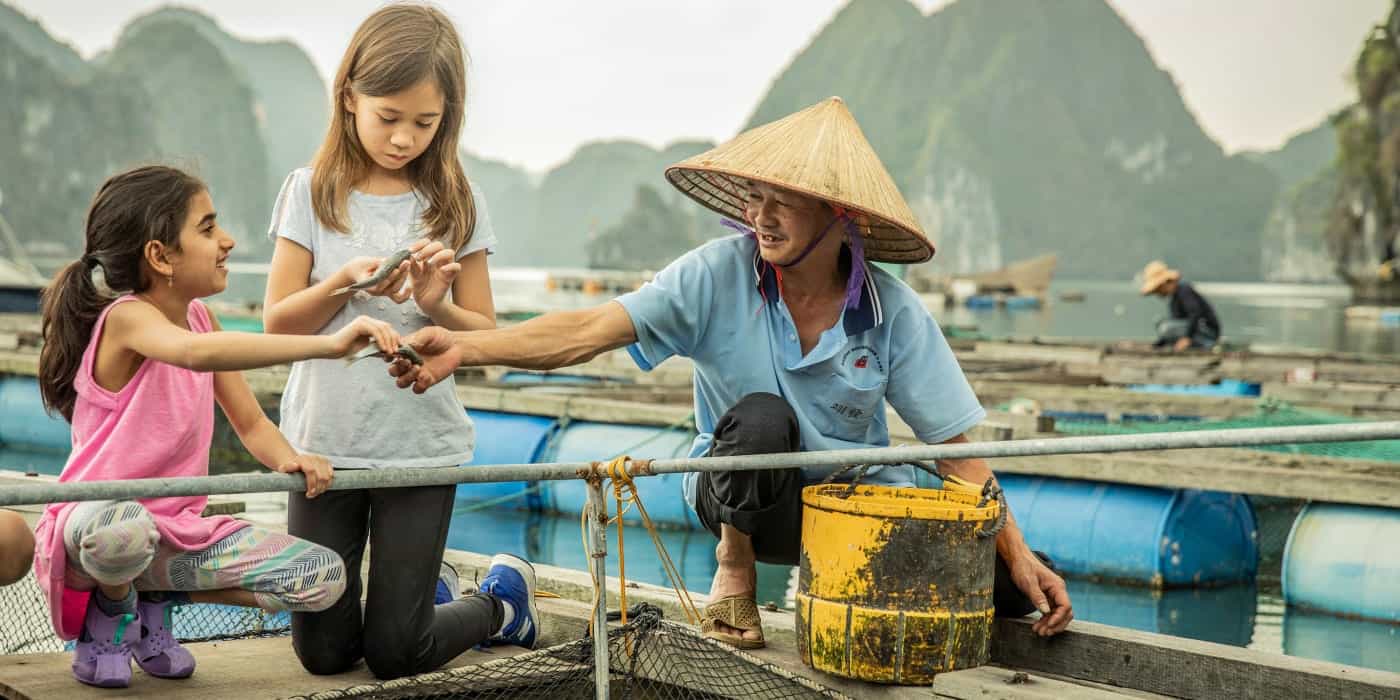 Food and Cultural Tours in Vietnam Suitable for Families
Paid tours are much more polished than their free counterparts. They also tend to be more informative, with the guide taking a backseat to the information presented on the tour. All expenses are covered in the cost of paid tours and
| | | |
| --- | --- | --- |
| City | Tour Name | Activities |
| Saigon | The XO Foodie Tour | Eating at off-the-beaten-track street food stands, learning about Saigon's various districts |
| Hanoi | Old Quarter Street Food Tour | Learning to navigate Hanoi, fraternizing with the lively guides, trying some of the best Northern street food |
| Hoi An | Riding with the Nguyens | Learn how to make a reed mat, how to make a local snack, try your hand at pottery, visiting local families, etc. |
We hope this guide helps you plan some fun things to do in Vietnam with your kids. Obviously, every child has their own unique interests and won't like all the activities listed in this post, so you as a parent will have to pick and choose the best activities for them. However, this post should serve as an excellent starting point.