Hanoi sits on a bend in the Red River. To the south and east lies the watery world of the Red River Delta, where farms and villages continue as they have done for millennia: producing crops and crafts to supply the capital. To the north and west, the Red River Valley extends all the way to China. Here, mountains rise from the floodplains of the great river, forming deep ravines surrounded by misty peaks and forests. The Red River Valley and Delta is also the historical, mythological and spiritual heartland of Vietnam. It was here that the country's first great kings ruled; its first citadels constructed, and military triumphs gained. As such, the area is strewn with temples, pagodas and shrines. In short, the best day trips (half-day too) from Hanoi offer plenty of things to do around this amazing city! You should include it in your Vietnam tour.
In this XO Tours Blog, we outline the best day trips from Vietnam's capital. If you're looking to travel to Ho Chi Minh City, you should take a look at the best day trips around Ho Chi Minh City.
Beware! XO Tours does not operate in Hanoi. If you book with a tour operator in Hanoi that claims to be XO Tours, you have been defrauded!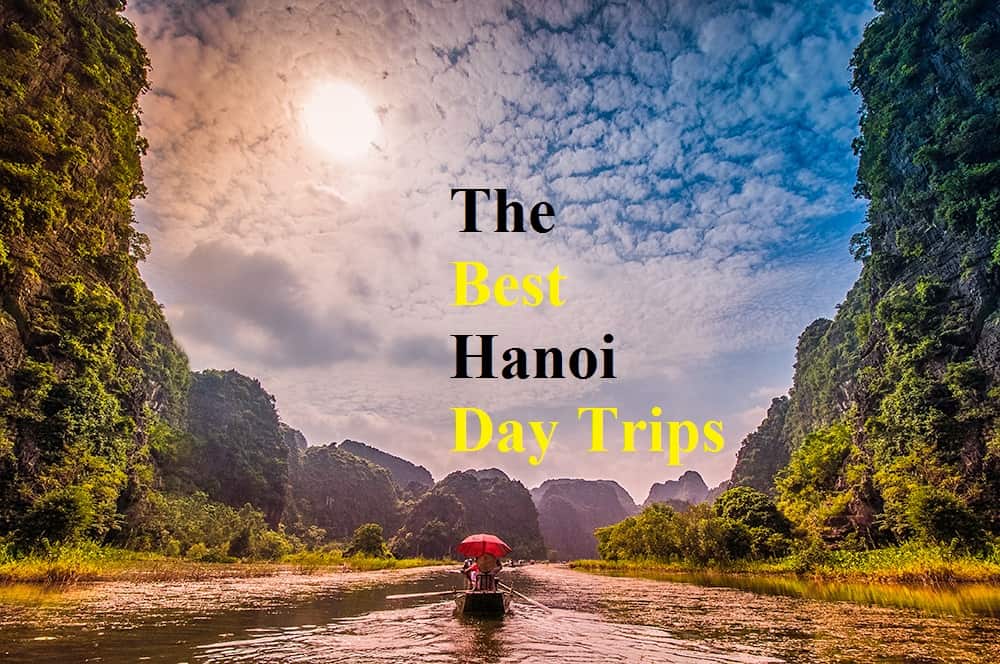 Day trips from Hanoi:
In general, all of the day trips listed here can be easily organized through reputable Hanoi travel agents. Because there are so many great sights within reach of Hanoi, we've arranged them into three groups according to different categories. Click on a category below to read more about the day trips in that group:
PAGODAS, TEMPLES & HISTORY:
Thay & Tay Phuong Pagodas:
A mere 30 minutes west of Hanoi, these two pagodas are rich in embellishments and set in surprisingly (given their proximity to downtown Hanoi) serene locations. Built around craggy hillocks, these pagoda complexes offer lots of atmospheric chambers, anterooms, ponds and courtyards. Papier-mâché and jackfruit wood figurines populate the prayer halls, some of which date from the 16th century. Thay Pagoda has founded nearly a thousand years ago, and there's a suitable sense of time and history here, especially since there are very few tourists compared to other historical sites. Travel tips: combine with a trip to Ba Vi National Park (see below) Time: a few hours
Perfume Pagoda:
Long considered the Hanoi day trip, the Perfume Pagoda is a mystical journey southwest of the capital: by road at first, then by boat through a limestone valley, and finally by foot up the long stairway to the sacred grottoes housing temples and shrines. In many ways, this is the perfect day trip: a mixture of natural beauty, history, culture and architecture. But over the years it has become increasingly busy with domestic and foreign tourists and pilgrims. The crowds can't detract from the natural beauty of the area, but the litter, trinket selling and constant hassle, can make it feel like a bit of a circus, and certainly detracts from the spirituality of the occasion. Travel tips: book onto an all in one tour from Hanoi so that you won't have to deal with the queues and hard bargaining once you arrive. Time: half or full day trip.
Hoa Lu Ancient Capital:
Strategically located in a forest of limestone hillocks, Hoa Lu was the capital of Vietnam from 968-1009AD. The physical setting is very pretty indeed, with rivers and moats bisecting dozens of limestone 'molehills'. Most of the original structures have vanished, but several temples dating from the 16th century still stand. These buildings are dedicated to the worship of Emperor Dinh Tien Hoang and Le Dai Hanh, both of whom ruled from Hoa Lu. The temples are dark and atmospheric, but the best place to view Hoa Lu is from the hilltop where Dinh Tien Hoang's tomb is located: from here there are superb views of the site and surrounding countryside. Travel tips: combine with other sights in the area, such as Bai Dinh Pagoda (see below). Time: a full day trip (if combined with nearby sights).
Bai Dinh Pagoda:
Just a few minutes' drive from Hoa Lu, Bai Dinh Pagoda is an enormous complex of brand new religious buildings. Although built on the site of an old temple, Bai Dinh was constructed between 2003 and 2010. The scale alone is reason enough to visit. But there's also artistry and finery in the smaller details of this gigantic, modern monument to Buddhism. For example, of the 500 statues lining the initial courtyard, each one has been individually designed, and there are a beautiful symmetry and rhythm to the general layout of the complex, which stretches across 700 hectares. As far as scale, awe, pomp and ceremony are concerned, there's nothing else quite like it in Vietnam. However, Bai Dinh Pagoda has quickly become popular with domestic tourists, so expect crowds and a certain theme-park atmosphere. Travel tips: combine with other sights in the area, such as Trang An boat rides (see below). Time: a full day trip (if combined with nearby sites).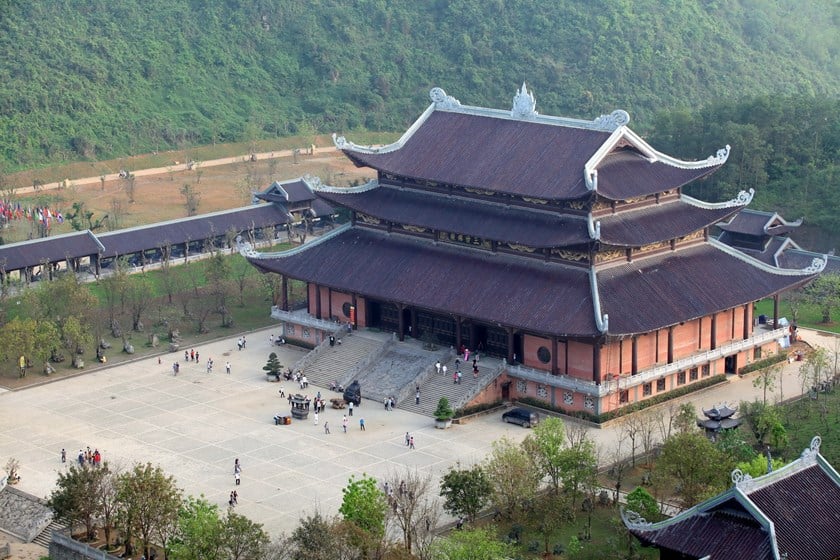 Ho Ancient Citadel:
The most southerly of all the sights in this list, it's worth the extra mileage to visit Ho Citadel, especially if you're a history buff. A UNESCO World Heritage site since 2011, the citadel's imposing walls and wide enclosure date from the late 14th century. Only recently beginning to attract tourists, the old gates and walls of Ho Citadel are surrounded by a fertile, rural landscape typical of the Red River Delta region. The remains of this royal enclosure are impressive and extensive. But another appealing aspect of this historical site is that farming and rural life continues inside the ancient compound. Travel tips: combine with the Ho Chi Minh Road (see below) for a scenic drive to and from the citadel. Time: a full day trip, including travel time.
Phat Diem Cathedral:
Visited by Graham Greene in 1951 and featured in his novel, The Quiet American, Phat Diem Cathedral is an architectural mélange of Christian, European and Asian elements. The result is an enchanting, East-meets-West version of a cathedral. The curved, tiled rooftops, stone nave, and wooden pillars of this 1891 church are very exotic. The cathedral serves the large Catholic population in the area, which has been exposed to Christianity for almost four centuries, since the arrival of Portuguese missionaries. Travel tips: combine with nearby attractions, such as Tam Coc boat trips (see below). Time: a full day trip (if combined with nearby sights).
NATURE, NATIONAL PARKS & OUTDOOR ACTIVITIES:
Ba Vi National Park:
A former French colonial hill station, the forested slopes of Ba Vi Mountain rise to the west of Hanoi. Roughly 70km from the capital, this national park is an easily accessible slice of nature: a dose of greenery, birdsong, and clean air just a couple of hours' drive from Hanoi. A road leads almost to the summit, where there are excellent views over the Red River Valley and back towards to the urban sprawl of the capital. Hiking, bird watching, and waterfalls are all on offer. Travel tips: combine with Thay and Tay Phoung Pagodas (see above). Time: half a day.
Tam Dao Hill Station:         
Yet another French colonial hill station nestling in the mountains northwest of Hanoi, Tam Dao is larger, greener and wilder than Ba Vi. Three main peaks rise out of the mists to form tam đảo ('three islands'). The area is a national park, with many varieties of flora and fauna on its jungled slopes. Tam Dao town itself is a tourist trap, but from here there are hikes to bamboo forests, waterfalls and orchid gardens. At almost 1,000m above sea-level, temperatures here are noticeably cooler than Hanoi, which is particularly appealing if you're visiting during the hot and humid summer months. Travel tips: avoid weekends, when Hanoians flock here in great numbers. Time: a full day trip.
Mai Chau Valley:
Although most visitors will want to spend more than a day in this green valley, if you're pushed for time it's possible to get to Mai Chau and back in one day. Improved road connections from Hanoi mean that the verdant valleys, terraced hillsides and minority villages of Mai Chau are more easily reached from the capital than ever before. They'll be a lot of time spent in the car, but it's a fascinating journey and by lunchtime you'll be in the green embrace of one of Vietnam's prettiest valleys. Relax in a wooden stilt home belonging to a White Thai minority family and dine on superb home-cooked food while looking out over a sea of rice paddies, before taking a gentle trek through the valley. Travel tips: start as early as possible to make the most of the day. Time: a full day trip.
The Ho Chi Minh Road to Cuc Phuong National Park:
One of Vietnam's longest and most scenic highways, the Ho Chi Minh Road starts just an hour west of Hanoi. From here, follow it south through a memorable landscape of limestone outcrops broken by blue rivers and dotted with small agricultural towns. In a day, it's possible to reach as far south as Cuc Phuong National Park where, weather permitting, you can swim in the river before heading back to Hanoi. Travel tips: combine with a trip to Ho Citadel (see above). Time: a full day trip.
Trang An & Tam Coc Boat Rides:
Trang An and Tam Coc both offer boat rides through a beguiling landscape of limestone caves and pillars, creating a natural maze which can only be negotiated via narrow waterways, channels and canals. The wooden canoes are piloted by Vietnamese women, many of whom steer the boats using their feet to operate the oars. The scenery is incredible: it's everything you wanted exotic Southeast Asia to be. But be warned that both Trang An and Tam Coc are firmly on the domestic and international tourist radar and as such can become very busy. Try to go early in the morning or after midday when the crowds tend to lessen. Travel tips: combine with nearby attractions, such as Bai Dinh Pagoda (see above). Time: a full day trip.
Bac Son Valley:
A fair drive north-east of the capital, Bac Son is emerging as an alternative destination to Ninh Binh. Bac Son Valley is a corridor of bright rice paddy along a gently meandering river, towered over by majestic limestone pinnacles: a landscape worthy of Lord of the Rings. However, unlike Ninh Binh, mass tourism has yet to arrive at Bac Son, which means there's far more sense of adventure when visiting this region. There's not much in the way of tourist infrastructure yet, so driving the loop around the pretty valley and stopping for lunch in Bac Son town is likely to be you're only itinerary option. Travel tips: it's a long way, so start early in the day. Time: a full day trip.
CRAFT VILLAGES:
Bat Trang Ceramics Village:
Of all the craft villages surrounding Hanoi, Bat Trang is probably the most famous, the easiest to get to and, therefore, the most-visited. Bat Trang is known for its ceramics: bowls, plates, tiles, and pottery of all shapes and sizes. Not 15km from central Hanoi, the narrow, winding lanes of Bat Trang village feel like a medieval suburb, still fueled by the industry that has kept its inhabitants busy for centuries. The famous blue and white ceramics are on sale throughout town, but to see some of the actual work taking place, wander down some of the smaller, back-alleys, where you'll find coal and gas-fired kilns. Just a short jaunt east across the Red River, Bat Trang can be visited by bicycle or even on foot from central Hanoi. Travel tips: combine with other sights close to Hanoi, such as Thay Pagoda (see above). Time: a couple of hours.
Van Phuc Silk Village:
Just 10km southwest of Hanoi, Van Phuc is known for its silk production. With a long and proud tradition of producing some of the finest textiles in the country, you'll find material for tailor-made clothing as well as off-the-peg outfits, both of which are cheaper here than in central Hanoi. There are many workshops in the area – the sound of electric looms is deafening – and no one seems to mind if you wander around them. Travel tips: combine with a trip to Ba Vi National Park (see above). Time: one hour.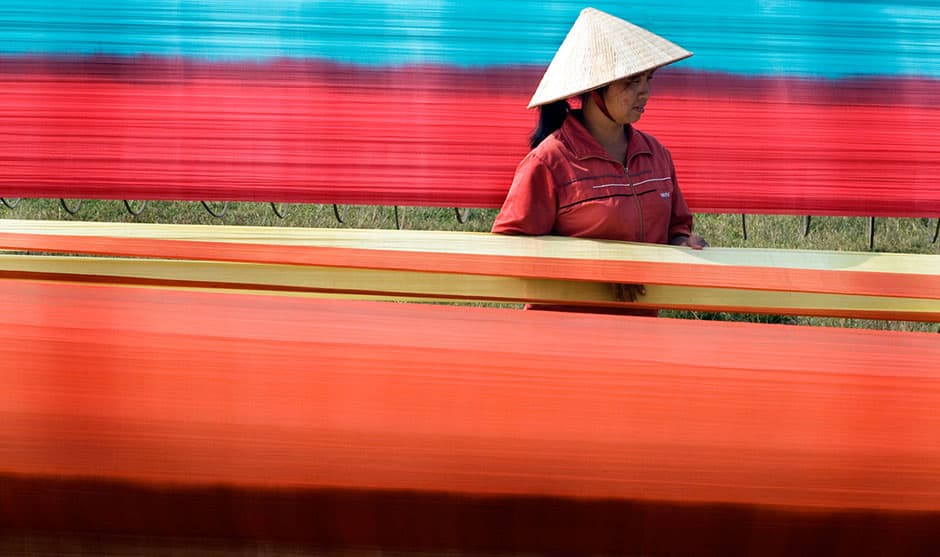 Duong Lam Ancient Village:
About 50km west of Hanoi, Duong Lam is a preserved and restored traditional village. Although many of its buildings are new, a good portion of older buildings (some as old as 300 years) still remain. It's a very atmospheric place to walk around, and local villagers (many of whom appear to be octogenarians) are particularly friendly and keen to chat. The traditional architecture is beautiful: large stone courtyards, village gates, tiled porches, and local shrines. Travel tips: combine with a trip Thay Pagoda and Ba Vi National Park (see above). Time: half a day.
We hope this guide helps you in planning your trip to Hanoi and the surrounding areas. XO Tours currently does not offer any tours up North. However, if your trip includes a visit to Ho Chi Minh City, we would love to have you on one of our 3 acclaimed Ho Chi Minh City tours.
Why choose XO Tours?
*1st motorbike food tour in Vietnam and still the most acclaimed food tour in Vietnam. Voted 1 of the top 9 food tours in the world by Forbes magazine. Listed in Lonely Planet, Rough Guides and Fodors.
*1st motorbike tour with all female drivers, providing Vietnamese women with previously unafforded opportunities to work in tourism
* 1st motorbike tour in Vietnam to provide accident insurance for all guests
* 1st tour operator in Vietnam with security/support staff following every tour
* 1st tour operator in Vietnam to provide free tour photos to every guest
* We hire and train professional tour guides with international tour guide licenses.
* We compete on quality and service, not price.
To learn more about all our fun tours in Ho Chi Minh City, please visit our website at: