Every adventure must start somewhere and we firmly believe that the first hour into that adventure may set the tone for your entire journey. It's crucial to make the most of that hour to your advantage. In this blog post, we'll guide you through the essential tasks in your first hour landing in Vietnam to ensure a seamless and memorable start to your journey through this enchanting country!
Vietnam is home to three major international airports, making air travel a popular choice for entering the country. Depending on your destination, you will likely find yourself landing at one of these three airports: Tan Sơn Nhat Airport (in Ho Chi Minh City), Noi Bai Airport (in Hanoi) or Danang Airport (in Danang City). Whether you're exploring the bustling streets of Ho Chi Minh City, immersing yourself in the rich history of Hanoi, or enjoying the stunning beaches of Danang, these airports play a vital role in connecting travelers to their desired destinations within Vietnam.
Although all 3 airports are fairly well-marked and small, most travelers will still be overwhelmed by the things that needed to be done before leaving the airport and heading into the city. Questions like what to do, where to go, how to find reliable transport, and whether to exchange money here can add to the confusion. Read on to find out the answers to all those questions in the below post.
Table of contents:
 

Clear Immigration and Customs – Vietnam visa
Upon arriving at a Vietnam airport, you'll need to navigate through the immigration process to enter Vietnam legally. Follow the signs directing you to the immigration counters. Have your passport and Vietnam visa ready for inspection by the immigration officers, who will verify your documents and stamp your passport accordingly.
Most travelers to Vietnam will need to get a visa before being allowed into the country, and the easiest way to obtain a Vietnam visa is to apply for an e-visa using the official link below:
https://evisa.xuatnhapcanh.gov.vn/web/guest/trang-chu-ttdt
Please note that not every country can obtain a Vietnam visa using this method, so make sure to check carefully when you plan your trip to Vietnam. For more information about obtaining a visa to enter Vietnam, check out our detailed guide using this link: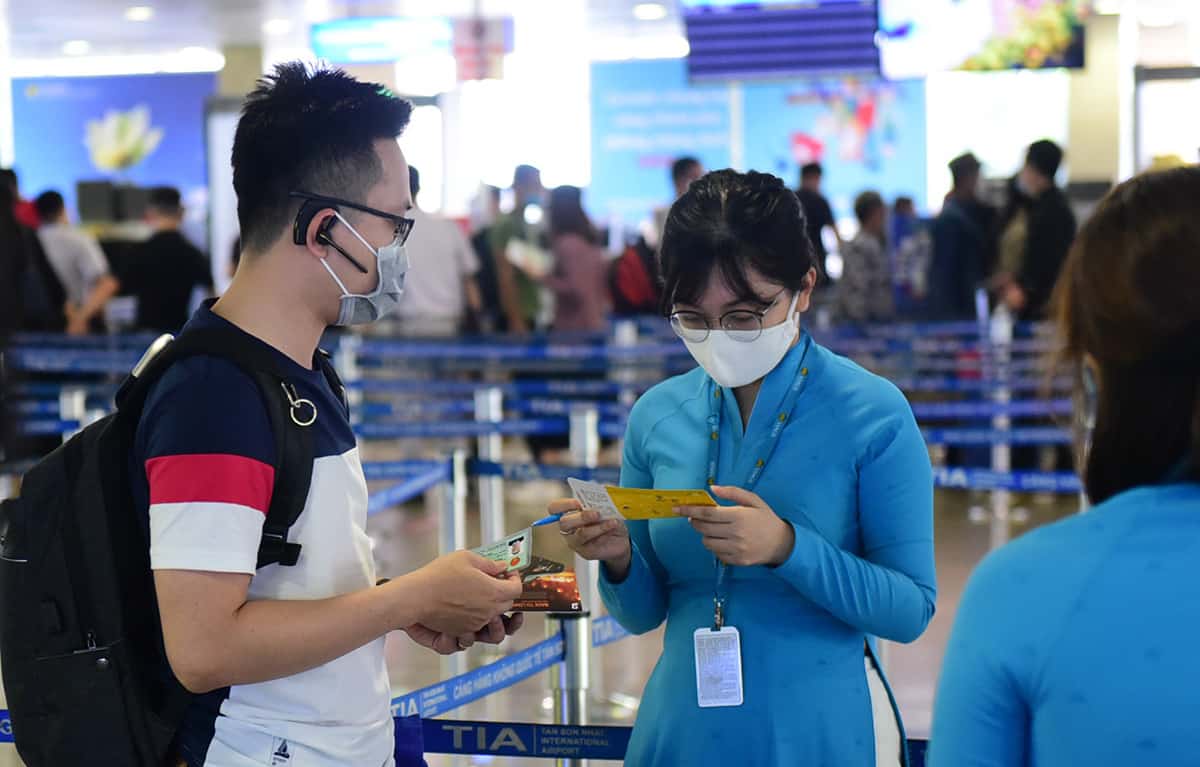 Collect your luggage at the carousel belt
After clearing immigration, it's time to collect your checked luggage. Follow the signs or consult the airport staff to locate the designated baggage claim area. This area is situated in close proximity to the immigration counters.
Take note of the flight number and their corresponding carousel belt displayed on the monitors in the middle of the baggage claim area. Proceed to the belt showed next to your flight number to collect your baggage.
In the rare event that your luggage is not found or has been damaged during transit, proceed to the airline's designated help desk within the baggage claim area to report the issue. The airline staff will assist you in filing a report and provide instructions on how to proceed with the necessary procedures, such as filing a claim or arranging delivery (if your luggage is found).
Before leaving the baggage claim area, you will have your bags scanned and check. After that you will arrive in the arrival hall.
 

Exchange your money
Having local currency on hand is essential for a smooth start in every country you visit. There are a few booths offering money exchange at the airport's arrival hall. These booths usually offer competitive rates and convenient services. However, you can also keep half of the cash and exchange it later at local gold shops as they sometimes offer more favorable rates compared to the booths at the airport. Be sure to check the current exchange rates to get a fair deal.
The denominations on the Vietnamese notes are a bit hard to get used to. Check out our money guide in this link to understand more about the exchange rates and the Vietnamese notes:
https://xotours.vn/blog/money-in-vietnam-guide/
You can view the live money conversion rates from many popular currencies to Vietnamese Dong in this link:
https://xotours.vn/blog/vietnam-dong-exchange-rate-tables/
 

Purchase a Vietnam SIM Card
A Vietnam SIM card with data plan is advisable to keep you connected to the throughout your journey, especially for navigating through the city and accessing helpful travel apps. At the arrivals hall, you'll find many booths offering Vietnam SIM cards and data packages. Look for dedicated booths or counters where you can purchase and activate a SIM card. There are a few service providers available however, make sure you purchase a SIM card by Viettel for optimum speed and coverage. The clerk at the SIM store should be able to help you fit the SIM card into your phone and activate the data plan.
 

Download helpful apps
Once you're connected to the internet, access the App Store (on iPhones) or Play Store (on Android phones) to download a few free apps that can be a tremendous help during your travel. Some of the must-have apps that we recommend getting are: Grab App (for transport), XE (Currency Converter), TripAdvisor (for service bookings and recommendations), Google Maps and Google Translate (if you don't already have them), and lastly Zalo (for staying in touch with all the Vietnamese friends you make along your travel!). Once again, the clerk at the SIM store should be able to help you with this step.
You can read more in-depth information and guide to install these apps in this link. The Grab App, in particular, is useful not only for booking transport but is also great for ordering food and have it delivered directly to your hotel. You can watch a guide on how to order local food with the Grab App in this link
 

Arrange Vietnam Airport Transfer
Vietnam is not only famous for its vibrant cities, friendly people, out-of this-world landscapes and mouth-watering street food but is also notorious for taxi scams! To make sure that you don't fall victim to these nefarious acts, check out our guide on How to avoid taxi scams in Vietnam and make sure to only use the following methods to arrange your transportation:
Pre-booked transfer: either with your hotel or a well-known Vietnam airport transfer service. In this case, walk out of the terminal gate and the driver should be waiting for you outside gate, ready to take you to your destination.
If you haven't arranged transportation in advance, explore the options available within the airport. Official taxi counters are usually located in the arrival hall, where you can book a taxi with a fixed rate
If you already completed steps 4 and 5, you will have access to some reputable ride-hailing apps like Grab. This app provides convenient and reliable transportation options. You can also see the fares in advance and pay for the fare by credit card. Prioritize safety by confirming the identity of your driver and ensuring they use a meter or adhere to the agreed-upon fare.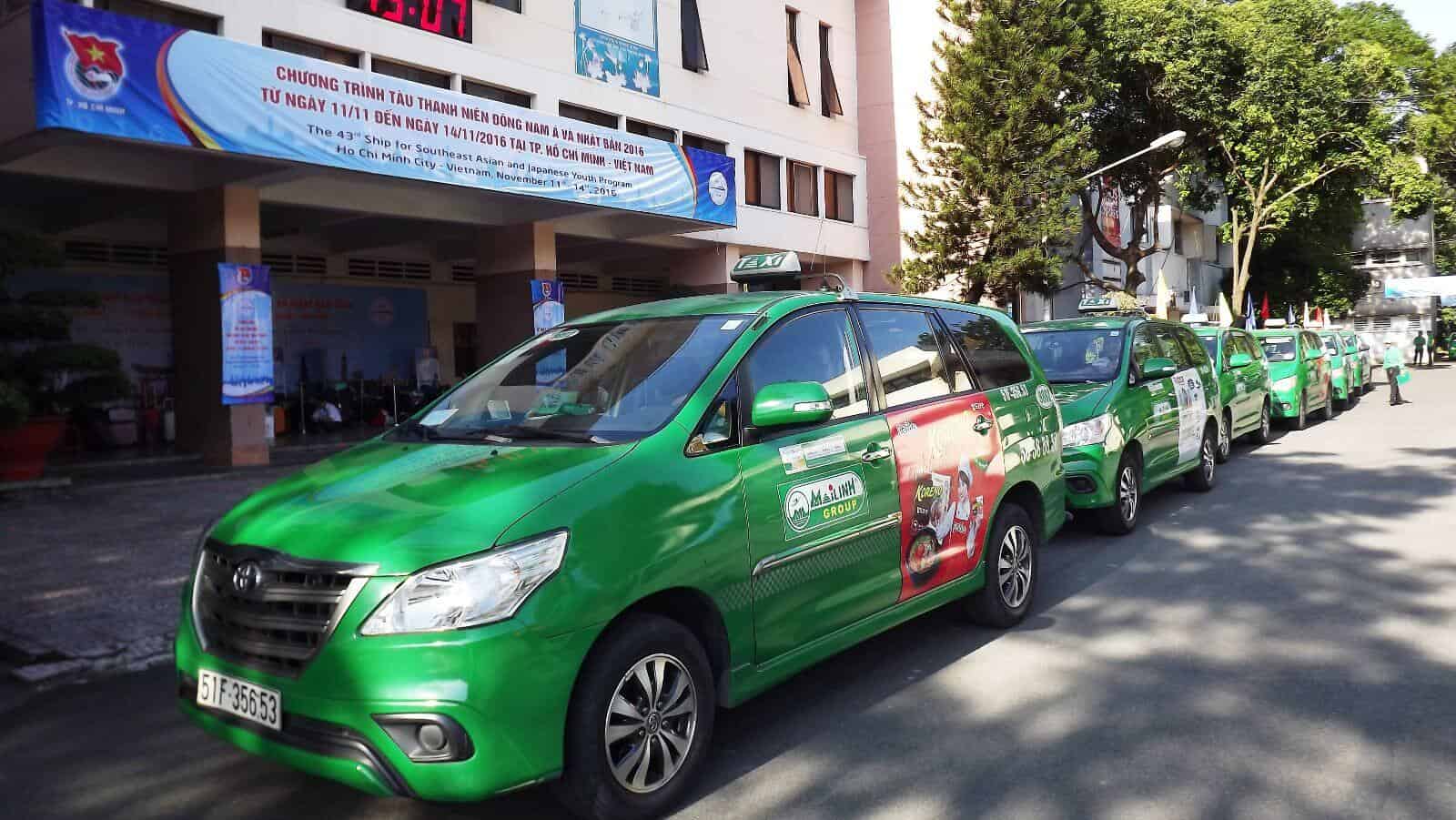 For your reference, below are the estimated distances and private Vietnam airport transfer costs from all 3 airports to their respective city centers. The prices vary based on the type of vehicle you choose and the number of seats it has.
Noi Bai Airport (in Hanoi):
Distance to Old Quarter: 30km (around 45 minutes)
Price: ranging from 350,000 VND – 600,000 VND
Danang Airport (in Danang City):
Distance: N/A. the airport is located in the city center and is around 5km from the beach, where most hotels are located. Distance to Hoi An Ancient Town: 30km (around 45 minutes)
Price to Hoi An: ranging from 250,000 VND– 450,000 VND
Tan Son Nhat Airport (in Ho Chi Minh City):
Distance to District 1: 9km (around 30-45 minutes due to heavy traffic)
Price: ranging from 300,000 VND – 900,000 VND
The transfer cost is expected to be higher during late nights and early mornings. While taxi fares are most likely cheaper than private transfers, Grab's fares are usually even more affordable. However, Grab may impose surcharges during bad weather or busy hours, and it may take a much longer time to find an available driver if demand is high.
The conventional taxi fare in Vietnam is around 25,000 VND for the first 2km, and then approximately 12,000 VND – 17,000 VND for every additional kilometer (as of July, 2023). You can use this rate to come up with a reasonable taxi fare from the airport to your hotel. For instance: if you're only two people, travelling light with a few bags and hail a 4-seater taxi, the cost from Tan Son Nhat Airport to Ho Chi Minh City center should be roughly 250,000 VND during normal hours
And that's it! The only thing to do now is sit back and relax on while being transferred to your hotel or homestay. The customs clearance may take a bit longer if you land at a busy airport such as Tan Son Nhat Airport, but the overall procedures should be the similar regardless of which airport you are landing at.
We hoped you found this blog post helpful! If you're looking for a unique sightseeing experience in Saigon, let the amazing XO Girls show you the best of Saigon on our "XO Sights of Saigon" morning tour on motorbikes. Unlike most other motorbike tour in Vietnam that operate illegally, we are fully licensed and are staffed by professional tour guides with international tour guide licenses, not students.
In addition, the "XO Sights of Saigon" tour offers a good mix of famous and lesser-known sites that are not visited by any other tour companies. We provide historical background to each famous site we visit however we don't just bore you with a bunch of names and dates; the stories will be told from the perspectives of the people that actually lived through the events. You can learn more about all the tours XO offers by visiting our main website using the link below: