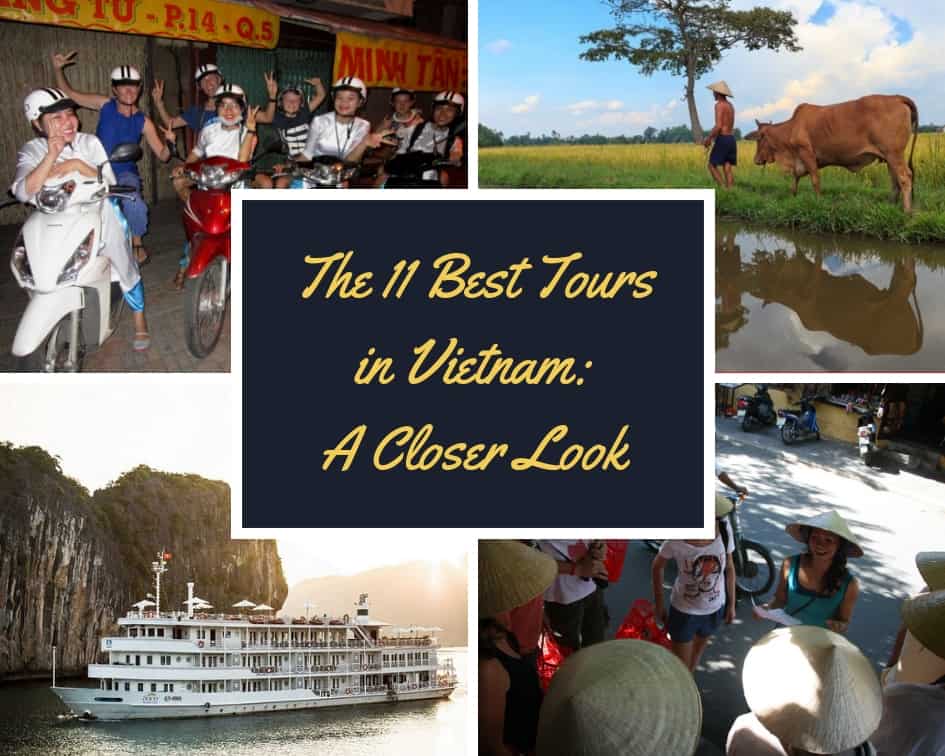 In this post, we present the best tours in Vietnam offered by some of the most reputable tour operators in the country. The tours we have selected are not restricted to any particular region; we looked at candidates from the north to the south and all that is in between. Please note that we are offering our honest opinions on what we feel are some of the best and most unique tours in Vietnam on this list. With the exception of "Dinner with the Nguyens" and "The XO Foodie Tour," two tours of which we at XO Tours are exceptionally proud, we have no vested interest in any of the Vietnam tour companies listed below and did not consult them when writing this blog post.
(Please click on the link below to jump directly to the tour you would like to explore) 
---
Vietnam's Top Walking Food Tour 
Dinner with the Nguyens  (Hoi An, Vietnam)
Price: $48/person
Nearly 40% of Vietnamese people share the surname "Nguyễn," you will notice when you visit Vietnam. Because of this fact, the name of the "Dinner with the Nguyens" tour is in reference to the local Vietnamese people you will be dining amongst on this tour, many of whom will undoubtedly be named "Nguyễn"; it is not in reference to a specific family.
The tour takes visitors to a sub-suburban island on the Thu Bon River Delta near Hoi An that was accessible only by boat until about two years ago and is consequently very remote. Because the location is so rural, the foods to which guests are treated here will be of a more authentic, down-home nature than what you would encounter on 99% of Vietnam's walking food tours. For example, you will get to try dishes like fish cakes and grilled soft shell crab instead of the generic banh mi, pho, and other street foods to which most Vietnam walking food tours take their customers. The local flavor goes down easy, as an unlimited flow of Vietnamese-made beers and soft drinks is provided at every stop of the tour. There is even a cooking class at a local family's house in which visitors will be taught the traditional Vietnamese preparation of banh xeo, a Vietnamese "pancake" made using rice flour, fresh shrimp courtesy of the town's fishermen, and locally grown vegetables.
Pros:
Authentic countryside atmosphere; with lots of real interactions with friendly locals
Bucolic "all-Vietnamese" scenery that exemplifies the beauty of Vietnam
More obscure Vietnamese foods than on most walking tours
Unlimited free beers or sodas
Boat trip back to Hoi An Old Town included
Cons:
During the hot season, it can be unpleasant walking in the heat
Since you are walking on countryside paths, you often have to maneuver around animal droppings
The tour starts a bit too early for dinner (3 pm) so that guests can catch the sunset on the boat ride back to old town
---
Best Vietnam Cooking Class
Green Bamboo Cooking School (Hoi An, Vietnam)
Price: $50/person
Does a cooking class really belong in an article about Vietnam's best tours? In the case of Green Bamboo, it does indeed. This is because a portion of this tour is devoted to taking guests around Hoi An's central market to shop for food needed in the dishes to come. Reviewers note how informative the "market tour" leg of the class is for learning how local Vietnamese "wet markets" work. Customers will also get a personalized grocery shopping experience, as each individual gets to choose a recipe they think looks especially good from a huge list of over 60 dishes the guide provides.
Once all the ingredients are bought and the tour group gets to know each other at a local cafe, they return to the cooking school's kitchen. There, the instructor helps each of the tour members prep the ingredients they bought. Each member then cooks the dish they chose, while the instructor provides instructions and all the other members observe the cooking process. Finally, everyone gets to sample all the dishes; a bit of the one they made and some of each of the others. You'll get to taste a wide range of home-cooked Vietnamese dishes, and you'll walk away stuffed, making this tour/class maybe the best value for money of anything on this list. In fact, one of the few slightly negative reviews of Green Bamboo on Tripadvisor complained only that the tour was too long (8:00-15:30) and that there was simply too much food!
Pros
Hotel pick-up and drop-off
Informative market tour
Tour members get to choose from over 60 dishes — the largest variety offered by any Vietnamese cooking class
A free flow of beer and soda during cooking demonstrations
Every customer is given a free recipe book and cooking utensils as souvenirs
Tremendous value for money
LOTS of food
Cons
A very long tour
The max size for this tour is 12, which many reviews complain is too large
Since each of the tour group members shares their dish around, each dish can only be chosen by one tour member. If two people want to learn to make thịt kho trứng, tough luck for one of them
---
Best Vietnam Bicycle Tour
Vietnam Bike Tours (multiple locations in Vietnam)
Price: Varies greatly, but expect to spend at least $70/person for a half-day tour
Vietnam Bike Tours may not have the most creative company name, but don't let that fool you: these tours are the best way to see and experience every little thing the country has to offer. The company offers a huge variety of tour options, ranging from very short (40 minutes from Saigon's Tan Son Nhat airport to your hotel) to very long and intense (19 days from Saigon to Phnom Penh to Bangkok). This variety allows you to customize your tour according to your party's schedule and cycling ability. Whichever tour you choose, though, the folks at Vietnam Bike Tours will have selected a route that allows you to take in as much of the area as possible. As a reviewer writes on Tripadvisor, "this tour is not about cycling from A to B or munching the miles, this is about using the bikes to see and experience parts of the country that you wouldn't otherwise see." The routes also pass by a good amount of rest stops, and a relief van will follow just behind the cyclists just in case anyone wants to dismount and rest for awhile even between stops.
These tours are not cheap, but you get what you pay for — the folks behind Vietnam Bike Tours are pros. The guides are courteous, hospitable, resourceful, and well versed in the local landscape and culture. The people organizing the tours have them planned down to the detail, even tailoring individual trip routes based on requests from the customers. And the eating establishments or homestays stopped at on the tours are always top-notch and hassle-free. As long as you're ready to sweat a little (who are we kidding, a lot), this is the way to most fully experience the Vietnamese cultural landscape.
Pros:
Opportunity to experience more variety than in most Vietnam tours
Professional, knowledgeable guides
Expert route planning, tailored to the requests of each group
Many tour locations+lengths, allowing for scheduling flexibility
It's great exercise
Loaner bikes and relief van are well maintained
See the heart of the Vietnamese countryside, which is virtually impossible to do with other tours
Cons:
You'd better be ready to sweat
You may get rained on a lot if you do this tour for the duration of the monsoon season. You may want to familiarize yourself with Vietnam's weather patterns before you book
This is a group tour with a maximum size of 10, so you may be with another group
It's a good idea to stock up on sunscreen beforehand.
---
Best Vietnam Photography Tour
Vietnam In Focus (Hanoi, Vietnam)
Price: Varies greatly, but expect to spend at least $75/person for a one-day tour
Vietnam in Focus is a fantastic way to see some of the more beautiful sights in Northern Vietnam while documenting them and honing a valuable skill at the same time. The guides for the tours are generally very knowledgeable about precisely what areas offer the best artistic photograph opportunities and what part of the day to visit them to get the best photographs possible.
Note that you do not need to be a photography master, or even very familiar with the art form, to participate on these tours. The guides are just as much photography teachers as anything else, and they are used to dealing with all skill levels. Also, know that the tours rent DSLR cameras for $30/day.
Pros:
For the most part, knowledgeable and enthusiastic guides
All skill levels are welcome, and the guides are good at tailoring the tour to accommodate each individual
Even more so than other Vietnam countryside tours, you'll be exposed to many truly breathtaking landscapes
You get lots of souvenirs that will immortalize your tour experience (your photos)
You'll learn more about photography technique and how to use your camera more efficiently
Part of the proceeds from the tours are donated to local charities
Cons:
As reviewers note, the tour guides for this company are a bit hit-or-miss. Do your research and request a highly reviewed guide when booking this tour
DSLR cameras are extremely expensive and some of the more picturesque locations the tour visits are very much off-road, so these tours may not be the best for small children
For a day tour, this is not the cheapest option; all tour prices are listed on the site
If you want to get your photography on but you can't make a trip to Hanoi, read up on our picks for Best Photo Spots in Saigon or in Hoi An.
---
Best Vietnam Free Tour 
Hanoi Kids (Hanoi, Vietnam)
Price: Free; gifts are appreciated but not required
The name of this tour is a little misleading, as "Hanoi Kids" invokes images of tours by young children and/or for young children. The tours are completely family-friendly, but they can be appreciated by all ages equally — in fact, adults may appreciate the tours even more because of the in-depth commentary the tour guides provide. And those guides are adults, mainly university students engaging in some practical training for the tourism and hospitality business.
Just because the guides are often training for a paid job, though, does not mean they phone in their tours. On the contrary; reviews of the Hanoi Kids tours are unanimously in agreement that the guides are passionate and knowledgeable, as well as being great with English. They are also very flexible, and they are happy to take requests of any Hanoi tourist hotspots to which the customers want to go on the tour, even if it means completely arranging the day's itinerary.
Pros:
It's free
Passionate guides who are not doing it for a paycheck
Extremely flexible itineraries
It's comfortable for tourists of all ages; you won't be expected to try frog hearts or anything
Cons:
The guides are not as experienced as with a paid tour; they are generally still trainee tour guides
Because they are trainees, the guides' English probably won't be as good as someone who's been doing tours for a decade
You most likely won't be visiting "off the beaten path" locations on this tour
---
Best Vietnam Art Tour 
Sophie's Art Tour (Ho Chi Minh City and Hanoi, Vietnam)
Price: $65/person
As those who have experienced it will tell you, patrons of Sophie's Art Tour learn about more than just paintings. The guides are interested in looking behind the art itself at the Vietnamese history and culture that informed the artist's decisions. This causes most people to walk away happy with how much they learned about Vietnam as a whole instead of just its paintings.
Sophie's tours are available in both Ho Chi Minh City and Hanoi. The two tours are different, but they both focus on historical and contemporary Vietnamese art, and they are both led by American expats who are extremely passionate about Vietnam's artistic history.
Pros:
A focus on culture and history in addition to paintings
Native English-speaking guides with lots of passion for the subject
Since the tours are led by Americans, they do a great job of covering topics especially enjoyable to a Western point of view (e.g. the "Combat Art" produced from the battlefield during the Vietnam-America war)
As a Tripadvisor reviewer puts it, the tour is "pedestrian enough yet historically and contextually fascinating." You don't need to be an art buff to get the full experience
Cons:
Having an American guide also has its downsides, such as the lack of a truly local Vietnamese voice on the issues discussed
Tours are not normally offered on Sundays, which can be a problem in terms of scheduling. Private tours can be arranged on Sundays for an additional fee
---
Best Vietnam Halong Bay Tour 
Au Co Cruises (Halong, Vietnam)
Price: $275/person for a two-day/one-night cruise, although this is the cheapest option and more expensive packages are recommended
Au Co is a step above in service and luxury in comparison to the other operators in the incomparable Halong Bay. You will see a marked difference in the aesthetics of the boat, the quality of the food preparation and the sizes of the rooms. The price is a bit more than it is with other Halong Bay tours, but the value for money here really is remarkable.
Although reviewers agree the Au Co experience really is once-in-a-lifetime, they also note that this tour is very methodical and has a typical "tour" structure. That is, customers are told when to go to the dining hall for meals, when to disembark the boat to explore one of the amazing caverns that pepper Halong Bay, told when to retreat to their rooms for lights out, etc. Basically, this is not one of those free-form, flexible schedule tours, which could be seen as either a good thing or a bad thing.
Pros:
Halong Bay's majesty cannot be overstated
Even the cheaper Au Co tours include offboard activities, such as caving expeditions, biking, kayaking, or trips into local fishing villages. More info on the itineraries for each tour is available on the site
The tour covers the pristine and lesser-traveled Lan Ha Bay in addition to Halong
Very clean, generally new boats
Most of the captains are Westerners and are happy to accommodate special requests
Cons:
There is really not much to do on the boat when tour activities are not going on, especially since wifi is extremely spotty onboard
As it is a boat, not a hotel, accommodations are not very large
The food quality is often panned in reviews
Drinking water onboard is not free. You might want to smuggle a large bottle or two in your suitcase
---
Best Vietnam Mekong Delta Tour 
Drive Vietnam's Mekong Life Unscripted Tour  (throughout the Mekong Delta)
Price: $87-202/person for a private tour; though the price drops steeply the larger your group is.
The name of this tour is extremely accurate; as the tour's website notes, the full-day journey around Vietnam's lush Mekong River Delta is "uniquely people-focused." In other words, Mekong Life Unscripted is not another generic Mekong tour that takes you to the same touristy islands in My Tho/Ben Tre that 99% of the other Mekong Delta tours visit. Instead, it will give you an honest window into the day-to-day lives of modern River Delta residents. You will see how they live, learn about their livelihoods, and even eat the same traditional foods.
Note that the price for this tour is higher than with most Mekong Delta tours because it is private. That is, if just one person purchases the tour for themselves, they will be traveling alone with their own personal guide. If a group of five books together, they will be the only five on the tour. To add to the privacy offered by these tours, they follow completely original routes. You are virtually guaranteed not to see any other tourists the whole time.
Pros:
You'll get a great feel for the locals' day-to-day lives, as there are lots of stops in local houses and workplaces
Most reviews note how good the food on the tour is
A private, personalized experience
You'll get a real rural Vietnam adventure; tours have to cross multiple rivers on car ferries
Cons:
You'll be visiting very poor areas, and they're often dirty. Wear sneakers
It's expensive compared to group tours
The Mekong Delta has lots of mosquitoes so it's a good idea to bring repellent
---
Best Vietnam Adventure Tour
Phat Tire Ventures (Dalat, Vietnam)
Price: $72/person for full-day canyoning
As the name of this tour company suggests, Phat Tire Ventures started off giving mountain bike tours. They still offer offroad biking and a variety of other extreme outdoors activities (rock climbing, whitewater rafting, etc.), but their full-day canyoning tour has become their flagship.
The reason the canyoning expedition is so popular is that it is totally full-featured. Several other Dalat-based companies offer canyoning packages, and most of them cost slightly less, but none of the other English-language options are as thorough or as extensive as Phat Tire. For example, Phat Tire's site points out, their canyoning trips take their customers to two rappelling courses almost no other tours do, the Tyrolean Traverse and the creatively named Big Waterfall. According to reviews, Phat Tire is also a step ahead of its competition in terms of establishing and enforcing safety procedures.
Pros:
Includes two lesser-visited courses
Well-enforced safety procedures
Multiple reviews mention the freshness and high quality of the deli sandwich and fruit lunch. None of those soggy turkey clubs you get on many tours
Very experienced guides with great English
Cons:
Costly, compared to its competitors
Although the guides make sure safety protocol is strictly controlled, safety equipment is not great
The water in the canyons is not exactly pristine. It has some "clean" litter (e.g. water bottles) in it
You really should be in good shape, as you'll have to do a ton of hiking over difficult terrain
---
Best Vietnam Street Food Tour
XO Foodie Tour (Ho Chi Minh City, Vietnam)
Price: $75/person, $25 USD for children under 8
Ho Chi Minh City's street food scene is simply magnificent, and the aptly named "Foodie" tour is probably the best way for those who visit Vietnam to get an overview of it while accompanied by professional and knowledgeable locals. This scooter tour will take you through 5 districts in Saigon, each with their own distinct personality and culinary specialties. Customers will sample foods — like the highly rated grilled goat's breast in District 8, and the scallops with peanuts and scallions in District 4 — not touched upon by most Vietnam street food tours.
Perhaps this tour's greatest strength is that it is more than just a food tour. Customers will indeed get to try between 10 to 12 authentically prepared entrees at stalls all around the city, but they will also get to see much of Saigon's urban sprawl and will be given a lot of info on Vietnamese culture. The tour is about four and a half hours long, and you can expect actual mealtime to take up about 2 hours. The other 50% of the time will be spent seeing the lesser-known sights of Saigon from the back of a motorbike driven by one of the aó dài-clad female tour guides, who many reviewers note are very safe drivers.  In short, the Foodie tour is a well-tuned full package overview of the city's culinary nightlife scene.
Pros:
Highly professional guides riding well-maintained motorbikes
Unlimited food and drinks at every stop
A look at several districts that tourists almost never visit — the "real Saigon."
Free photos are taken as souvenirs
Tidbits about Saigon's culture and history are not only informative but allow you time to digest your food in preparation for eating more
Cons:
It's relatively expensive compared to many of the less professional food tours
This tour is only offered via scooter, so if you are nervous about riding in Vietnam traffic on a scooter, there is no other transport option.
The tour includes 25 kilometers of riding through the city. For those who want only to eat with no significant breaks in between stops, The Foodie may not be for you
This gastronomic extravaganza will almost certainly inspire you to go out on your own Saigon street food hunt. Just remember to stay safe and hygienic by keeping in mind our tips on avoiding sickness in Vietnam.
---
Vietnam's Top Cu Chi Tunnels Tour
Les Rives Cu Chi Tunnels Tour (Cu Chi, Vietnam)
Price: $82/adult, $56/child
The war-era Cu Chi Tunnels are one of those iconic places those who visit Vietnam are almost obligated to visit, and is difficult for any tour company to offer a bad tour of the tunnels themselves; the place is a fascinating combination of history, brutality, rustic charm, and the beauty of Vietnam. What sets Les Rives apart from the competition, however, is that they turn the normally boring journey to and from the Cu Chi tunnels into an adventure. Whereas tourists going to the tunnels on other tours get packed into a big bus with 40-50 other tourists for a boring two hours without any commentary from a guide, Les Rives ensures the experience is considerably better by ferrying guests from Ho Chi Minh City to Cu Chi on a speedboat. A well-trained guide accompanying tour members on the boat provides fascinating information about the surrounding people and ecosystem, and the daily life of locals living in communities along the Saigon river can be viewed from the boat.
The trip from Ho Chi Minh City to the tunnels is quick (75 minutes each way) and does not have many stops. This can be viewed as a good thing, for those that came mainly to see the tunnels, or a bad thing, for those that would like to see more of the area's nature.
Pros
Very well-maintained boats
The speedboat arrives at the tunnels before most of the big tour groups that arrive by bus
Learn how the Viet Cong dug the tunnels, survived and even prospered jungle while being bombed from above
View the striking natural beauty of the area, which is a brilliant contrast of the claustrophobic brutality of the tunnels themselves
Two meals are included in the price of the tour. The breakfast before the tour is a bit bare-bones, but the huge Vietnamese lunch is raved about in many reviews
Cons
It's expensive when compared to other Cu Chi tunnel tours
Many of the reviews comment that the tour felt rushed at times and that it's obvious the tour guide had a schedule to keep
Some of the tour guides are not as interactive as he or she could be unless the tour group asks specific questions
We hope that this list of the best Vietnam tours helps make your time in Vietnam more memorable!