We're going to give you a quick breakdown of the major places to visit in Vietnam, what there is to see and do, and how long you might need to budget in your vacation. These are rough estimates based on how much there is to see and do in a place. Be sure to adjust them to your own preferences. If you like peace and quiet and your Vietnam vacation is meant to be relaxing, get out of Saigon or Hanoi and get to Phu Quoc or Cat Ba island. If you're a foodie looking for adventure, you'll have a different itinerary than a beach bum who enjoys the sun and the surf. We'll tell you which places appeal to which groups and let you make up your mind.
Because of the high cost of airfare from Europe and the USA and the low cost of traveling through Vietnam, travel goers are planning trips for longer than they would in other parts of the world. Multiple weeks are the norm and visits longer than a month are not uncommon in planning a trip to Vietnam. This leads to a very common question among people planning their Vietnam vacation, "How long should I spend in each place?" This blog post hopes to answer these questions and help you design the perfect Vietnam itinerary!
These length estimates are full days, not including travel time. If traveling by train (we recommend it!) or bus (we don't recommend it!), always try to book a night trip for anything over 4 hours. Not only will it save you valuable vacation days, but it might also save you money on a hotel room for the night.
Best Vietnam Itineraries
Recommended length of stay in parentheses
---
Hanoi
2 weeks in Vietnam: 2-3 days

4 weeks: 4-5 days
What is great about Hanoi?
Shopping, history, food
Who should skip Hanoi?
If you need tranquility. Or if you only have time for one city, visit Hoi An.
Vietnam's capital city provides plenty of interesting sites, tasty meals and great places to shop. The negative side is the high level of pollution, frenetic traffic and the fact that the narrow streets of the old quarter weren't designed to accommodate large crowds. A few days wandering the old quarter, visiting Ho Chi Minh's Mausoleum and drinking 'bia hoi' by Hoan Kiem Lake are a must for any Vietnam traveler, but you don't need to budget more than 5 days in Hanoi.
From Hanoi, go to: Sapa, Ha Long Bay
---
Sapa
– vietnam itinerary
Traveling for 2 weeks: 1-2 days

4 weeks: 2-3 days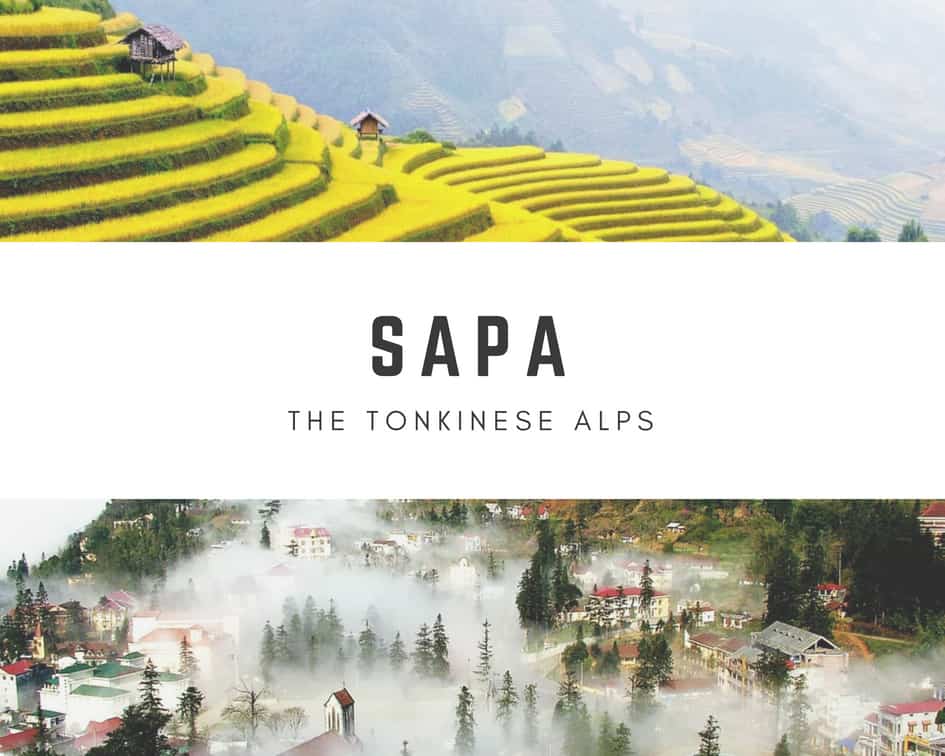 What is great about Sapa?
Opportunity to meet ethnic minority tribes, seeing incredible landscapes, shopping for interesting goods
Who should skip Sapa?
If you don't like high-pressure sales tactics (see alternative suggestions below)
Sapa is a visually stunning town north of Hanoi, famous for terraced rice fields and ethnic minority tribes. Since becoming a major tourist destination, Sapa has become saturated with repetitive gift shops and overly insistent trinket sellers. The sights make up for it, though. Tour operators offer homestay and hiking packages with transportation from Hanoi. Unless you are on a tight budget and have lots of time, you should take this option.
If you want to get off the beaten path and explore, instead of going to Sapa visit the villages of Mai Chau for the Ethnic minorities and Mu Cang Chai for the beautiful landscapes.
---
Haiphong, Ha Long Bay, Cat Ba Island
1-2 days (unless you're going to Cat Ba Island)
What is great about Ha Long Bay?
Beautiful sights, good seafood
Who should skip Ha Long Bay?
If you're looking for sandy beaches, nightlife or culture
Ha Long Bay is one of Vietnam's major attractions, but Haiphong and Ha Long City aren't. The best way to see Ha Long Bay is with a tour package from Hanoi. If you're making your own way and want to avoid the crowds, visit Bai Tu Long Bay, 30 km to the east. Unless you're visiting Cat Ba island, the longest you need to spend in the area is the length of your cruise.
Cat Ba island does offer some interesting attractions for visitors. If you like the outdoors, you can budget 3-4 days for boat tours, trekking, kayaking, climbing, national parks, and some small caves and beaches.
---
Phong Nha
If traveling for 2 weeks: 2-3 days

4 weeks in Vietnam: 4-5 days
What is great about Phong Nha – Ke Bang?
Outdoor adventures, incredible caves, interesting Lao/Viet food, friendly locals
Who should skip Phong Nha – Ke Bang?
If you can't be without global cuisines or cell phone reception
Phong Nha is the adventure capital of Vietnam. From the world's biggest caves to motorcycle rides through the park, Phong Nha provides a lot of opportunity for getting your thrills, seeing the sights and making memories that will last a lifetime. A trip to Paradise cave is a must for all visitors, offering spectacular geology, as is the exploration of the surrounding Phong Nha Ke-Bang National Park. Local tour operators offer tours that show off many of the other caves in the area, from 1-day trips to 4 or more. Beyond caving, you can also spend time in Phong Nha trekking, bicycling, kayaking, swimming, and camping.
There is a twice-daily bus that connects Hue to Phong Nha. Other buses also run to Hanoi or Hoi An.
---
Hue
If traveling for 2 weeks: 1-2 days

4-week itineraries: 2-3 days
What is great about Hue?
Emperor's tombs, food fit for a king
Who should skip Hue?
If you have kids, You don't like history
Hue is the former imperial capital of Vietnam and the seat of the Nguyen dynasty. There are ancient temples, buildings, compounds and gardens to explore. There is the Perfume river promenade to stroll along in the evening. Not really a wealth of modern entertainment here though, beyond wandering the city or taking in a movie. Try the famous imperial cuisine, unique to Hue and some of the best in Vietnam. Hue also has a rich tradition of vegetarian food, a great stop for non-meat-eaters.
If Hoi An is on your itinerary, consider a motorcycle tour between the two as a smart way to travel.
---
Hoi An
If traveling for 2 weeks: 2-3 days

4 weeks: 4-5 days
What is great about Hoi An?
Well preserved architecture, pretty sites, family-friendly experiences
Who should skip Hoi An?
If you're not buying souvenirs or suits, you want nightlife, hate touristy cities
The old Town of Hoi An is UNESCO World Heritage site, a remarkably well-preserved port with examples of Cham, Chinese and Vietnamese architecture. Hoi An is the best place in Vietnam to visit if you have young children, it's safe, fun and easy to walk around. Unfortunately, it's also become completely reliant on the tourist trade. Walking down any street in the city, you will be greeted with cries of "Come Inside My Shop! Buy Something!". Prices for everything from food to transportation are much higher in Hoi An than most places in Vietnam. There is some tasty food, from some of the best banh mi in Vietnam to a regionally unique noodle dish called Cao Lau which can only be made using water from a specific well in the city.
Travelling by train is also a popular choice. You can take a scenic train ride from Ho Chi Minh City to Danang, and take a bus to Hoi An, which is only 30km from Danang.
---
Da Lat
If traveling 2 weeks: 1-2 days;

4 weeks: 2-3 days
What is great about Da Lat?
Pretty architecture, mid-sized city life, cool weather
Who should skip Da Lat?
If you're short on time.
Da Lat used to be a place for the French rulers to play, relax and escape the weather. It's been built to feel similar to the French Alps and nowhere is this more visible than walking around the lit up city center at night. Vietnamese tourists in Da Lat leave loaded to the gills with flowers, coffee, fruit, wine and the many other products of the region. There are mountain biking and trekking trips offered, as well as the can't miss one day canyoning experience, where you'll get to repel down waterfalls.
---
Mekong Delta
What is great about the Mekong Delta?
River life, tasty food, incredible produce
Who should skip the Mekong Delta?
If you don't like a slow pace of life
Tourists in the Delta enjoy the relaxed pace, watching local life along the river and trying the specialty dishes and regional produce. The floating markets of Can Tho have become a tourist destination instead of a working market, but, like Hoi An, it can still be fun to see. With the flat land, minimal traffic and lots to see out on the road, this might be the best part of Vietnam to explore by bicycle.
The Delta is often visited as an organized tour from Ho Chi Minh City. For an authentic tour to the Mekong Delta we would recommend booking a private tour with either Drive Vietnam or Water Buffalo Tours if budget is not an issue. Most of the group tours have very touristy itineraries and all visit the exact same places (coconut candy factory, bee farm, picture with a python, pony cart ride, etc.)
---
Nha Trang
2 weeks in Vietnam take 2-3 days

4 weeks: 4-5 days recommended
Nha Trang Ocean Activities
What is great about Nha Trang?
beaches, scuba diving, waterfalls, nightlife
Who should skip Nha Trang?
If you hate crowded beaches
Nha Trang is Vietnam's number one resort town. If you like the quiet beach life, go to Phu Quoc, but if you want sand and sun during the day and dancing and drinks at night, come to Nha Trang. Every water sport you could want is available in Nha Trang, along with some of Vietnam's best beaches. Even if the weather's bad, there are plenty of other options for entertainment, including cooking classes, theaters and bowling. In recent years, the city has attracted hoards or Chinese and Russian tourists, so much so that many restaurants and hotels have signs and menus written in these languages.
---
Ho Chi Minh City
If traveling 2 weeks: 2-3 days

4 weeks in Vietnam: 4-5 days
What is great about Ho Chi Minh City?
Amazing street food, great nightlife, back alley wandering
Who should skip Ho Chi Minh City?
If you hate big cities.
Ho Chi Minh City has so much to offer, even though it has a limited number of tourist sites. You don't need to get to the War Remnants Museum, the Notre Dame Cathedral, the Reunification Palace and the Cu Chi tunnels but all of them are worth a visit, depending on your interests. Skip the tourist trap Ben Thanh market and make your way to Ba Chieu market in neighboring Binh Thanh district. The food is much better, the sellers are less pushy and the prices are much more reasonable, though communicating can be a bit difficult. Nowhere in Vietnam offers better nightlife than Saigon, ranging from the world-famous club Apocalypse Now (called Apo by locals) to good sky bars such as Chill and amazing alternative venues like Saigon Outcast. During the day, be sure to get out of district 1; the food is the worst in the city and the priciest.
If your trip just doesn't allow more than a day in Ho Chi Minh City, we proposed some great things to do in Saigon for just one day.
Alternatives to District 1?
Explore Districts 3, 4 and 8 for great food, Phu Nhuan for amazing coffee shops and District 5 (Cho Lon) for Chinese temples and giant markets.
Do the street food stalls leave you a bit intimated but super hungry? Book one of XO Tours' Saigon street food tours and we will show you the best that Ho Chi Minh City has to offer in just a few hours.
---
Phu Quoc
Itinerary length: how much do you like beaches?
What is great about Phu Quoc Island?
Sand, sun, surf
Who should skip Phu Quoc Island?
If you're not a beach bum
Phu Quoc is the place to be in Vietnam for relaxing alone on the beach and it's one of the most beautiful islands in Vietnam. Though it gets more and more developed every year, it is still much less modern than Nha Trang or Phuket, Thailand. It also may be the best place in Vietnam to rent a scooter, as the traffic is minimal and the island is easy to get around. If you're a fan of the culinary arts, be sure to visit the local pepper farms and fish sauce makers, both of these products are the best in the world and well worth taking home as souvenirs. Snorkeling, diving and night fishing tours are also fun.
Final advice:
If you have 2 weeks or less in Vietnam, we would recommend sticking to locations in either north or south of Vietnam and not to try to cover the entire country. Vietnam is too big, and there is way too much to do, to try to fit in the entire country into such a short trip. You would spend so much time traveling that you wouldn't have much time to enjoy each of the unique locations. We recommend only including a maximum of 3-4 locations for a 2 week Vietnam itinerary.
We hope you found this blog post helpful in creating the perfect Vietnam itinerary for your trip!