CNN.com recently published an article about the best beaches in the world, and we are happy to report that two of Vietnam's beaches made it on to the list!  However, we feel that more than two of Vietnam's beaches have world-class standing.  With more than 3400 km of ocean coastline and remote islands galore, the list of beautiful beaches in this country could go on for a while.  In addition to the Vietnam travel tips we've provided in previous blogs, here is our take on the top 5 beach destinations in Vietnam.
The best coastal areas and beaches in the country :
(Please click on the link below to jump directly to the region you want to see)
1. PHU QUOC ISLAND
Phu Quoc is a small island off the southern tip of Vietnam, close to the shoreline of Cambodia.  Historically a collection of fishing villages on the island, the shores are slowly becoming filled with hotels and resorts.  The demand for accommodations and restaurants has grown tremendously in the past few years but the island has still retained its rustic charm.  Dirt roads, small beach side restaurants serving grilled seafood right on the white sand, and undiscovered sapphire blue waters are just some of what you will get to experience in Phu Quoc.  But hurry – the new international airport just opened in August to serve flights from Singapore and nearby Southeast Asian countries.   Many have touted Phu Quoc to be the next Phuket!
When you are in Phu Quoc, check out Long Beach where a lot of the development is.  Long Beach is actually the first beach in Vietnam to be featured on CNN.com's list!  If you are more adventurous, you can rent a motorcycle and go to the other side of the island to the breathtakingly beautiful Bai Sao beach.  Bai Sao is very popular among Vietnamese tourists so it's entirely possible that you will see hundreds of people there if you go during domestic tourism season, but fear not!  Just walk a little farther past the rocks to find a deserted beach spot for yourself!
---
2. NHA TRANG CITY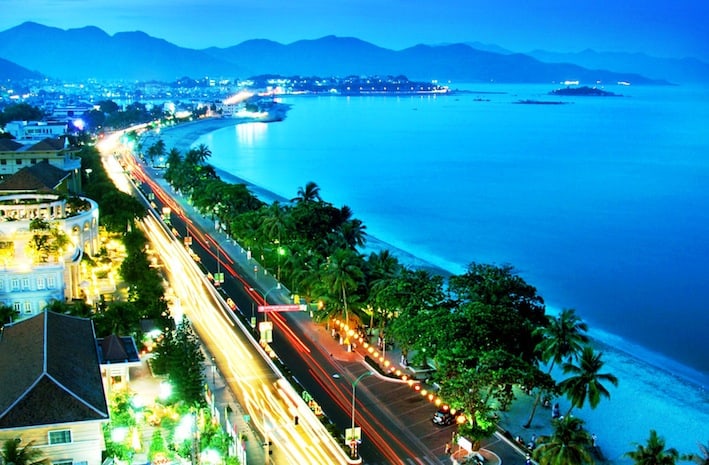 Nha Trang is the most popular tourist beach destination in Vietnam and definitely the most developed in terms of accommodations, restaurants, and nightlife.  It is also one of the premier destinations in Vietnam for scuba diving and snorkeling!  The water doesn't have the aqua blue tinge like the beaches in Phu Quoc but the main beach at Nha Trang seems to stretch on for kilometers with no end in sight – just clear waters and sand as far as your eyes can see!
This beach is so popular that direct flights run from Nha Trang to Moscow!  Since this beach city is so frequented, it's important to know that if you want quiet time on the beach, you will have to venture out a little farther than the main strip.  You can rent a taxi or motorcycle and go towards the Cam Ranh Airport to the Bai Dai beach for a more serene atmosphere.  If you want to stay where all the action is, keep in mind that the beach will become packed with tourists in the late morning and early afternoon so for some peace and quiet, visit the beach in the early morning and enjoy the sunrise!  Remember that Nha Trang faces the east so the only time to see the sun along the horizon is during sunrise.
---
3. MUI NE
In the last several years, Mui Ne has seen rapid development.  Although it is hardly the bustling beach city that Nha Trang is, Mui Ne has a little bit of everything – great restaurants, nightclubs and a beautiful shoreline!  What's more, Mui Ne is the water sports capital of Vietnam!  Scuba diving, snorkeling, windsurfing, and kiteboarding are just some of the activities you can enjoy in Mui Ne and many outfitters are well set up for it.
Most resorts and hotels are directly adjacent to the beach but recently many hotels have been built across the street from the main strip.  Although they are generally cheaper, be aware that the hotels on the beach side may not allow you beach access.  Due to the varying water levels and changing shorelines, it's entirely possible that you won't have a sandy beach to sit on as the shoreline will come right up to the resort's concrete barrier.  But, many hotels on the beach side have started to build artificial sand beaches and infinity pools to compensate.  Nevertheless, the sound of the breakwater hitting the concrete is just as soothing sometimes! And if you miss the sand, you can always visit the two big sand dune areas in Mui Ne, the red sand dunes and the white sand dunes.
---
4. DA NANG AND HOI AN
The area near Da Nang has long held a special place in the country's history.  It was a very important military base town during the war and the remnants are still seen today!  One of the most famous beaches in the area, China Beach, served as the military base during the war.  Now, with just a few guesthouses, eateries, and war memorabilia, China Beach is one of the most pristine beaches in Da Nang – a must see!  Da Nang also has some of the swankiest resorts in Vietnam.  If you're looking for an all-inclusive type experience with all you can eat and drink deals and massages all day, Da Nang is the place to go.
That being said, Da Nang can be appealing to backpackers as well because there are parts of the beach line that are still undeveloped.  Alternatively, you can take a taxi or hire a car and go to Hoi An.  Hoi An has beautiful beaches and is a very well preserved 'old town' type city just 40 minutes outside of Da Nang.  Its charming and quaint atmosphere is sure to impress all types of travelers and since it is also along the ocean, it has a beautiful beach area just a short motorbike ride away.  In fact, An Bang beach in Hoi An was named in CNN.com's best beaches in the world!  An Bang beach has just enough restaurants and bars where you can sit on the beach and drink a cold beer but not so many that it starts looking like a resort town.  It's just as charming as its parent city, Hoi An!
---
5. CAT BA ISLAND AND LAN HA BAY
Lan Ha Bay is essentially an extension of Ha Long Bay off the coast of Haiphong city.  This lesser-known bay is really popular among local tourists in the summer months of July and August and its most famous beach on Cat Ba island is completely packed with people!  This effect is even more apparent because the beach itself isn't very big.  However, if you find a quiet time to go, Cat Ba beach is quite easily one of the most beautiful beaches in Vietnam.  Imagine white sand under your toes, turquoise water and limestone formations in the horizon.  It's very awe-inspiring and something right out of a magazine!
As it is just a small and scarcely developed island, you may find it hard to do any activities besides enjoying the beach.  But, this area of Vietnam is a mecca for rock climbers and the town on the island is well set up to lead tours around the bay.  You can also rent kayaks and boat around the islands to find your own private beach!  You may even spot some squatters living within the caves of the rock formations – apparently, there are 700 people living either on their boats or in the caves in the Ha Long Bay/Lan Ha Bay region!  It's quite the sight.  🙂
We hope you make it to the beach during your trip to Vietnam!  For more Vietnam travel tips, visit our blog at www.xotours.vn/blog. Our unique tours will allow you to discover the best of Vietnam.