When it comes to tropical islands in Southeast Asia, Vietnam is often overlooked in favour of Thailand, the Philippines, and Indonesia. But, as we shall see in this XO Tours Blog, the islands in Vietnam are equal to its neighbors in natural beauty, historical interest and, most importantly, wow factor. What's more, because the beach-seeking masses tend to flock to other nations in the region, this leaves Vietnam's pearls in the ocean relatively quiet in comparison. North, south and central regions all boast alluring islands, where velvet seas lap the white sands of hidden coves, and rugged, jungle-covered interiors form a mesmerizing tropical backdrop. Transport to these specks in the ocean is improving and so too is the infrastructure on the islands, making them more accessible and comfortable than ever before. These islands will integrate themselves in your perfect Vietnam itinerary.
In this XO Tours blog, we've summarized the charms of 5 of Vietnam's islands, including practical information to help you on your way. Click on an island from the list below to read more about it:
Here are the 5 Incredible Islands in Vietnam!
---
CON DAO ISLANDS:
Why go?
Isolated, seldom-visited yet easily accessible and utterly beautiful, Con Dao is a candidate for Vietnam's best-kept secret (so don't tell anyone else!). The main island of Con Son is rugged and jungle-covered. At several points around the island, the rocks give way to soft sand backed by jagged, windswept mountains, like a scene from Jurassic Park. Once a penal colony run by the colonial French, many Vietnamese consider this a haunted island; stalked by the ghosts of tens of thousands of political prisoners who died while incarcerated here from 1862 to 1975. But, although the past is commemorated in the museums (including the prisons themselves), Con Son's future is all about pleasure: frolicking in the gin-clean waters, ambling under palms on the beach, trekking through the jungled interior, enjoying Vietnam's best diving, strolling along the romantic seafront promenade backed by fading French villas, or pampering yourself in ultra-luxurious resorts.
What to do?
Beaches are few but very scenic. They are best explored by renting a scooter or bicycle and riding the deserted coast road. Trekking is fabulous on Con Son Island, thanks to new walking trails through the jungles and mountains, which are all part of the national park. Visiting the prison museums will open your eyes as to what this beautiful island was once like for thousands of political prisoners, who were held in appalling conditions. Former inmates include some of Vietnam's most famous revolutionaries. Diving (by far the best in Vietnam) and boat trips to the outlying islands is easily arranged. And simply walking along the seafront promenade of old Con Son town is a highlight: nowhere else in Vietnam will you find empty, quiet and charming streets like these (see image below).
Where is it?
Con Dao Archipelago is a group of 15 rugged islands, 80km off Vietnam's southeastern-most coast.
When to go?
Being right out in the middle of the ocean, the Con Dao Islands get hit by both the northeast and the southwest monsoons. The best time to visit is from early spring to mid-summer (February to July). During this time of year, the water can be calm and clear as glass, and winds are relatively light, although monsoon downpours are common.
How to get there?
There are two options: by air or sea. The islands are just a 45-minute flight from Saigon. Vietnam Airlines flies 4 to 6 times daily in both directions on a propeller aircraft. By boat it's a 12-hour voyage on a small, cramped vessel, departing Vung Tau every couple of days. The journey begins at dusk and ends at dawn. Boats are often cancelled due to rough seas.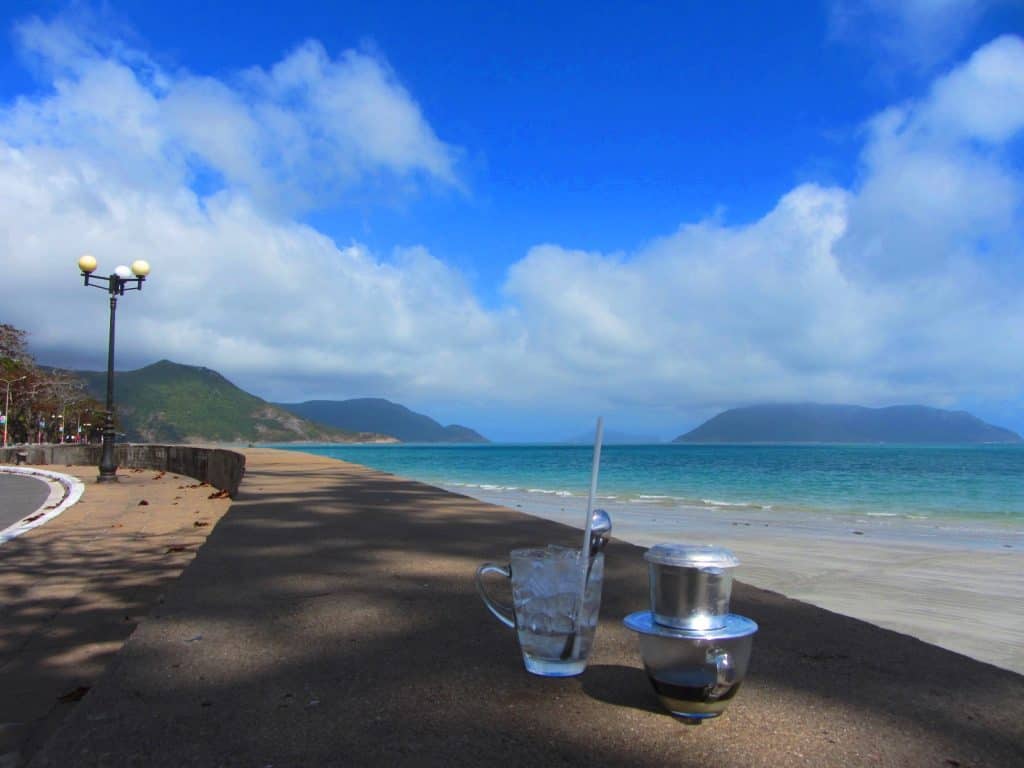 ---
CAT BA ISLAND:
Why go?
Cat Ba is a large and arrestingly beautiful Vietnam island in the middle of Halong Bay. From here there are marvelous vistas of the surrounding spectacle of limestone monoliths rising out of the blue sea. The island itself is a fantasy world of shimmering jungles, soaring limestone peaks, exotic bays and hidden coves. Staying on Cat Ba Island is a way to beat the crowds that descend on Halong Bay, mostly on overnight cruises. On Cat Ba Island, you can explore Halong Bay at a more leisurely pace, without being herded around like cattle from place to place on a tourist boat.
What to do?
Cat Ba is excellent territory for outdoorsy travellers. Hiking or biking in the rugged national park, kayaking in the gorgeous bays, and some of the best rock climbing in Vietnam (see image below), make it one of the best overall destinations for adrenaline seekers. But, for those with less energy, Cat Ba offers several lovely stretches of sand to relax on, and short boat trips to Lan Ha Bay, where isolated limestone islets prick the seas of the Gulf of Tonkin. A quick jump in the balmy waters and a seafood lunch on the beach is all the energy you'll need to expend.
Where is it?
Cat Ba is the largest island in Halong Bay. It's located 45km east of Haiphong and 50km south of Halong City. The island is surrounded by small limestone islets that make up the dramatic land-and-sea-scape that Halong Bay is famous for.
When to go?
Late autumn, just after the monsoon storms have passed and the holidays are over, is the best time to visit Cat Ba Island. November is our favourite month on the island, but the middle of spring (April and May) is also good. In the summer months, humidity is high, tropical downpours frequent, and tourist numbers (both foreign and domestic) are at their highest. In the winter months, it can be cold, drizzly and misty.
How to get there?
Cat Ba Island is most easily reached from Haiphong. There are usually four daily sailings in both directions on hydrofoils; the journey takes 1 hour. There is a ferry from Tuan Chau Island, just south of Halong City, but it docks at the 'wrong' end of Cat Ba Island, from where there is only skeletal transportation to the main town. Cat Ba Island is also well-connected to Hanoi thanks to an excellent bus-and-boat link operated by Hoang Long Buses.
---
PHU QUOC ISLAND:
Why go?
Vietnam's most talked-about island, Phu Quoc has long been touted as the next Phuket. For years it's been the darling of backpackers looking for long, deserted, tropical beaches to chill-out on. But now, with the completion of massive new infrastructure (an international airport and extensive road network), the island is firmly on the radar of mass tourism. The beaches are bright, the water is blue, the interior is green, and there are a great number of accommodations to choose from. Getting here is easy from anywhere in Vietnam and, increasingly, from regional hubs across Southeast Asia too. This is Vietnam's biggest island and, despite all the development, there's still room for exploration and finding your very own stretch of sand to lie out on.
What to do?
The number-one 'activity' on Phu Quoc is lying on the beach under a palm tree, with a book in one hand and a cocktail in the other; broken only by fresh seafood meals and swims in the balmy, mirror-flat Gulf of Thailand. The island is covered by a dense canopy of jungle, of which the majority is part of Phu Quoc National Park. For a taste of the damp, life-filled jungle, take a trip to one of the waterfalls, or arrange a trek in the national park. Rent a scooter to explore the coastal and inland roads: you'll be rewarded with stretches of empty beach, isolated fishing hamlets, and tidy little pepper farms. Diving, snorkeling and boats to outlying islands make an excellent day trip. At night, try a squid fishing trip on a wooden boat, complete with fresh-caught seafood dinner on-board. Local life can be experienced by taking an early morning stroll around the chaotic fish market in Duong Dong town (see image below).
Where is it?
Located in the Gulf of Thailand, Phu Quoc is one of the most westerly points in Vietnam. 50km off from the southwestern Mekong Delta, it's closer to Cambodia than Vietnam.
When to go?
By far the best time of year to visit Phu Quoc is the dry season, between December and April. During this time, the sea is as still and calm as an infinity pool. The skies are blue, the sun is warm, but mornings and evenings are fresh and cool. Temperatures begin to soar in late spring, and from July tropical downpours are common, seas get choppy and water can be murky.
How to get there?
Phu Quoc's new airport receives dozens of domestic and international flights every day. Within Vietnam, there are direct flights to the island from Saigon and Hanoi. Competition among airlines keeps prices reasonably low. Because flights from Saigon to Phu Quoc are so regular, it's easy to connect from any major city in Vietnam. An increasing number of regional hubs also fly direct to Phu Quoc, including Singapore, Hong Kong, Kuala Lumpur and Bangkok. Phu Quoc is also connected to mainland Vietnam by boat: both the Mekong Delta towns of Rach Gia and Ha Tien have several daily services to the island.
---
CHAM ISLANDS:
Why go?
A tiny collection of islands just off the coast of central Vietnam, the Cham Islands have been accessible to foreign tourists for some years now. Despite being within easy reach of one of Vietnam's most famous tourist spots,Hoi An, development has been slow. Only the largest island is inhabited and it's here that you'll find tantalizing ribbons of white sand, blue bays and densely forested hills. Most of the tourism here is based around day trips on boats from Hoi An, including beach-hopping, snorkeling and seafood lunches. However, for more intrepid travellers, it's possible to escape the day-tripping crowds by travelling to the islands independently via public boat and then camping on the beach. But you'll need time and patience to do this.
What to do?
Diving, snorkeling and swimming are the most popular activities on and around the islands (see image below). Most day tours from Hoi An have snorkeling equipment. Diving can be arranged through The Dive Bar in Hoi An. Cycling around the island on its beautiful (but very steep) coastal roads is the best way to explore the beaches. Hire a bike from Hoi An and take it on the public ferry to the island.
Where is it?
The Cham Islands are around 20km off the central Vietnamese coast, east of Hoi An and Danang. There are 8 islands in this mini-archipelago, but only one, Hon Lao, is inhabited but this is known to most travellers simply as Cham Island.
When to go?
Late spring to late summer is best: the weather is warm and sunny most days, but there are still plenty of tropical downpours around. During the winter months, seas can be rough and temperatures pretty chilly (for Vietnam). Avoid weekends and public holidays, when the island's beaches become crowded with domestic tourists.
How to get there?
Many tour operators in Hoi An can arrange day trip packages to the Cham Islands, including transport. Alternatively, there is a daily local ferry (2 hours) leaving Hoi An in the morning, which allows you to travel to the islands independently. You can even take a bicycle with you to amble around the island on two wheels.
---
QUAN LAN ISLAND:
Why go?
Quan Lan is one of the thousands of islands that make up Halong Bay and Bai Tu Long Bay. What makes Quan Lan special is that, despite being easily accessible, extremely scenic, and having a handful of decent accommodation options, it receives a tiny fraction of the tourist traffic that has, in many cases, ruined the experience of other islands in the bay. Quan Lan is a thin slither of an island, with excellent beaches along its eastern shore, and two small, sleepy hamlets at its southern and northern tips. Its sandy bays are wide are long, the sea is blue and calm, local fishermen are friendly, and seafood is superb. If you want to experience Halong Bay off-the-beaten-track, Quan Lan is what you're looking for.
What to do?
Quan Lan Island's main appeal is its slow pace of life and lack of things to do. Cycling or riding a scooter along the length of the island on the only road is a great way to explore. Swimming and relaxing on the beaches will occupy most of your time. But there are a couple of historical sites too: the ruins of Van Don, which was once an important trading post, lie in the northeast of the island, and there's an attractive, two hundred-year-old pagoda in the south (see image below).
Where is it?
Quan Lan is a long and slender island in Bai Tu Long Bay (just northeast of Halong Bay). Its western shore looks out over other limestone islands in the bay, while its eastern shore looks onto open sea.
When to go?
As with Cat Ba Island and the rest of Halong Bay, Quan Lan is at its best in late autumn and high spring. The summer months can get busy with holidaymakers from Hanoi, and prices rise accordingly.
How to get there?
Quan Lan can be reached from either Halong City, on the mainland, or Cai Rong port on Van Don Island. The latter has the most frequent ferry connections to Quan Lan. There are at least four separate sailings in both directions each day. Journey time is about 1 hour. From Halong City there is only one fast boat a day to Quan Lan Island (90 minutes).  But the journey through the limestone karsts in the bay is glorious.
We hope you enjoyed this blog post showcasing the best 5 Islands in Vietnam! If you're more interested in beaches, please read our post about the "Top 5 Best Beach Destinations in Vietnam."
Looking for more travel tips, and great things to do in Vietnam while you are here? Bookmark our blog, leave a comment on a blog post or on our facebook, we'd love to hear from you. Hope you join us in Vietnam soon!