With over 400+ tailors in Hoi An today, working both in shops and individually, it's not so easy to find the best tailors in Hoi An. So what is a traveler with limited time to do? 
If we go back in time 15 years, Hoi An was a picturesque coastal town well-known for its needle masters: the quality was no less than exceptional, prices seemed reasonable and options were limited to some extent. The tailoring scene we face when visiting Hoi An today has drastically changed for the worse: being offered discounts from every place you walk in (hotels, restaurants or taxi drivers), commissions are given along the production line which worsens the final output, leaving the end consumer with an inferior product at a price that doesn't match the value. Let alone the fact that most of the 'tailor shops' aren't doing the actual tailoring; these places are simply showrooms displaying samples and bolts of fabrics, outsourcing the sewing to workshops or needle masters at the markets. Besides the evident disadvantages of going through a middleman, the end result is nowhere near what you thought bespoke clothing would look like. All in all, it is not an easy task getting high-quality tailor-made clothes made in Hoi An nowadays. 
In this article, we want to give you a clear picture of what the tailoring maze involves, no sugar coating nor beating around the bush. That being said, we would like to offer some tips on how to choose the best tailors in Hoi An, one that fits your expectations as well as your budget because, after all, there are a rare few shops that deliver what they promise. You just have to do your homework beforehand and know exactly what tailor-made dress, suit or shirt you are craving for.
Watch the video below to learn more about our picks for the top 5 best tailors in Hoi An:
Tips to finding the best tailors in Hoi An
Buying bespoke clothes in Hoi An gets overwhelming because the options are endless. You can have absolutely anything you like made: dresses, suits, shirts, shoes, high heels…any color, any style, any size. Be very specific with your tailor. If you have a clear idea about your tailored piece of clothing, spend some time drawing it out to the last detail. If you are not a really good drawer, then consider finding a picture on the internet that looks exactly like the one you want. It might sound contradicting to copy an existing design when you are getting tailor-made clothing, but sometimes sticking with a cut that already works is best for starters. You can add more details or garments later in order to come up with your dreamed couture design, but make sure you know what you want.Back to Contents
Following your gut feeling when offered a great discount at the tailor shop across the street from your hotel is tempting, but trust us when we recommend you to take your time on this one. Average stays in Hoi An last for 2-3 days, leaving visitors with only a couple of nights to shop around the streets of the Old Town. If you are planning on getting bespoke clothing and you don't want to settle for low-quality garments, you should order your designs as soon as you arrive. Ideally, you would like to have three fittings (tailor-made clothes don't come out perfect the first time) for any item you get, which will put you on a stretch in terms of time. With this in mind, make sure that before you pick your shop, you have talked to a few tailors, compared prices, tested different materials (more about this on the next point) and even bargained a bit.
Back to Contents
As mentioned before, it's a long road ahead for those who want to get top-quality bespoke clothing in Hoi An. After you have done your primary research, your next decision lies with picking the right fabrics for your design. At the end of the day, it is the material that you use what makes the item falls or not fall as intended. A simple test would be to hold the fabric against you and decide whether or not this style fits your taste. Similarly, make sure you test what is offered to you as they have many flowing silk-like fabrics in Hoi An that are actually synthetic. How to tell the difference? Synthetic material melts while silk burns so ask them to do the burn test if you are hesitant.
Next, you will have to answer many questions from the shop assistant who is doing the measuring in order to decide on the small details. Getting asked the right questions is always a good indication that you have come to an experienced tailor shop.
This is what we meant when we talked earlier about expectations meeting final outcome. With such a fierce competition all across Hoi An's tailor shops, visitors tend to focus on price or even bartering rather than working about the quality and workmanship at stake. The rule of thumb for a successful tailoring experience in Hoi An is that you get what you pay for. If you have a tight budget and don't especially care about details or fancy designs, you will probably be pleased with just any shop. On top of that, remember that prices are overall lower in Vietnam and this also applies to clothes. Before you know it, you will find yourself indulging on custom-made garments for a much cheaper price than back home.
On the contrary, if you are willing to pay extra for superior bespoke clothing, Bebe Tailor, A Dong Silk, Yaly Couture and Kimmy Tailor are in our opinion the best tailors in Hoi An. We have been told by friends who have tried their services that they are the only shops that employ in-house needle masters, resulting in better service and quality all together. These four shops are probably among the most expensive in Hoi An, but we believe quality comes at a price and they sure deliver it. Even at these top-of-the-line shops, make sure you try to bargain in order to get a 10-20% discount off the quoted price, especially if you are getting several items made.
We've reviewed Bebe Tailor, A Dong Silk and Yaly Couture below, listing their strengths and weaknesses so that you can decide which one suits your style and needs best.
Recommended tailor shops in Hoi An
Bebe Tailor
Trustworthy and quality-driven are two traits that perfectly describe Bebe Tailor. With more than 15 years of experience, they now have three different stores around Old Town area where they can take on one thousand orders a week (all done in-house) easily. Having the tailors on-site for small adjustments during the multiple fittings makes the whole process a lot easier. Above else, clients highlight their friendly and attentive staff who take care of every step of the way the second a potential customer walks in, guiding you through the entire purchase (from material selection to garment delivery). Quick turnaround and impeccable post-purchase customer service are also strong suits at Bebe Tailor.
Our friend Roberto had 2 suits and 5 shirts made here within 48 hours and couldn't be happier with the final outcome. "Their service is fast and professional. When I got back to my accommodation, I found a small stain on one of the shirts. I called in and they quickly arranged for a replacement. If you are looking for tailors with an eye on detail, this is your go-to shop", he told us.
Strengths: quick turnaround, post-purchase customer service, extensive catalogue with plenty of styles
Weaknesses: on the expensive side, cheaper fabrics can lead to disappointment, buttons come off for some clothing
A Dong Silk
Back in 2005, A Dong Silk was the first tailoring outlet in Hoi An to register as a company. It now has a staff of 70 employees between their two stores offering a professional and pleasant tailoring experience that woes its customers. Personal sales assistants at A Dong Silk excel at giving personal advice before, during and after the purchase; making clients feel confident about their choices thus avoiding second guesses. All staff members speak great English (some French too) and are very acquainted to foreign fashion trends. They keep measurements for years and go the extra mile to make a client happy, shipping garments internationally if needed. If you already know your measurements, you can order online through their website through a seamless process that allows for countless customisations.
Our friend Maria came to Hoi An with the idea in mind of getting her wedding dress made during her visit. "I knew it had to be made at A Dong Silk due to the previous reviews I had read about their wedding dresses. I showed them a photo of a design I liked back in Spain and they came up with an exact copy of it for half the price. My personal assistant, Hong, made the whole experience very special and that is something I will never forget about my wedding dress nor my trip around Vietnam".
Strengths: professionalism, eye for detail and very knowledgeable advice by personal assistants, value for money
Weaknesses: pushy to close the sale at times, less catered to Asians, tend to be old style
Yaly Couture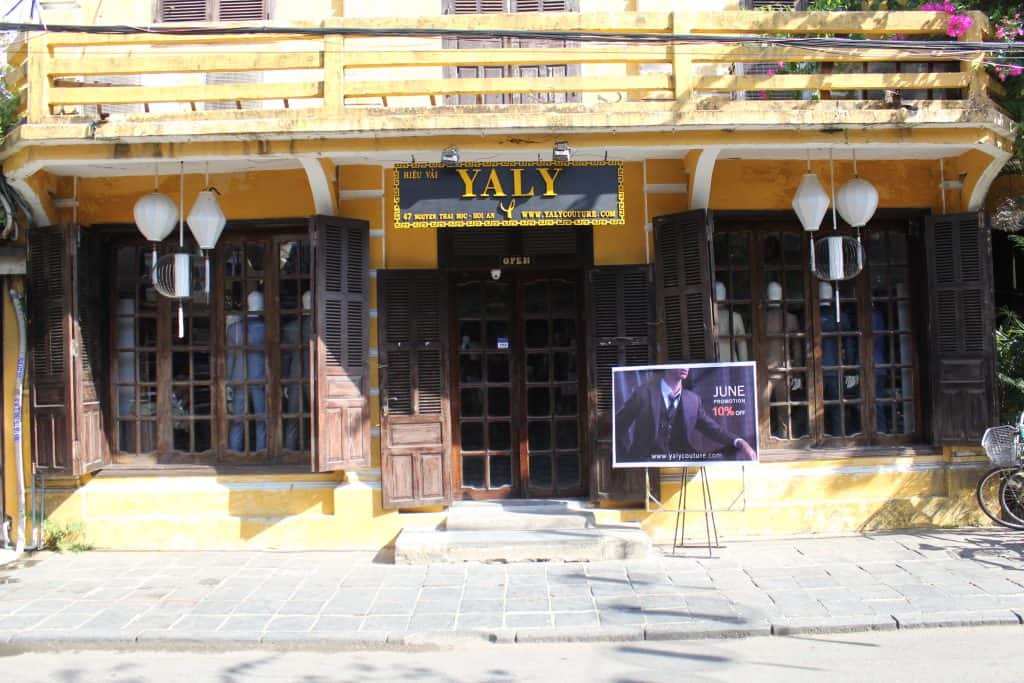 Born from a small market stall run by Mrs. Quynh, Yaly Couture has grown to be one of the most reputable bespoke shops in Hoi An. Apart from clothing, they set themselves apart from competition by designing bespoke shoes. Yaly takes craftsmanship to the next level by offering luxury couture fashion to a high-end clientele. They claim to stock the finest and the most extensive range of fabrics in Hoi An updated regularly, carrying some difficult to find cashmeres or top-of-the-line wools. Yaly prides themselves in keeping up with the latest fashions trends by providing their team of 300 tailors with the best training programs, assuring exemplary service and ongoing innovation. Their 3D body scan is a clear example of that: they register your measurements with this modern equipment so you can order online even after getting back from your travels in Vietnam. On top of that, customers consider shopping here a breeze since their process seems streamlined and easy for those who have never bought bespoke garments before.
Our friend Mario came to Yaly looking for an unique bespoke suit. "I had this weird design in mind that thought was unachievable in a place like Vietnam. They took all my requests in stride and came up with the suit that I exactly asked for. Later on, I was happy to find out about their international shipping since I will be getting more clothes made after this delightful experience"
Strengths: fashionable, top-of-the-line fabrics, 3D body scan for measurements and recurrent purchases
Weaknesses: small details are off at times, multiple fittings required, high price on certain fabrics
We hope this article helps you with your research before visiting the mecca of bespoke clothing in Vietnam. We couldn't stress enough the fact that competition is fierce these days, hence the tailoring experience can turn out to be an overwhelming one. When feeling strained by indecision, remember that all this time is spent indoors, away from the sun, instead of enjoying the beauties of the Old Town. We recommend you to stick with reputable tailor shops that carry on their long-standing tradition and satisfied customers for a hassle-free stay in Hoi An.
If you want to fill up the time in between your clothes fittings with some fun activities, consider booking one of our amazing Hoi An day trips. To learn more about our thrilling "Riding with the Nguyens" scooter tour and our belly busting "Dinner with the Nguyens" walking food tour, please visit our XO Tours Hoi An website by clicking HERE!