Although we are very proud of the acclaim our XO Tours have received over the years, we realize that they are not suitable for everyone. These are the 3 main reasons we think some guests should not book our tours:
If you are looking for a typical food tour, 

– All the dishes and stops on the "Foodie" tour are carefully curated to offer you the most unique experience possible. XO Tours are not trying to serve you the most popular dishes in Vietnam, even the dishes we think are the most delicious (although most people LOVE the food!). Our Tours want you to eat the exact same dishes that the locals eat every day, so those are the types of dishes we offer on the tours. We also want to show you the huge contrast between the different districts. So we can give you a feel for what life is truly like for the Saigonese people.

If you're just looking for a food tour that jumps from one food stop to the next however, and you don't care to venture outside the touristy districts in Saigon to see a side of the city that none of the other tours go to, then XO Tours is probably not the tour for you.

If you are not interested in Vietnamese history

– On our "Sights" tour, not only will we provide some interesting historical background for each location we take you to, we will also share unique local insights that you won't find in most guidebooks. Rather than just throwing facts at you, we try to connect each place to a human event, so that you will remember each location for the impact it had on the Vietnamese people. If you find history boring however, then you probably shouldn't book this tour.

If you want the cheapest motorbike tour –

At XO Tours we want to provide you with a boutique experience that you cannot find anywhere else, combined with the best customer service in Vietnam. We hire the best possible staff and train them to be great ambassadors for Vietnam. We believe the time, effort and attention to detail we put into creating our tours is reflected in the high quality of the tours. Everything we do to make our tours special increases our costs which makes our tours a bit more expensive than our competitors. We accept this fact however because we believe that majority of our guests are willing to pay a little more for a superior experience. For guests that just want to drive around on a motorbike for the lowest possible price, there are many other options in Saigon to chose from.
If you are like the travel writer, Graham Caldwell or the majority of the 60,000 + guests that have gone on our tours however, we think you will love your time with us!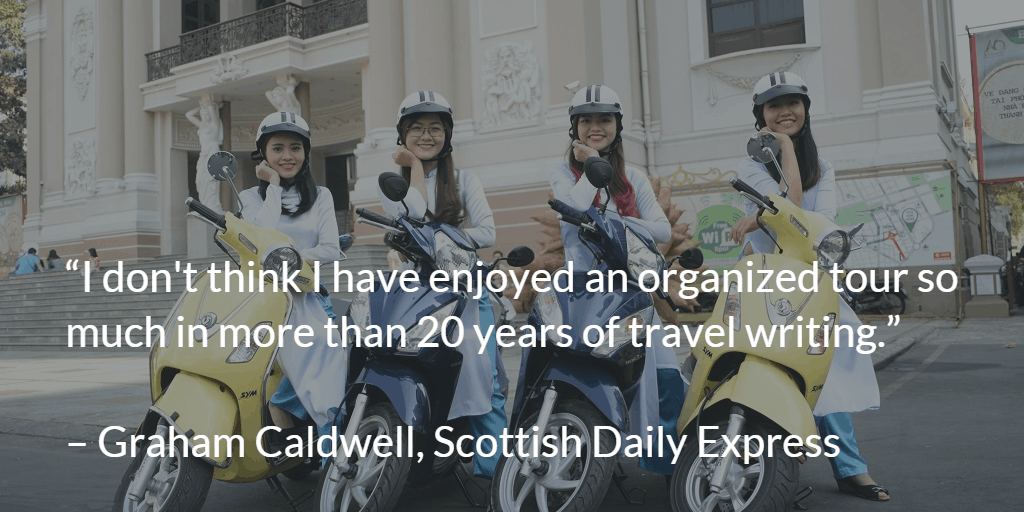 Not sure where to go in Vietnam yet? Check out our latest blog posts to the right of this page.