Here is an excerpt from the food diary of Mario Tolentino, a New York Chef and winner of The Food Network's "Chopped" in 2010.  Mr. Tolentino, a street food fanatic, decided to take part in our "XO Foodie" tour on August 6th, 2011.  He was kind enough to send his review of "The Lunch Lady" and our very own Foodie tour to me, and to say that we are flattered and ecstatic about his remarks would be an understatement!  Thanks Mario!
Here is what he wrote about the XO Foodie tour
Nighttime foodie tour
I want to touch on 2 eating experiences
1- lunch lady day 2
I started my day at the War Remnants Museum, it was a big eye opener to not only see the Vietnamese view of the war but also just to learn about this epic failure of a war, the parallels of our current Afghan war are undeniable. As they both were wars against terror, meaning only terrible things happen. I left the museum shook, sad and disturbed so there was only one remedy, LUNCH LADY!!
I arrived right at 11am, when she begins serving and there were around 10 people waiting for her "secret ingredient" soup. She greeted me with a huge inviting smile I almost felt like she remembered me from the day before. I take my seat and it was like she was sending me an amuse for having to wait and the fresh shrimp spring rolls hit the table with it's sweet spicy peanut sauce. The roll itself has vermicelli rice noodle, a herb called morning glory, garlic chives, cilantro, lettuce and steamed shrimp. The peanut sauce is not like the kind you get in the states with your satay. It is heavy with the tamarind paste and has pickled carrot & daikon, crushed peanuts and crushed chilies. Great start!! Since I arrived last of the early guests I observed what the soup contained a Thick "macaroni" like rice noodles with a pink hue in a light but flavorful pork broth, blood cake, sliced ham, steamed sausage, pink plump shrimp, quail egg and various herbs. The ecoutremants are lettuce leaf, and this very light, airy and crisp fried breadstick, intended to be used to sop up the broth, lime and fermented spicy shrimp paste.  Absolutely ethereal! The pork and shrimp combination is very common in SEA and the rich porky broth only enhances this combo. The blood cake is much more mild then I anticipated and the irony slightly bitter taste actually serves an important purpose to cut the intense flavor. I throw in the "croutons" and they soak up the liquid like a sponge while still retaining it's texture and integrity. Slurping up the thick noodles also give the soup a fun aspect. At my feet are exotic chickens and rooster, I look up and take notice to something, what's that I hear?!? NOTHING! Only the quiet slurping of soup and noodles. Fully satisified I pay my tab and zoom off. Already thinking about my biggest treat of my stay, a night time foodie tour.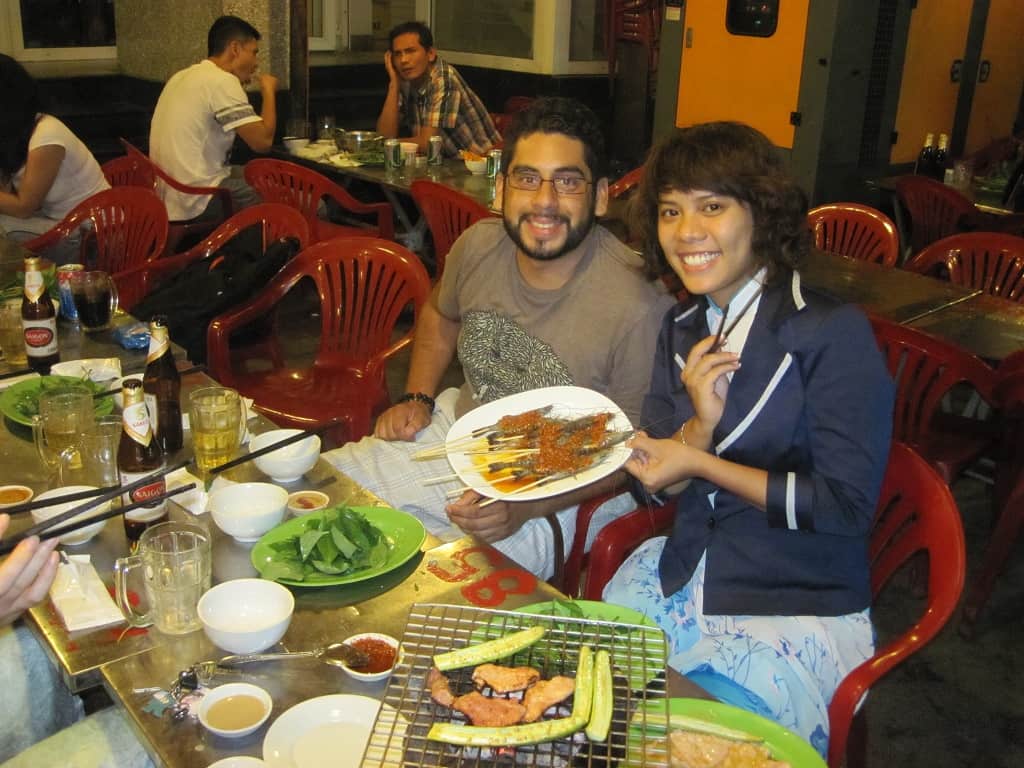 The company is called XO tours and is rated number 1 in every genre for things to do in Sai Gon, My guide Nga, pronounced Nee-yah promptly arrives at my hotel to pick me up. It has been raining for the past 3 hours and I considered canceling but decided to man up and brave it in the rain. It was cool to be on the back of a moto and not have to worry about navigating. I jump on with a plastic poncho and off we go into the smoky soaked Saigon streets.
Our first stop is laterally 2 blocks from my hotel!?!! I was like, what the hell!?! Great another SEA scam, they're not going to take us anywhere good! But they served us a bowl of soup, it was good, but nothing compared to my earlier experience with the lunch lady. As I'm slurping away the other guests on the tour arrive, I can't remember their names but it was a British couple and their two Vietnamese scooter hostesses and the owner of the company Tung. They sit down we introduce ourselves and I can't believe my ears, Tung has an American accent! He grew up in Texas it was actually comforting as traveling alone I really haven't met or spoken with many ppl from the states.
Side note – travelers I have met and chatted with German, British (largest group), Thai, Canadian, Dutch.
My hostess Nga, confessed that Tung was very nervous for me to go on the trip, I asked why? She said, oh he looked you up and said, "you very famous chef." I laughed!! I said no I'm not famous, just a chef. Actually, when I first booked my reservation Tung was adamant about clarifying that this wasn't fancy food and we would be dining on street food. I replied to him yeah I know that's what I'm looking for! I always forget about the auto signature at the bottom of my emails.
Ok back to the food tour, it was fun to be on the back of the moto, I was able to take videos. Our second stop is in Chinatown, it was raining so we weren't able to get the full experience of the night market but it was cool to ride thru, Nga told me how everything is on sale at this night market and only on sale at night. It was about a 30-40min ride from stop 1-2. Tung, then told us that are next stop was going to be a popular hotpot spot that is only frequented by locals.
And all 3 of us are excited. As I'm riding along, Nga is very informative, bright, funny and witty! She tells me about all the things we are riding by. We also talked about other foods and she mentions that one of her favorite things is bulot! (Baby chicken embryo) **edit: it's actually duck embryo**.  I asked her if I would have the opportunity to try it. I think the girl thought I was kidding but I didn't let up and after riding for 30-40min she pulls over to a small cart on the side of the road and gets 2 chicken eggs and 2 quail eggs! We ride another 5 min or so and we arrive at the spot. We are noticeably the only westerners in the place, as the moment we duck under the tent all eyes turned too us. Especially the British couple the lady was tall, blond hair, blue eyed and stuck out like a sore thumb. But they quickly put our table together and bring us beers, set up the little habachi grill and load the table with their specialty goat. Yup goat, not lamb, not mutton, straight up goat! But before I can dive into the specialty of the house I must eat the quail egg and bulot while it's still hot. Quail egg is no problem because it is so small, so on to the next.  Nga gives me a demo, first you take a spoon and crack the wider end of the egg and peel away just a bit of the shell and drink the liquid inside. Ok…… so I go for it and it was absolutely delicious!! It tastes like chicken consommé light in texture and heavy on chickeny flavor. Well this is a great start!! My beer arrives right on time! Moments before it is time to tackle the rest. Nga sets me up with a mixture of salt, pepper, crushed chilies and lime juice also thai basil and a commonly used  amazingly complex herb named morning glory (it has a minty, cilantro, lemony, bitter taste) I begin to peel away the hot shell and can see the chick clearly now take a spoonful of the mixture and take a bite……not bad, got a good amount of yolk, familiar taste, and a livery type tast, also familiar. But I still have a large amount to go, take a bite of basil, morning glory and a swig of beer to prepare for the next bite. There is no real way to take a bite, I douse it in salt mixture and pop the whole thing in my mouth!! WOW!! Flavor this time is more livery and the texture is of rubber!! And since I took such a large bite I had to stop take a breath, stuff basil in my mouth… man up and chew, and chew, and chew half way thru I'm like what have I gotten myself into!! I take another spoonful of salt mix and a few more herbs and finally get the rest of it down! This was the only time I can remember in my life that I ate something that gave me that level of adrenaline! I conquered it the table applauded and I'm ready for my goat! The flavor o the goat is odd not at all like lamb, but unmistakably red meat. It actually had almost a bacony type quality and of course the char was my favorite part.  Tung explained to us that this is the breast of the goat.  They also brought us shrimp in a delicious chili marinade. We set off to our next destination.
Our ride continues off into areas unknown to most foreigners. Another 30min until we reach our next destination. Tung explains that this place has his favorite dessert, we would be sampling 2 types. 1 – coconut gel served in the shell. 2- a creme caramel with ice and Vietnamese coffee. The coconut dessert had two layers, the top was white thick fatty and rich, while the bottom was very dense and jelly in texture but clear and light in flavor. I love coconut so this dessert is right up my alley. I love flan! An this creme caramel was no exception what made it unique was the crushed ice and strong coffee. I must also note the silky, creamy texture, was perfection and an obvious expert created this dish, I loved them both but preferred the flan.
Tung informs us too save room we still have our seafood stop!! We enter the next district and it is back to the densely packed streets. We arrive at our place and we are all excited for what is to come. Oh yeah, after hearing Nga speak so highly of her favorite dish I have requested the grilled chicken feet, common in these parts. The first dish is chili crab, small freshwater blue crab claws, wok fried with a lot of chilies and garlic!! Perfect!! Then we get a steaming pile of small razor clams in gravy with the sauted stalk of the morning glory! Unbelievable taste, as this surf clam has the intensity of the sea, mixed with the richness of the gravy, and complex herbaceous quality of the morning glory. Another home run!! Then my favorite dish of the evening, small scallops grilled in the shell, with butter scallions and crushed peanuts!! This dish had it all buttery scallop, bright oniony flavor, great texture with the peanuts, simple but so incredible!!  I turn to look at the grill an seeing the cook fanning and stoking the coals and meticulously rotating the chicken feet to grilled perfection. I'm not kidding, these feet blow chicken wings out of the water!!! I'm going to make this when I get home to eat, it's the best part of the chicken, it's basically grilled chicken skin, gelatinous fatty minute amounts of meat and just an intense chicken flavor. I could taste the marinade which I deduced was the same chili marinade the other place used on the shrimp so it must be standard.
This tour has been one of the highlights of my entire trip! They really bring you to tucked away hidden gems you would never know to go and definitely wouldn't be able to reach on your own. The guides, mine in particular, are charismatic, funny, informative, personable and safe easy drivers! Tung has hit a home run!! Put it all together and it is no surprise that it has been so well received. It really doesn't matter if your a newbie trying to push your boundaries, a hardcore foodie, or even a highly trained chef, this tour can and should be enjoyed by all!!
Mario Tolentino
Can Cook Cuisines
---
At XO Tours, rather than district 1, we strongly believe that there is a lot more to explore the city. Joining our Foodie Tour could provide you with the best way to discover many various districts besides District 1 and eat great street food at the same time. Please visit our Blog frequently for more Vietnam Travel Tips.