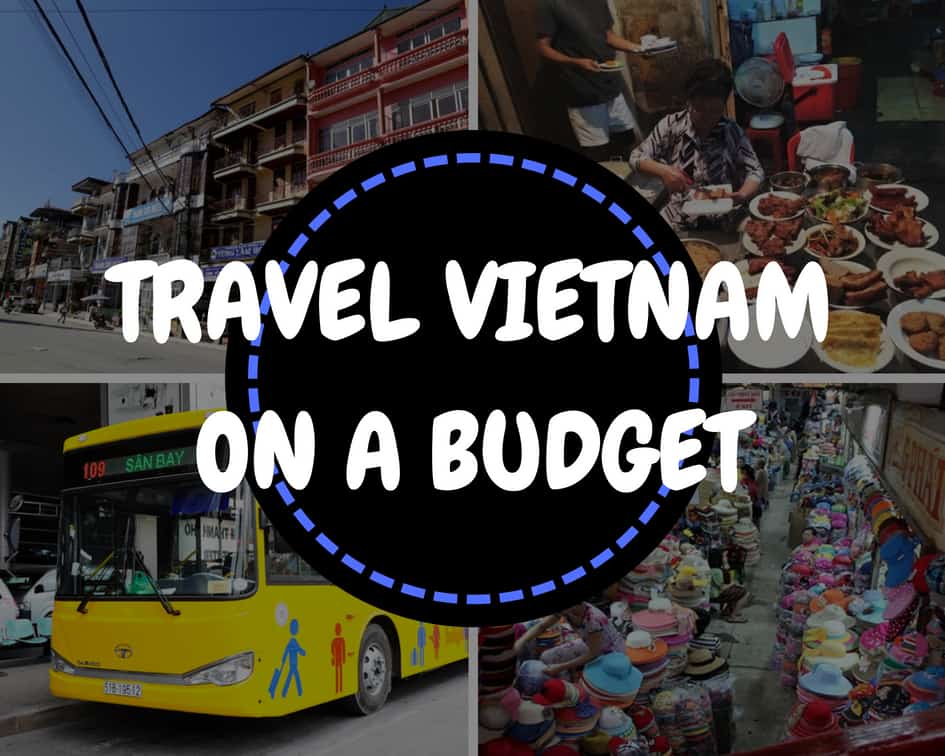 Vietnam is one of the most popular budget travel destinations in the world.  Although one can have a very lavish vacation in this Asian paradise, it is still quite easy to travel on a tight budget.  The easiest way to travel frugally is to know how and where to find the bargains!
HOW TO TRAVEL VIETNAM ON A BUDGET
(Please click on the link below to jump directly to the category you would like to see)
Food and Drink
Relatively speaking, food in Vietnam is cheap, especially if you avoid expensive restaurants which are generally targeted towards tourists.  One of the cheapest meals you can find is banh mi (a Vietnamese sandwich).  They are filling, non-fussy, and tasty!  Another budget food option is to visit a Com Binh Dan – a type of street food establishment with a wide array of dishes.  For less than 50000 VND, you can have a hearty and authentic lunch.  Less than $2 will also get you a hot bowl of pho, a cold glass of Vietnamese iced coffee or fresh cut fruit at the market!  The great thing about eating on a budget in Vietnam is that you don't sacrifice taste and quality.  If you're looking for cheap international eats, the backpackers' area of Ho Chi Minh City or Hanoi are the best places to go.  Many small establishments and restaurants cater to the tourist crowd and provide no-fuss basic international meals at a very low price.

When purchasing bottles of water, try to buy them at small stores or stands.  Bottles of water at hotels or restaurants can be very expensive.  Another cheap option to hydrate yourself at a restaurant is to order tra da, or iced tea.  It's very refreshing on hot days and usually safe.  A glass of tea will cost much less than bottled water.  Although mixed drinks at a five-star establishment are very expensive in Vietnam, beer and vodka are quite cheap!  Beer costs less than what it would cost in the US or Australia – $0.50USD can buy you a big bottle of beer!  Even some imported beers are inexpensive.  As a contrast, wine is somewhat expensive as Vietnam is not known for producing wine.  Most wines are imported into the country primarily for tourist consumption so the markup is very high.
---
Transportation
It is common knowledge that planes will be more costly than buses and trains but if time is of short supply and if there are many destinations on your travel schedule, planes may be the best option for you.  Vietnam Airlines is the national airline company and although they have seat sales sometimes, they are not a budget airline.  That being said, Vietnam Airlines offers huge discounts if you book tickets during the last five days of every month (you don't have to travel on the last five days, just book them when the discount is offered).  Alternatively, Air Asia flies to many destinations in Vietnam and is a pocket-friendly airline.  During busy season to a popular destination, we have found that there is little difference in price between the two airlines.  In these cases, and if demand for seats is high, booking early can sometimes be beneficial as prices may increase closer to the flight date.
For those with more time to travel by ground transportation, open tour buses are an excellent way to get from one destination to another.  Open tour buses are those that operate independently of an organized tour.  They are, by far, the cheapest way to travel longer distances in Vietnam.  For instance, you can take a bus from Ho Chi Minh City to Mui Ne (a 4-7 hour drive) for $6USD.  Or, for around $50-60, you can stop at multiple destinations along your journey and stay as long as you want (as long as you give 24 hours notification before boarding the next bus).  There are many different companies that operate long-distance buses – the tickets can be booked at a travel agency or at the actual company's office.  In the backpackers' areas, the offices are lined up one after the other.  The buses are assigned seating so it may be a good idea to get tickets early in order to get a seat that you want.  Trains are also a popular mode of transportation for long voyages.  On one train, Vietnam Rail operates the majority of the cars but many other private companies operate tourist cars on the same train.  The private tour companies are targeted towards tourists but Vietnam Rail cars are generally $7-10 cheaper than the tourist cars.  To save your precious Vietnamese Dong you can travel on night buses or trains and save a night's accommodation!
While in the city, the choices for transportation are the city bus, xe om (motorbike taxis) and taxi.  City bus is generally the cheapest but certain places in the city can be less accessible.  Taxi fares in the city  are relatively high and it can add up quickly!  A practical and economical alternative to the city bus and taxi is the xe om, which translates literally to 'hug taxi'. A 'xe om' is easily identified – you will see many people waiting on their bikes on street corners looking to give a lift to a tourist.  They can be quite cheap assuming you will negotiate a price down.  Of course, the price depends on where you want to go, but if you are going from one place to another in District 1 of Ho Chi Minh City, a xe om should cost you no more than 20,000 VND.  As a comparison, a short taxi ride within District 1 may be roughly 30,000 VND.  If you want to venture into some of the other districts that are farther away, hiring a xe om is not only more economical but also a great way to experience the city!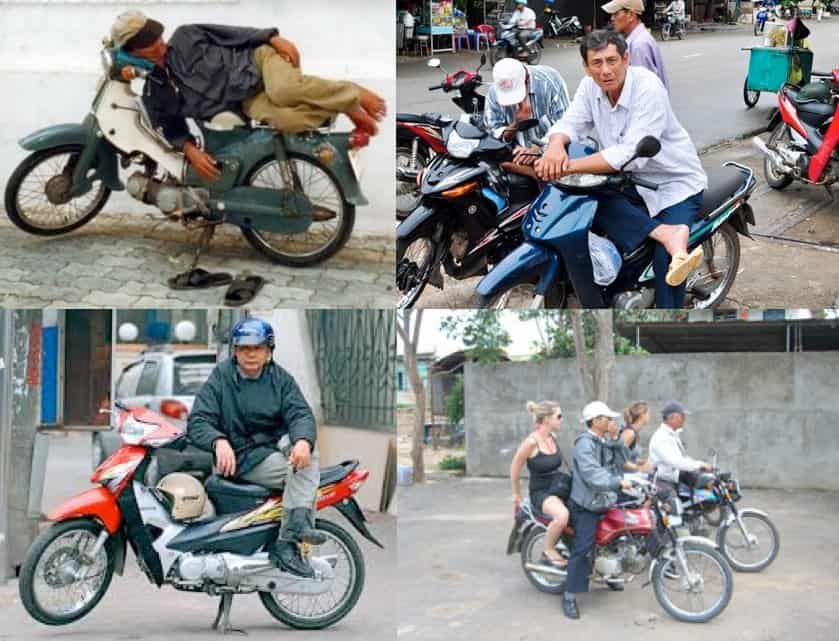 ---
Lodging
Budget lodging options are plentiful in Vietnam!  In the cities, many of the tall and narrow homes have been converted to guest houses or small hotels.  Although there is quite a range in price from city to city, it's very easy to find a room for $10-30 a night.  Most will also have some sort of included breakfast – eggs, pancakes, bread, butter, tea, coffee, juice and more!  Finding a hotel with an included meal may save a lot of money in the grand scheme of things.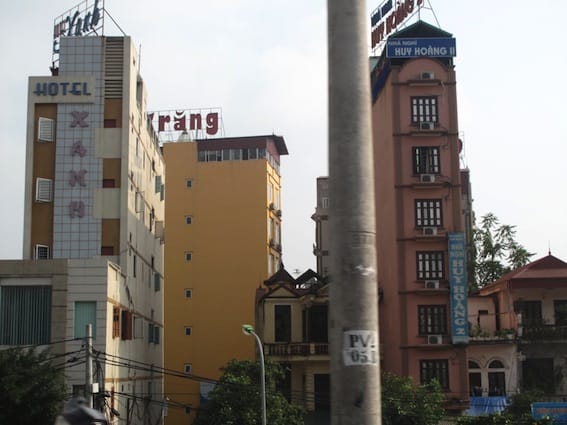 Homestays have become an increasingly popular form of lodging, especially in the smaller towns in Vietnam.  Not only are they budget-friendly, it's a great way to understand a little bit about daily life in Vietnam.  Most homestays are booked through travel agencies, except for tourist villages like Sapa where you can walk up to the many homestays advertised.  In Vietnam, one requires a license to host travelers in their home.  Homestays turn out to be an excellent bargain!  Meals are also often included and although they are not fancy, they are usually more than sufficient.  We recommend buying water and any other drinks that you might need beforehand at a store or street vendor rather than at the homestay – the markup for bottled water is very high.
Another type of lodging option that may be of interest to you is 'couchsurfing'.  This phenomenon has been a part of Vietnam travel for a long time and is becoming increasingly popular among backpackers in the country.  If you are not familiar with that term, Couchsurfing is a means for people with homes (and couches) to connect with travelers who need a place to crash.  The biggest appeal of Couchsurfing – it's free!  If you are traveling on a really tight budget, we recommend that you check this service out (www.couchsurfing.org).
---
Activities and Shopping
Activities and attractions are usually the biggest expenses during your stay in Vietnam.  Places like the Cu Chi tunnels or various monuments can charge an entrance fee and if these are places you'd like to visit, there isn't much you can do about it.  If you are fond of tours or attractions while traveling, we recommend factoring this into your budget.  It can be an excellent way to understand the culture and you can trim your expenses in other ways.
When shopping for souvenirs or goods, avoid tourist markets like Ben Thanh Market.  It's very tempting to shop in such places because of the convenience.  But simply go outside and visit the street vendors.  The prices are much lower and they are more open to bargaining.  If you are able to, visit Cho Lon market in District 5.  This is a wholesale market and you will be surprised at the price difference in goods between District 5 and District 1!
---
We hope we helped you save a little bit of money during your time in Vietnam!  To find great shopping bargains around Ho Chi Minh City, check out our guide on Shopping in HCMC.