The architecture in Vietnam is heavily influenced by the cultures who have played a big role in the country's history.  It's difficult to miss the French-inspired homes with yellow walls and black wrought iron balconies or the Chinese style heavily ornamented pagodas.  Although these types of structures are found throughout the country, the one type of building that exemplifies iconic Vietnamese architecture is the "tube house".
When spending time in Hanoi or Ho Chi Minh City , you are sure to recognize these unique looking homes – usually 3+ floors, incredibly narrow and long, and packed like sardines in a can!  These homes are usually only found in cities because of high population density.  Historically, when people started migrating to the cities looking for work, land was scarce and the population was relatively high.  This is a stark difference from architecture in the countryside, where houses are wide with gardens on three sides of the building.
The Evolution of the Tube House in Vietnam
Why do they look like that?
The population growth in Saigon is no different than other cities where houses naturally tend to be smaller to accommodate a large number of people.  Yet, these 'tube homes' are a truly unique solution to that problem.  The reason for this form of architectural design has to do with old taxation laws in the city.  When Ho Chi Minh City and Hanoi started to develop, the laws were such that one would be charged property tax only on the length of the front facade of the home.  Strange as it is, the overall square footage of the home made little difference!
This style of house is not new.  In fact, it dates back to the Le Dynasty (15-18th Centuries AD) where the idea was to pack as many shops and stores on a street as possible, and merchants would use the back or upstairs area as their living quarters.  These old style merchant homes are the most well preserved in Hoi An.  The multipurpose usage of space still exists today – many of these homes use their bottommost floor as a shop of some kind.  Of course, if more living space is needed, the only way to grow is up!  And, as Vietnam has a strong culture of multi-generational families living together, 4- or 5-story homes are quite common and some can be up to 7 floors high.
Influence around the world?
Granted, the architecture in Vietnam is unique, but narrow homes are seen around the world.  In fact, the Philippines also has narrow homes that are only marginally different in design in comparison to the homes in Vietnam.  The State of California is also no stranger to multi-story tube homes.  San Francisco has a high urban density and some homes are generally narrower, although not as packed as in Vietnam.  New development along Santa Monica beach in California looks remarkably similar the Vietnamese tube homes, but with a bit more sophisticated flair!  Did Vietnam make them first and influence everyone else?  In comparison to the western world, Vietnam thought of the idea first of course but it's doubtful that these homes were modeled after architecture in Vietnam.  Relative to the Philippines, it's hard to say for sure.  Some ethnologists say 'yes', but many have noted that these homes in the Philippines and Vietnam came about at around the same time and perhaps influenced each other.  However, in terms of sheer number of these homes, Vietnam beats out its competition, hands down!  🙂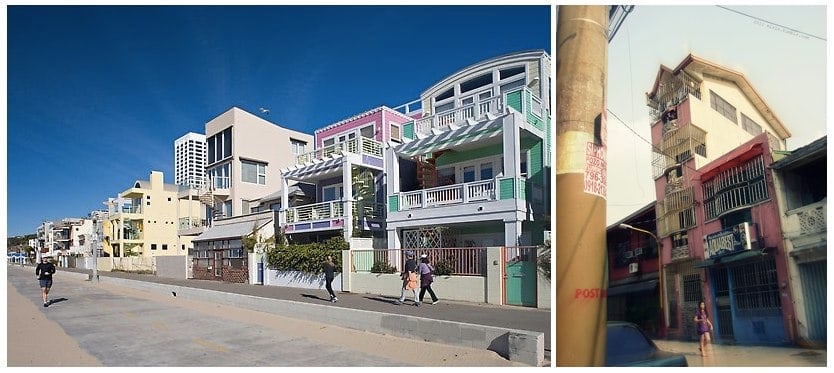 What's inside?
These homes are also quite interesting in their layout.  The bottom floor is usually a shop or a reception area/garage.  Of course this is not a garage for cars but for motorbikes, the vehicle of choice in Vietnam!  The kitchen is usually at the back of the first floor or the second floor.  The floor with the main living space is also the floor for the grandparents.  The other floors are usually just bedrooms for everyone else living in the house.  The roof area, which is usually open air or partially covered, is reserved for a little garden, lounge space, exercise area and the water tank!
Here is a typical layout of a Vietnamese tube home!
We hope you enjoyed learning a bit about architecture in Vietnam!  To learn more about the architecture in Ho Chi Minh City, both old and new, join us on our XO Tours Sights Tour! Traveling in Vietnam is fun and here are some great tips on how to stay healthy during your time in Vietnam. Please take a look and stay safe during your trip.