As the intense heat and fierce solar rays of the day disappear a new side to Ho Chi Minh City emerges. The coolness of the night brings locals and tourist alike out for rest, relaxation and even for a bit of excitement. Don't expect to have your mind blown by the nightlife in Ho Chi Minh City but rest assured you won't be bored.
This guide will help you discover some of the coolest things to do in Ho Chi Minh City at night. It'll also introduce some fun things to do at night on a motorbike and a few lesser-known places of interest.
Popular Night Time Activities in Saigon
Table Of Contents
(Please click on the links below to jump directly to the topic you want to explore)
Wander Down Nguyen Hue Boulevard
Nguyen Hue is the beating heart and centre of Ho Chi Minh City. While it is fairly quiet during daylight hours it becomes a hive of activity by night and is a great place to take a walk or simply just people watch. 
Local youth come here to hang out and keen street performers and dancers are often seen showing off their talents. Despite its central location and popularity it still remains a great place to come and ignore the hustle and bustle.
Aside from the street action the area also has some great places to eat and drink. At number 42 Nguyen Hue you'll find some of the street's oldest residential buildings, which in recent years have been turned into some of the cities coolest cafes and boutique stores.   
Take an X
O
Motorbike Tour
Sometimes Ho Chi Minh City can be a little overwhelming for visitors to the city. There's so much to eat and so many motorbikes to navigate through. As they say, "if you can't beat 'em, join 'em". The best way to do that is to take an XO tour that highlights the local nightlife and food culture. 
XO's Saigon by Night scooter tours will take you far away from the typical tourist traps and to districts that most travellers rarely get to see. These fun guided trips will give you insight into the rapid progress this city has faced and the determined resilience of the friendly locals. The tours also include some tasty local food for dinner. 
XO's world-acclaimed Foodie Tour focuses entirely on the city's scrumptious street food and 'nhau culture'. Prepare your taste buds to be exposed to flavours from across the entire nation of Vietnam during the evening. Guides will outline and discuss the culinary culture and customs and provide context to what you're eating. We recommend joining this tour at the beginning of your Vietnam trip if possible as it will surely open up your mind (and taste-buds!) in regard to the variety of street food that is available in Vietnam!
View the City from the Saigon Skyline
The streets are where the Ho Chi Minh City's nightlife is. However, sometimes it's good to be able to look at the world from a different perspective. Two of the Saigon's tallest buildings house viewing decks but also cafe's, bars and restaurants.
Landmark 81 isn't far from downtown and at 462m is Vietnam's tallest building. It has a public observation deck but at US$35 it's fairly pricey compared to other attractions. It's better to have dinner at the Oriental Pearl restaurant to see Ho Chi Minh City at night from this perspective. 
Bitexco Tower is easily the better option. While it's not as tall as Landmark 81 it is more centrally located and much better value. Aside from the viewing deck, Bitexco also has a bar and a cafe where you can admire the view for free. After buying a drink of course! 
Take a Dinner Cruise 
A popular way to enjoy the city lights is from the breezy decks of an iconic Saigon River dinner cruise. Several companies run cruises from Nha Rong wharf in District 4. It's only a short distance from Nguyen Hue St but all trips must be booked in advance. Booking on the same day you wish to cruise is usually fine.   
Dinner is several courses and from a choice of set menus that showcase some of Vietnam's best dishes. It should be noted that portions are quite small on these cruises. Nevertheless, the astounding view of the colourful lights and tall buildings of downtown Saigon makes up for it. 
Live bands are on most boats and play traditional music for the guests onboard. All ships sail a similar set route for about two hours before the ship docks and the evening ends.  
Party Hard On Bui Vien Street 
Bui Vien St is a hard partying centre for backpackers in Ho Chi Minh City and known for its street life, cheap bars and street snacks. It's a fairly quiet place during the day but at night it transforms with crowds, street performers and loud music.  
It's the place to be in Ho Chi Minh City if you want to experience Vietnam's 'bia hoi' culture. At night crowds of locals and travellers pull up small plastic chairs and sit beside the busy street together. There are also dozens of bars located that help keep the area lively and partying till dawn. 
The Bui Vien nightlife attracts large crowds on weekend evenings as the street becomes closed to traffic around 7 pm. This is the latest addition to a growing number of Saigon's walking streets. Some of the more unusual sights disappear but it becomes a much safer and more enjoyable place.  
Go Shopping at a Night Market 
Shopping at night in Ho Chi Minh City offers something a little different. Each night after Ben Thanh Market shuts a night market is swiftly erected on the streets outside. These stalls offer a range of goods and souvenirs for those who prefer to shop when it's cooler. 
Not far from here is Saigon Square 1. It's open all day but is more popular at night time. The clothing and products on offer there are usually of a higher quality than other markets and prices won't be as marked up. In our experience, the vendors at Saigon Square will generally not discount their prices more than 20%.
Running west from District 1 is Nguyen Trai Street. Like Ben Thanh's night market it also comes to life at night. Aside from the brick-and-mortar shops, makeshift stalls and racks turn the pavements into semi-illegal storefronts. This open-air street market area is a popular spot for locals to shop for all types of clothes, hats, shoes, and bags.  
Visit a Bar in Saigon
Ho Chi Minh City's bar scene has grown exponentially over the last few years. Drinkers are spoilt for choice with countless bars to indulge in your favourite cocktail and watch the city go by. 
There are dozens of cheap bars in Ho Chi Minh City. They offer good beers and fun environments. However, rooftops are the most popular place for visitors to Saigon to unwind. The cool breeze and interesting perspectives of city life are worth the slightly higher drink prices. Saigon Saigon, Chill, Broma, Not a Bar and The View are some of the Ho Chi Minh City's most popular rooftop bars. 
"… rooftop's are the most popular place for Saigon visitors to unwind."
If you like beer you're probably going to pretty happy in Vietnam. It's cheap, cold and readily found. However, if you want something a little tastier than basic lagers you're going to want to visit a craft beer pub.
While the industry is in its infancy here, there are a few noteworthy venues for good beer in Saigon. East-West Brewery, Pasteur Street Brewery and Heart of Darkness can be pricey but serve a wide variety of tasty brews.   
Check Out Some Live Music
Vietnamese love listening to good music and there are several decent venues for live music in Ho Chi Minh City. Yoko Bar is one of the city's most popular venues for live music. The cosy cafe-come-bar has plenty of seating and attracts a wide variety of artists from around the world. Their line-up is always changing so best to check with them to see what's on.  
Acoustic Bar and Rock Fan Club have huge cult followings with Ho Chi Minh City's rock lovers. They're super popular venues and host some of the most talented local rock artists. House bands are usually seen on centre stage but they also host some touring groups from time to time. A word of warning that they can both get crowded, loud and pretty smoky. Very rock and roll!
Sax 'n Art is a centrally located jazz lounge. It attracts some amazing musicians and is reputedly the best place for jazz in Vietnam. It never gets overcrowded here and the cover-charge and the drinks are reasonably priced.    
Check Out a Vietnamese Night Club 
At night you'll usually find most locals enjoying life at the cafes and bars that line the city's streets. Increasingly, however, many young Vietnamese also enjoy a unique style nightclub that can only be described as "Vietnamese." For those who have have some extra cash, this has become the ultimate way to parade their new status. Luckily there are some cool clubs in Ho Chi Minh City that open till the wee morning hours. 
Lush nightclub is probably the most popular and well-known club in Saigon. They run special nights and discounts throughout the week and regularly hosts international DJ's. 
Apocalypse Now has been around for years and is an icon of the local club scene. It's mainly frequented by tourists and expats and has impressive and very locally-themed decor. Republic, Evy and Gossip clubs are also particularly noteworthy for their energy and atmosphere. 
For a truly local twist on clubbing head to one Ho Chi Minh City's many beer clubs. Beer clubs are often fronted by a DJ blasting out local and foreign dance tunes. Punters take their seats at a table and share a beer tower with their friends. Those who wish to, simply stand up and dance near their tables. Beer clubs have a more casual environment and mixed clientele compared with traditional night clubs.
Sing Karaoke
No trip to Vietnam or serious list about nightlife in Ho Chi Minh City is complete without Karaoke. Most venues have large lists of foreign and particularly western songs. If you're a little shy don't worry. 
The Karaoke rooms are private, there is no stage and the audio is tuned to make you sound even better. Additionally, you also get a dedicated waiter to keep refreshments flowing. We recommend checking with each venue individually if you want to karaoke throughout the night because closing times vary and rooms are usually charged on an hourly basis.
Other Interesting Areas in HCMC 
Japan Town, District 1
As night falls, the narrow and photographic alleys in Ho Chi Minh City's Japanese precinct come to life. This small area is not far from downtown Saigon and the city's more touristy areas but blink and you'll miss it. The only hint is several Japanese restaurants on Le Thanh Ton Street and some lanterns hanging above a gateway. 
This area spreads inside a hidden network of alleys and is home to the best sushi and udon restaurants in Ho Chi Minh City. Many members of the city's large Japanese expat community come here to relax and socialize after work. This area is also known for its friendly pubs and girly bars. 
Cho Lon, District 5
Cho Lon is also known as Ho Chi Minh City's Chinatown and is a popular area for tourists to explore out during the day. The ancient pagodas and markets shut in the evenings, apart from special holidays, but there are other attractions here after dark. Cho Lon isn't about clubs and bars but street life, food and unique historical architecture. 
The streets and shops are decorated differently and hawkers and street stalls offer something different. The cuisine here is a mix of Chinese and Vietnamese flavours using alternative herbs and cooking methods.
Cho Lon is famous to locals for its Peking Duck which you'll see hanging in windows everywhere. Make sure you also save room for congee and wonton noodle soup! 
This district is also known for its old architecture which is highly decorative and unique to this quarter. It's easier to see these structures during the day but at night there is more atmosphere as families have returned home.   
Thao Dien, District 2
Thao Dien is a ward of District 2 of Ho Chi Minh City known for its large expat community. Located beside the Hanoi Highway it's easy to access and about a 20-minute taxi ride from the centre of town. 
It's hard to look past this area if you're looking for somewhere different to spend an evening. There are dozens of quality restaurants serving international and Vietnamese cuisine. Some are large and devoid of atmosphere while others are small and cosy. Prices here also have a wide range so best to do specific research online first.  
As one might imagine, this area is also home to loads of foreign styled bars. Beer choices are pretty similar to other parts of the city but music, sports on TV and atmosphere in this pub is very western. Bars here also serve a good range of western food from gastro style to classic pub-grub. 
Phu My Hung, District 7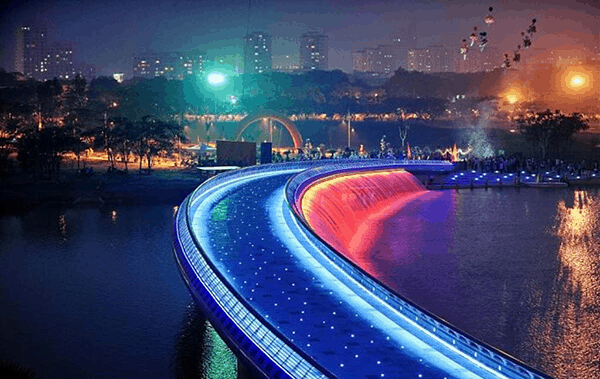 This area of town is one of the more modern parts of the city. Saigon South or "Little Singapore", as some refer to it, is located in the southern reaches of District 7.
Villas and modern apartment complexes line its wide and relatively quiet streets. Another characteristic of this neighbourhood is the large parks and green areas integrated in the developments.  
Crescent Mall and The Crescent area with its fancy restaurants and bars are big attractions for locals. However, it's the spectacular Starlight Bridge ("Ho Ban Nguyet" for your taxi driver) that remains the jewel in the crown and main drawcard of this complex.
Tips For Staying Safe at Night
As far as big cities go around the globe Ho Chi Minh City is a relatively safe city and there's little violent crime towards locals and tourists. However, there are certain things you should be aware of. Here are some measures you should take to avoid danger and crime at night:  
Bag and phone snatching
Bag and phone snatchings in Ho Chi Minh City are unfortunately fairly common in the busiest and most central parts of the city. Most people think it won't happen to them. Even the most seasoned travellers get caught unaware by the swiftness of a passing motorbike. 
The best way to avoid your phone being stolen is to leave it at home unless needed. If you must use a phone don't use it on the street or make sure you use it in a protected area. 
"Even the most seasoned travellers get caught unaware by the swiftness of a passing motorbike."
If you must carry a bag with you at night carry then keep it on your front. Avoid shoulder bags as they are the ones that are targeted by thieves. Disregarding your stuff, the injuries from an attempted bag snatching can be horrific. 
Pickpockets
Pick-pockets hang around crowded and noisy areas such as markets, bars and events. They are particularly drawn to tourists as they have cash and are usually distracted from their belongings. 
The best pickpockets out there can easily open zippers or buttons without you noticing. They can also see where your wallet is from the way you keep checking to see if it's still there!
Locks on bags are a good idea to prevent pickpockets in crowds but it's still better to avoid. The Vietnamese have a saying that if you don't want to lose something then leave it at home.  
Alcohol and Fighting
Everywhere in the world where people are drinking there is a higher risk of arguments or fights. Avoid this anywhere but particularly in Vietnam. The Vietnamese are far from violent people and if someone is going to challenge you it's probably not the kinda guy (or gal) you want to get involved with.
It's rare, but if an argument breaks out things can escalate pretty quickly. If you're a foreigner giving a local a hard time then you may find yourself out-numbered pretty quickly.    
Traffic 
One of Ho Chi Minh City's highlights also happens to be one of its biggest dangers. We'd never tell you to avoid the street life but care must be taken and particularly so after dark. 
Visibility is more difficult at night for riders and drivers. Although the streets are well-lit there are always dark corners and more blind spots. Cross at lights whenever possible and always wait for a decent break or for the traffic to come to a stop. 
As the night gets later the streets get quieter but still have dangers. Faster speeds and sometimes drunk riders add additional concerns. Enjoy the streets but remain aware. Even enjoy being on a motorbike yourself but make sure you're with a responsible rider.   
Keep good company
If going out in Ho Chi Minh City at night, particularly after midnight, it's highly recommended that you don't go alone. Go with a friend or family member. Not only will you be able to help each other out but there's always more safety in numbers.  Should you insist on flying solo, be sure to check out our safety post for female solo travellers to Vietnam.
Ho Chi Minh City's nightlife and entertainment make it an incredibly fun place to be. It's unrivalled by any other city in Vietnam. With a variety of different activities to suit most desires and budgets, make sure you get out and make the most of Ho Chi Minh City by night. 
For more essential tips about how to stay safe in Vietnam, check out our popular posts below.