Can Gio – The UNESCO Protected Mangrove Biosphere Reserve was mentioned one of our previous blog posts (Top 5 day trips you can easily go from Ho Chi Minh) as one of the top Ho Chi Minh City day trip for travelers who would like some fresh exotic nature outside of bustling Saigon, XO Tours will get bring to you a comprehensive guide so you can DIY your Can Gio – Ho Chi Minh City day trip
In this article, I have provided some updates, more detail, and also some insights( mangrove forest and Monkey Island) and a few other interesting local spots so that you can tailor the day out to your liking. I suggest reading the previous blog post first as a primer.
The reserve core lies pretty much in the center of Can Gio and consists of some 7% of its surface area (Can Gio is one of Saigon's 24 districts). Roughly the same amount of land to the core's south-southwest was declared a forestry park (Lam Vien Can Gio). The rest of the surroundings is the buffer zone, where very few people live.
The remaining land consists of transition zones away from the core and is shown in beige and white on the map below.
Credit: Unesco 
These communes are sparsely populated (not unlike the far rural areas of the country), except for the town of Can Thanh – the district seat – in the coastal southeast of Can Gio
The main road (Rung Sac) starts at the Binh Khanh ferry in the north-northwest, slices through the district – slightly to the west of the core area – and ends at Duyen Hai road (the main coastal thoroughfare that runs east-west). As noted in the above map, the red lines designate the major roads in Can Gio.
There's a host of Can Gio – Ho Chi Minh City day trip tour operators offering a variety of combination of transportation method to visit the biosphere reserve: shuttle van, bus, bicycle, motorbike, junk boat, or canoe from Saigon. Many of these tours include motorized boat and/or sampan ride while inside the reserve
How to get to Can Gio without joining a tour
If you like to DIY, you can take bus no. 20 from the station at the 23/9 Park (near the backpacker area in town), at the new central station along Ham Nghi Blvd. (in front of the Ben Thanh market), or at any station along the route. Ferry and Bus fares go for practical peanuts.
Bus Route 20: Ben Thanh – Nha Be
Distance: 16.85 km
Vehicle type: 39 – 80 seats
Operation time: 04:20 – 21:00

Fare price: 5,000 VNĐ
Total trips: 328 Trip/day
Trip time: 50 minutes
Trip spacing: 4 – 20 minutes
This bus will take you to the Binh Khanh ferry in Nha Be district, on the other side of the Can Gio reserve
(Note: The bus authority is notorious for making changes to the locations of the stops and the operating time without updating its website; the same goes for occasions when they need to alter the route due to constructions or holiday road closure. For instance, at the moment of this writing, I notice numerous discrepancies between the English and Vietnamese versions regarding a number of bus routes.)
Route 90: Pha Binh Khanh – Can Thanh
Distance: 45.60 km
Vehicle type: 25 – 29 seats
Operation time: 04:45 – 21:30

Fare price:6,000 VNĐ
Total trips: 152 Trip/day
Trip time: 75 minutes
Trip spacing: 6 – 90 minutes
Once you're on the Can Gio side, take bus no. 90 traveling southbound on Rung Sac road. The first major point of interest is just before the Dan Xay bridge (Cau Dan Xay). Make sure to tell the driver or show him the name in writing beforehand – say, like when you board the bus – as it is not an official stop. Unless he's a rookie, the driver should be familiar with dropping off visitors here. Don't forget that the bridge is particularly a good spot for photography.
There's also bus no. 75 that runs basically the same route, but it makes several stops on this stretch – albeit not at this particular location either. Still, the adventurous souls may want to make a note of this bus if they wish to explore the local areas that I will talk about later on. Keep in mind, once again, that there are disparities between the English and Vietnamese version on the website.
Distance: 64.20 km
Vehicle type: 25 – 29 seats
Operation time: 04:00 – 16:30

Fare price:  30,000 VNĐ
Total trips: 6 Trip/day
Trip time: 140 minutes
Trip spacing: 167 minutes
At any rate, you have two choices at this stop: The various programs offered by the Vam Sat Ecological Tourist Center (Khu du lịch sinh thái Vàm Sát) mentioned above or those offered by the Dan Xay Mangrove Park (Khu du lịch sinh thái Dần Xây).
The Vam Sat Ecological Tourist Center 
The Vam Sat ETC is operated by Phu Tho Tourist and is geared more toward entertainment. They have a boat dock near the Dan Xay bridge to transfer visitors to the center (some 8km as the birds fly to the west.) The two main attractions here are the Vam Sat bird sanctuary (Tràm Chim – with its 28-m tall observation tower) and the Flying Fox Bat Habitat (Đầm Dơi). The best time for bird watching is the wet season from April through October. You will get to travel the rivers and canals by motorized boat and sampan.
These are Other attractions and activities include:
Crabbing by setting traps from a sampan or with a pole.

Feeding the crocodiles from a metal floating enclosure.

Fishing in the ponds, particularly for the Gobiidae (cá thòi lòi), a native to the mudflats that are common near the estuaries from here on westward, toward the Mekong.

Working out your leg muscles in a paddle boat or testing your skill in a basket boat.

Walking the trails.

Visiting the wildlife preservation center (deer, monitor lizard, saltwater crocodiles, sea otters, etc.)

Joining in a mangrove forest tree planting session.

Testing your balance and skills on a suspension bridge (not for the faint of heart).

Catching some fish – Mekong-style – by wading in the mud to dredge a ditch, leaving the victim with nowhere to hide.

Enjoying your catch at the on-site bistro.
The two main affiliates of the Vam Sat ETC are Saigontourist (with multiple offices in the tourist area of Dist. 1 and 3) and the Dam Sen Water Park (in Dist. 11). You can get more information from them or the numerous Can Gio – Ho Chi Minh City day trip operators all around town – even if you decide to DIY.
(Note: Actually, Saigontourist is a giant state-run entity with listed current capital at 1.5B USD. Most of the names mentioned in this article, particularly the major ones, are operating under its umbrella one way or another. Their offices can be a good source of information. You definitely don't need to use them; this is JFYI (just for your information) only.
The Dan Xay Mangrove Park
The Dan Xay Mangrove Park is operated by the Can Gio Mangrove Forest Management Board. It aims to provide an interactive learning experience and give visitors more direct access to the core of the reserve as it is located right on its edge. This rather new entity (since 2014) also has a website, but their English version is practically worthless as of this writing.
It's probably best for groups, but certainly not exclusive to the solo travelers or couples.
Some of its features:
An exhibition center.

A 36-m tall observation tower that allows visitors a close-up view of the core of the biosphere reserve.

A wildlife center (mainly wild boars and monkeys).

Motorized boats, kayaks, electric shuttles, bicycles.

Mangrove Forest tree planting sessions.

Ditch dredging for fish.

Guided trekking tours.

Camping facilities.

Homestay in stilt houses with forest rangers.

Your own lodge, Japanese-style, if you so choose.
At the moment, there's no entrance fee. You will find a big sign complete with rates for canoeing, kayaking, among other things, on the ground. Its main affiliates are Dong Nam Tourist (Phu Nhuan District), Du Ngoan Viet – Viet Excursions (District 7) and Cho Lon Tourist (with offices in Dist. 1 and 5).
Monkey Island
Further south, bus no. 90 will make a stop at the Junction to the Monkey Island (Ngã ba đảo khỉ).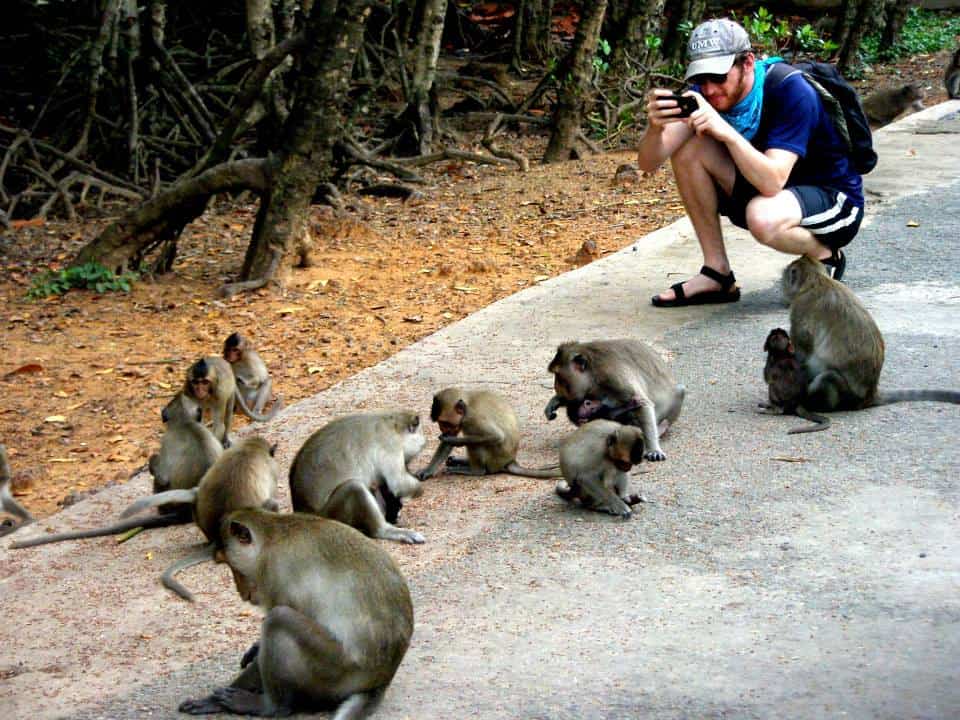 The "Monkey Island" is part of the Can Gio Forestry Park (Lâm Viên Cần Giờ), along with the Rung Sac Museum and the Vam Sat guerrilla base. Here, you can also find saltwater crocodiles, wild boars, sea otters, wild cats, monitor lizards, and if you're lucky (or unlucky – depending upon your definition), a python or a cobra.
The real attraction here – at least to those that love nature – is the mangrove forest itself. After all, the political-correct name for the place is "Lâm Viên Cần Giờ", which means Can Gio Forestry Park.
This area is under the management of Can Gio Eco-Tourism Company, a subsidiary of Saigon Tourist, which also runs the beachfront Can Gio Resort about 4km down the road.
(A quick note, as our previous blog had warned, is not to expect anything from the beach. The darkish soil here is rich with alluvium from the Dong Nai river system and the water is murky – though safe to swim)
if you're looking for activities at the beach, XO Tours recommends you to take a look at 13 To-Do activities in Vietnam so you won't be missing out the fun.
Don't forget to pay attention to things on the road
So far, I had covered the "usual" stuff about Can Gio. Even so, you should find it quite unique on a normal weekday. As one travels from district 1 through district 4, 7, and Nha Be, the traffic thins out a little more and more – most usually.
Enjoy the ferry ride while it's still there. In a few more years, the planned Binh Khanh bridge will render it obsolete. Already, one can see another bridge, the Phuoc Khanh bridge, going up a short distance away, across the Long Tau river – the eastern border of Can Gio.
The ride through the countryside along Rung Sac road is a pleasant one, though I heard recently that the road can use some maintenance.
During your Ho Chi Minh City day trip back from Can Gio, don't forget to take a stop at a few bridges for the view and some photos.
Water Coconut
Enjoy some water coconut drink at a roadside stand. See if you can manage to find the young male vendor that is known to offer to fix bikers' flat without charge. Or simply take in the sight and sound of it all at the various stalls (the prime season for water coconut is between August and October.)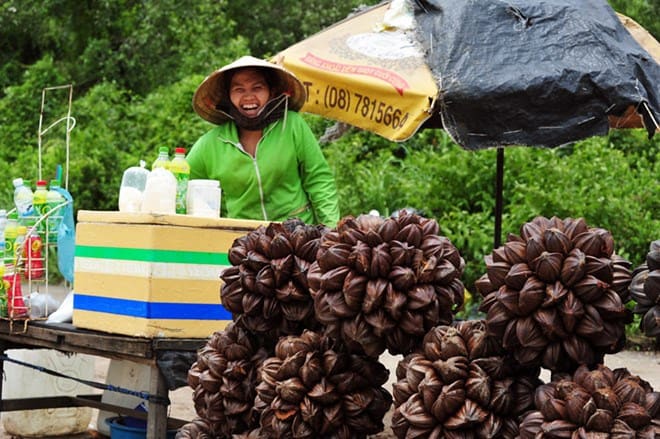 Credit:zing.vn
Hoang Yen Yellow Osaka Cassia Fistula Flowers.
If your arrival is between March and April, you can catch the spectacular blooms of the Hoang Yen Yellow Osaka Cassia Fistula Flowers.
Bougainvillea
Or perhaps, it's the Bougainvillea that strikes your fancy, especially at the height of summer.
We hope you found this blog post about the Can Gio Biosphere Reserve helpful. Can Gio is just one of the many interesting day trips you can take from Ho Chi Minh City. Most travelers to Ho Chi Minh City use it as a base to travel to the Mekong Delta and Cu Chi Tunnels and it should be in your Vietnam Tour. For the best day tours to these 2 fascinating, you might consider booking with a company called Drive Vietnam. Drive Vietnam runs the most acclaimed private day tours to the Cu Chi Tunnels and Mekong Delta area.
If you stop by Ho Chi Minh City and want to discover Saigon through the unique view of our guides, please book our Sights tour.