Beware! XO Tours DOES NOT operate in Hanoi. If you book with a tour operator in Hanoi that claims to be XO Tours, you are being defrauded! But don't you worry, we have a list of things to do in Vietnam and in Hanoi for you to make it up!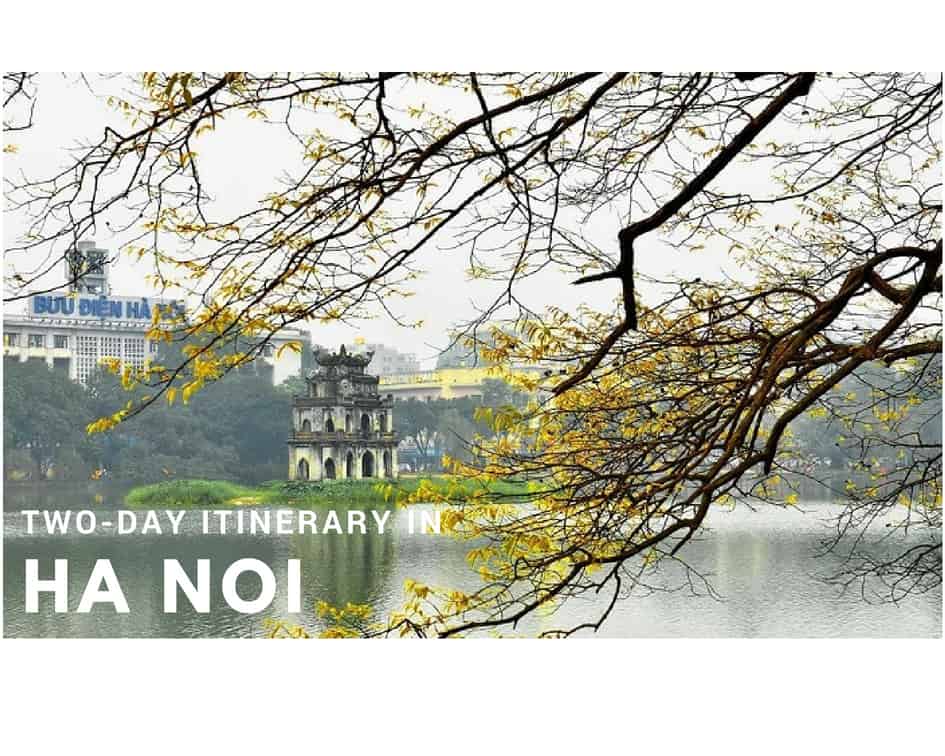 Hanoi, the capital city of Vietnam, is an intriguing city for many reasons.  Though Hanoi is the second largest city in the country after Ho Chi Minh City, it is far less cosmopolitan and traditional Vietnamese culture is much more apparent there.  In fact, aside from a recent construction boom in Hanoi, much of the colonial and post-War era infrastructure is still in use. The wear and tear on old buildings and streets are what gives Hanoi its rustic and quaint character, and the relaxed lifestyle of the people there almost feels like you are stepping back in time. That, coupled with Hanoi's rich history, makes a trip to Hanoi a multi-faceted experience.
Hanoi is also the travel gateway to Northern Vietnam. There are many day trips from Hanoi and if you plan on visiting the northern rice fields near Sapa, Halong Bay or Ninh Binh province, it is convenient to travel through Hanoi.  Although many travelers simply think of Hanoi as a quick transit city, we urge you to stop in Hanoi for at least two days in order to truly appreciate all the cultural things that this city has to offer.  Here are our things to do in Hanoi suggestions for what to do and see if you have two days in Hanoi as part of our Custom Itineraries for Vietnam series.
Our Hanoi points of interest:
Day 1:
Day 2:
---
DAY 1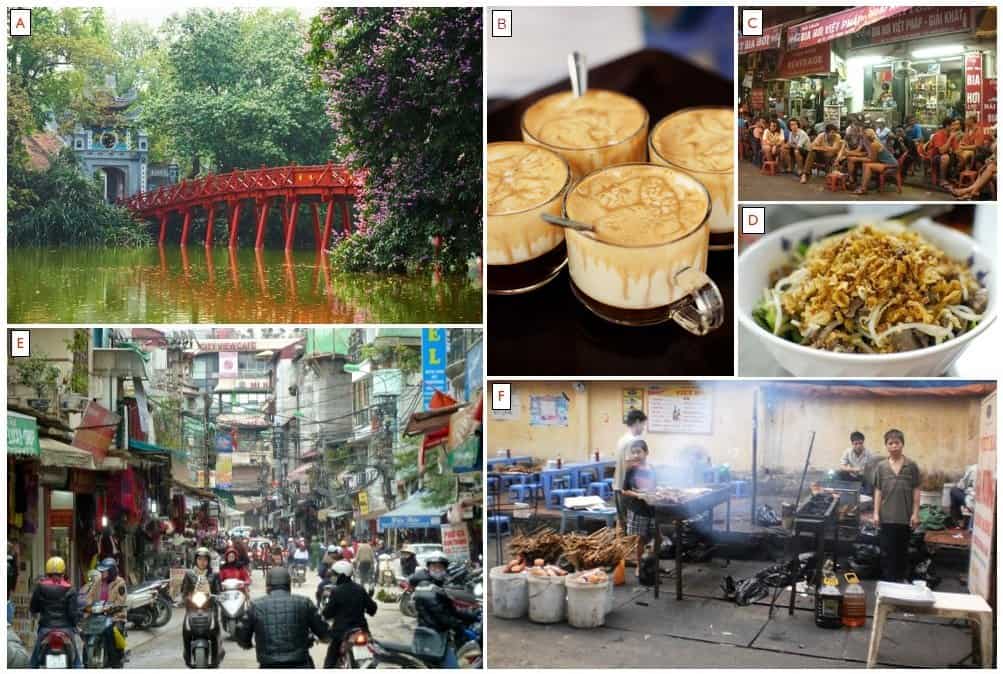 1. Explore the Old Quarter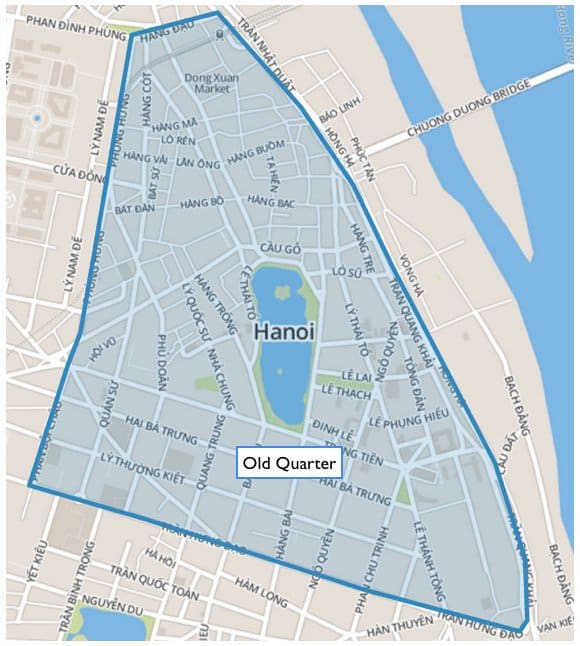 The Old Quarter in Hanoi is one of the most popular destinations in Hanoi.  It is an old merchant area of the city where the layout and many of the streets have been preserved over decades.  This part of Hanoi is what gives Hanoi the charming, old world feel.  It is a mish-mash of French colonial and ancient Vietnamese architecture, manic streets with thousands of motorbikes, power lines above the head that resemble giant birds nests, narrow merchant streets with shops selling the most random things, and other unique characteristics that make this area so lovable.
One of the best ways to see as much of it as possible is to simply walk around.  In fact, staying in this area gives you an opportunity to experience the Old Quarter fully.  One particular remnant of old Vietnam that you should take notice of is the street names.  Many of the streets in this part of town are named "Hang _____", "hang" meaning something pertaining to selling.  Because this area was an important trading centre, the streets were named according to what was sold there.  For instance, "Hang duong" was sugar street, "Hang vai" was fabric street, and so on.  Some streets have kept on selling the same thing while others have transformed to meet today's consumer needs… of course, they wouldn't change a street's name to "Metal household racks street" or "Imported toys from China" street, but these streets exist!! 🙂
Besides Ha Noi, Hoi An ancient town is a place will blow your mind with its beauty. One-day Custom Itineraries for Hoi An will be perfect for you if you'd like to visit Hoi An but on a tight schedule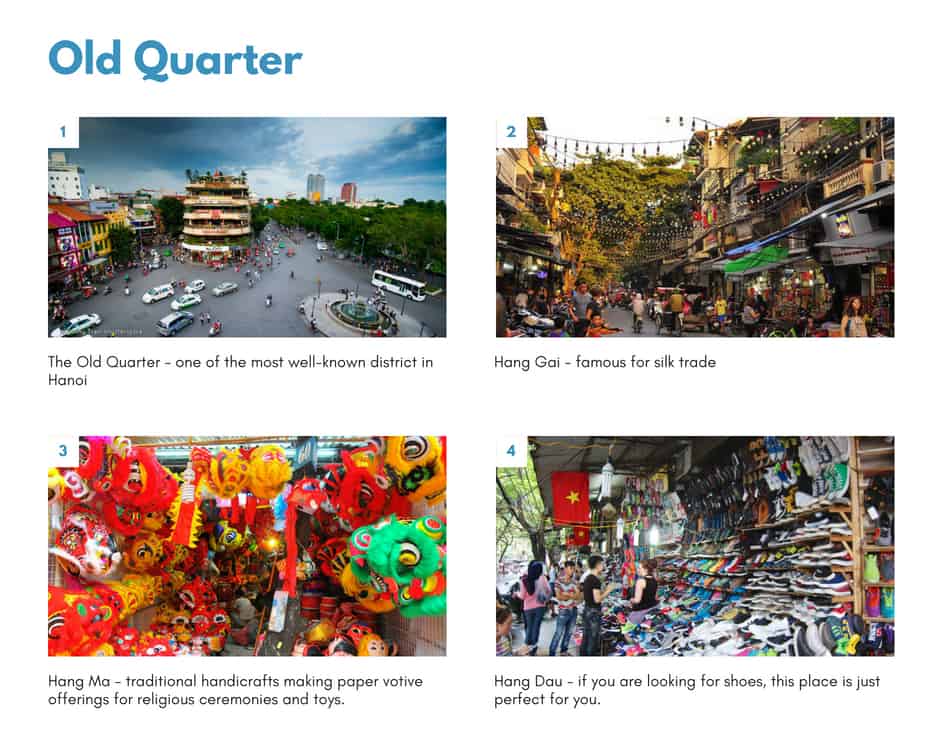 ---
2. Enjoy some Bun Bo Nam Bo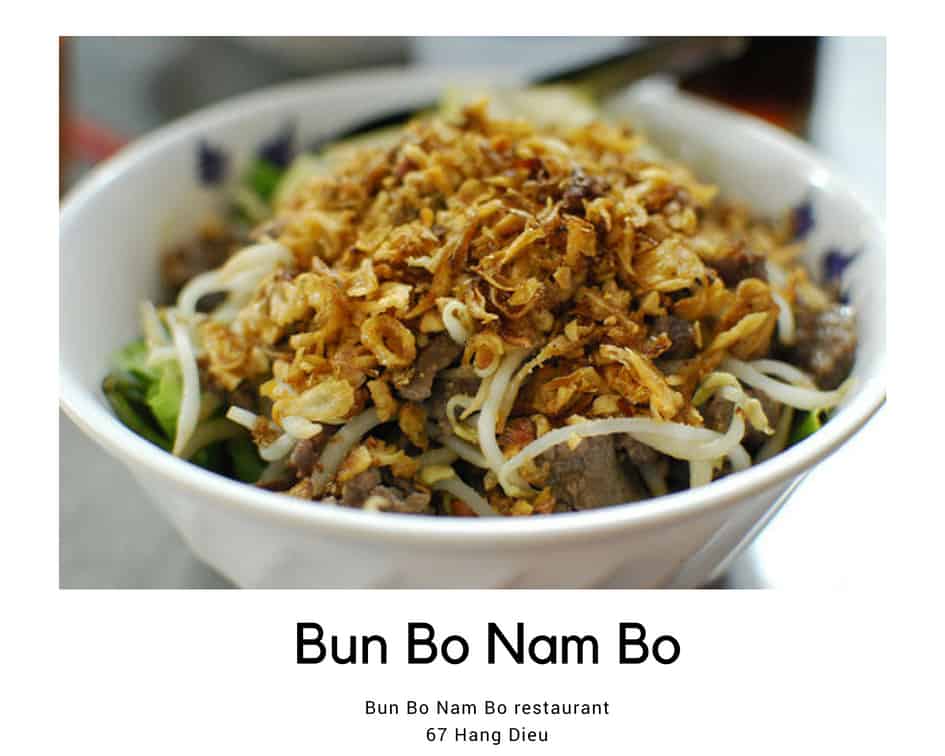 When it comes time for lunch, a great way to continue your Things to do in Hanoi experience is to eat something that is true blue Hanoian.  This dish, Bun Bo Nam Bo, is said to have originated in Hanoi.  It consists of perfectly marinated beef in a sweet and salty concoction, round and thin noodles that don't get soggy, crunchy peanuts and fried onions and a few other things that make this dish absolutely delicious!  Now, this dish can be found throughout Vietnam, though we can tell you with fair certainty that it tastes different in the North.  A must try!
---
3. Walk around Hoan Kiem Lake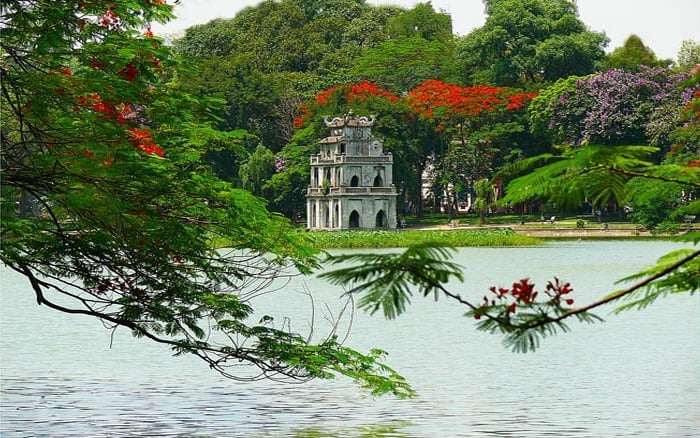 Legend has it that the Golden Turtle God claimed a magic sword from an ancient emperor, an important symbol of his fight against the Chinese Ming Dynasty.  This emperor named the lake "Hoan Kiem" meaning "Lake of the Returned Sword" and a small tower was erected on an island within the lake (Turtle Tower) to commemorate this event.  Today, large and rare turtles inhabit the lake, though there seems to be a controversy as to how many specimens there are in the lake.  One giant turtle, in particular, is said to be the direct descendant of the original turtle that claimed the sword and is affectionately called Cu Rua (great-grandfather turtle).  What's more, if we follow the current understanding of this giant turtle's biological classification, then it is one of 4 remaining specimens of its kind in the world!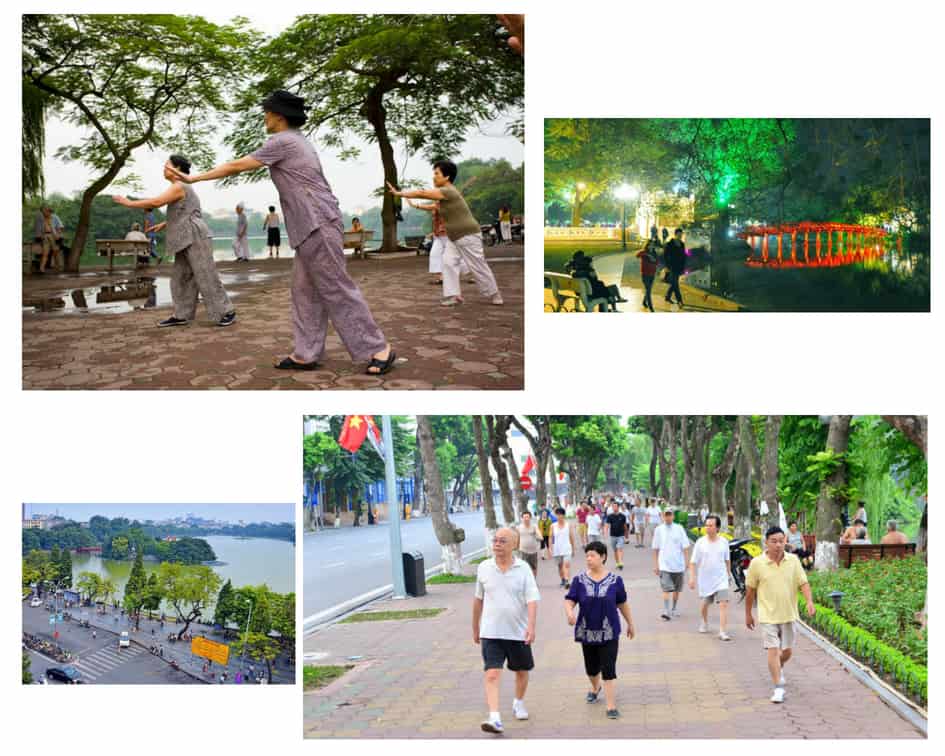 Around the lake, you'll have an opportunity to see many vendors, small shops, people walking or running, and kids playing.  It will give you a different perspective on life in Hanoi, one that is a stark juxtaposition to the hustle and bustle in the rest of Hoan Kiem district.  A walk around this lake is a perfect escape from some of that chaos in Hanoi.  While you're there, make sure to check out the red bridge around some of the small statues and temples around the lake.  The red bridge, in particular, makes for a great photo-op.   And remember to look out for giant turtles! 🙂
---
4. Sip on (Egg) Coffee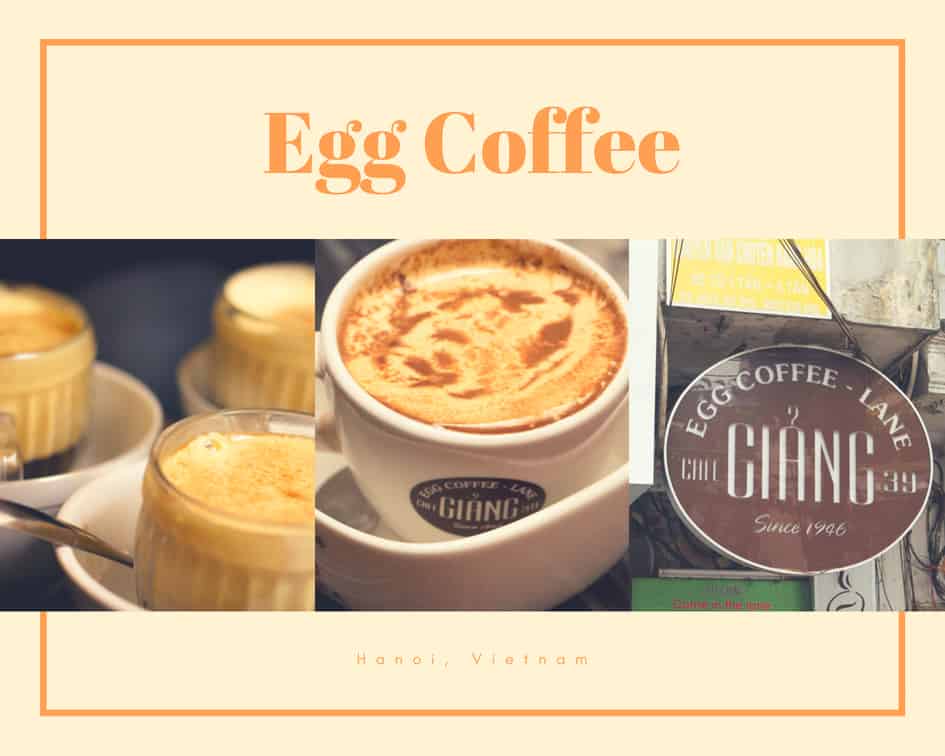 After making a round of the lake, we recommend that you take a quick break and enjoy one of Vietnam's most profitable exports: coffee!  We have mentioned before on our blog that Vietnamese people love their unique take on coffee, and coffee culture has always been a huge phenomenon here.  In the north, Hanoians take coffee to another level altogether.  A particular type of coffee you must try while in Hanoi is Egg Coffee.  No, 'egg' is not the codename for milk or sugar… it's actually 'egg'!  Egg coffee is a unique blend of chicken egg yolk, coffee, sweetened condensed milk, butter and cheese.   Mr. Giang, the creator of the infamous egg coffee, developed it due to the scarcity of milk decades ago.  The tempered egg yolk acts as a substitute for milk because of its ability to thicken and add creaminess to the concoction.  Mr.Giang's son now runs a small cafe called Cafe Giang in the Old Quarter where they serve authentic Egg Coffee.  As strange as it may sound, we urge you to give it a try!
---
5. Eat at BBQ Chicken Street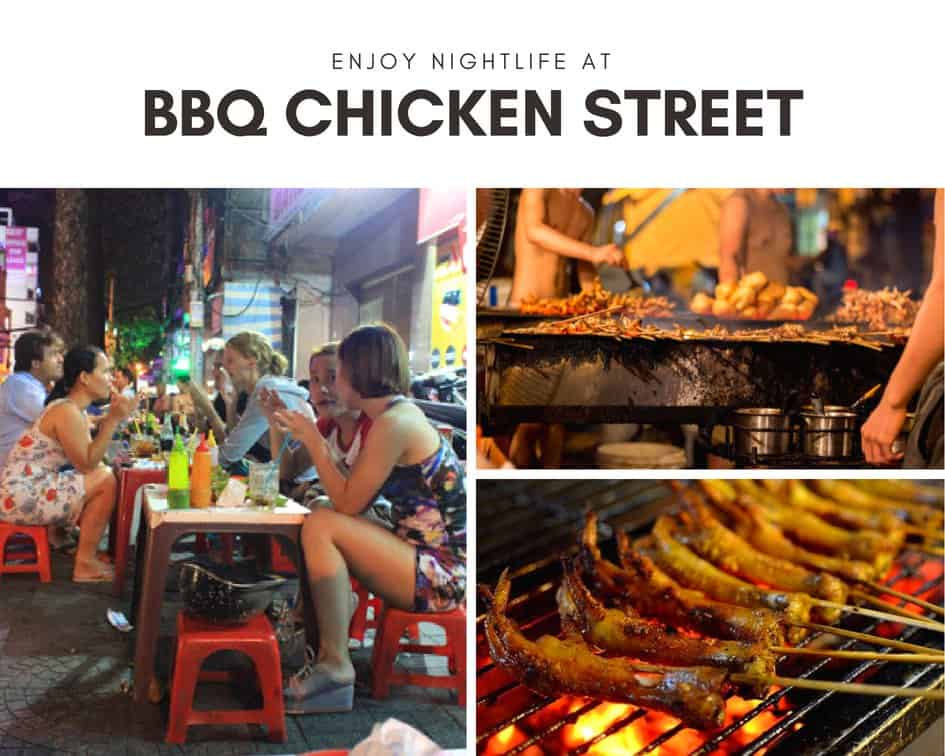 People always say that Vietnam has a specific street for everything, and for the most part this is very true!  Case in point – barbecue chicken street!  That's right.  This street specializes in one thing and that is barbecued chicken.  A great dinner option, you can go there and specify exactly which part of the chicken you want and they'll grill it up with an amazingly sweet, salty and sticky coating.  You can also order the most delicious flattened and grilled bread and some roasted sweet potatoes to round out your meal.  A few beers and some great food is the perfect way to start your Hanoi nightlife trip!
---
6. Explore Hoan Kiem Bia Hoi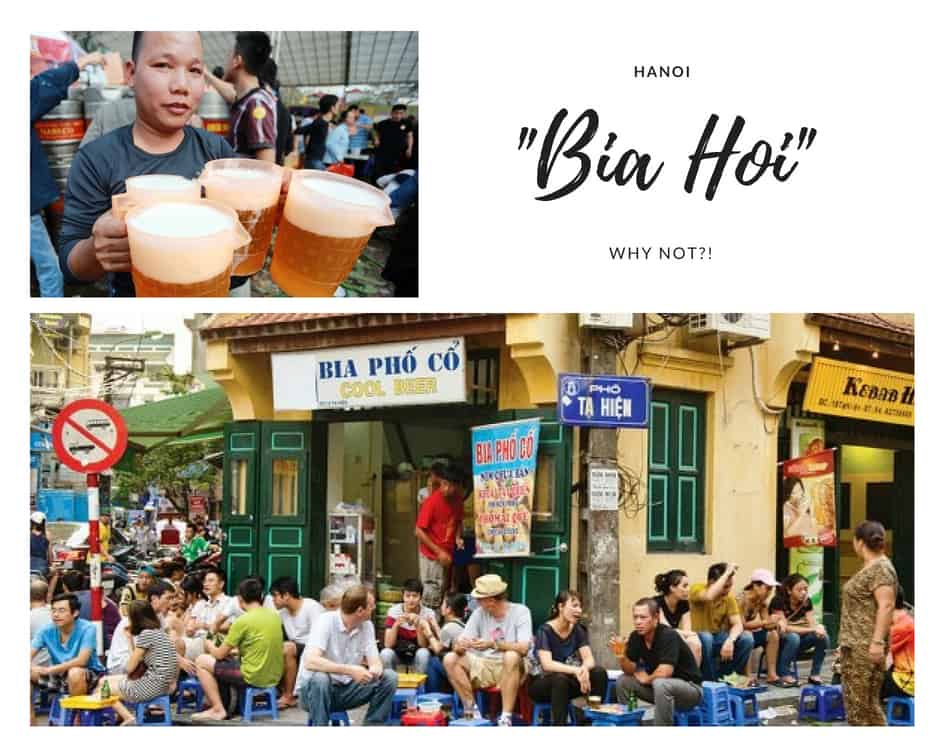 The Hanoi street beer scene is infamous!  A trip to Hanoi, or Vietnam rather, would be incomplete without spending some time sitting on small plastic stools and drinking the cheapest beer in the world (we're not joking… a glass of beer will cost you about $0.15). The beer is quite light, about 3-4% alcohol, and light in colour as well.  This beer is made of 50% rice to keep it nice and clear, and best of all it is preservative free.  Throughout the night, you will see trucks pulling up to each beer establishment and delivering barrels of beer.  Not surprisingly, this beer is usually finished by the end of the night.  Otherwise, it has to be disposed of since it doesn't contain preservatives to help it last past 24 hours.  Although these small beer 'shops' can be found throughout the city, the liveliest place to witness this interesting beer culture is at the corner of Luong Ngoc Quyen and Ta Hien streets, also known as Bia Hoi corner.
Don't forget to check the weather of Ha Noi prior to your visit. We have a chart for this in this post Best time to visit Vietnam so you know what to prepare for a wonderful Vietnam Trip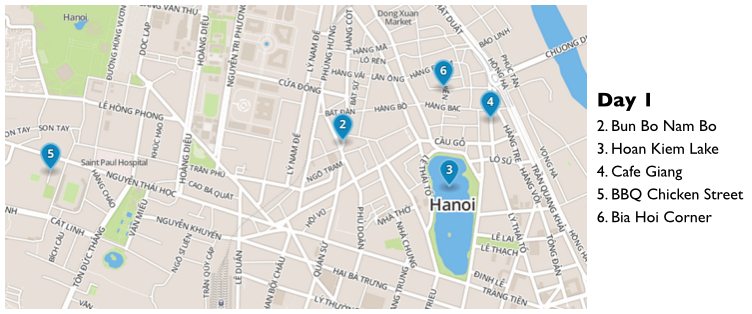 ---
Day 2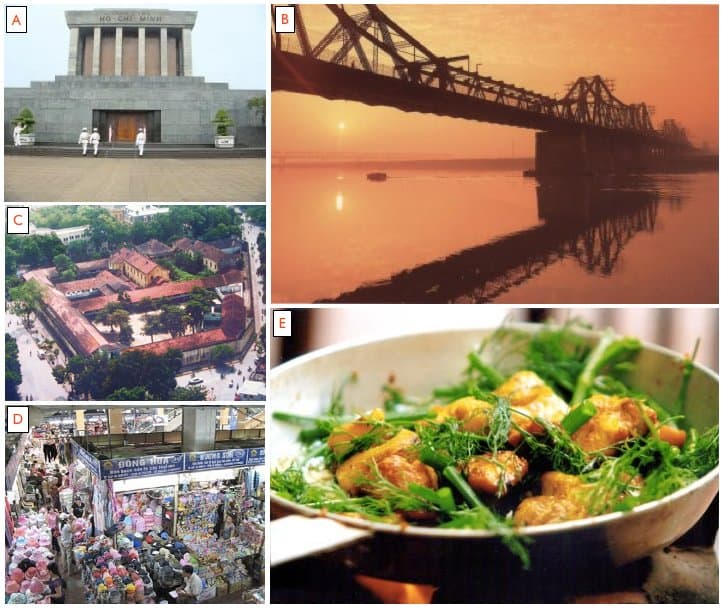 1. Visit the Ho Chi Minh Mausoleum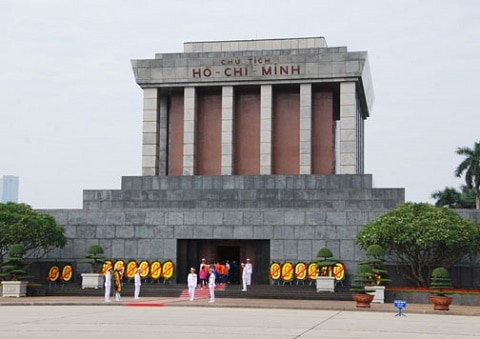 Vietnam has a vast and elaborate history, and there are plenty of museums and monuments in Hanoi to learn all about it.  With limited time, you wouldn't be able to see every historical place but one place we recommend visiting is Ho Chi Minh's mausoleum.  The embalmed body of the infamous leader Ho Chi Minh is on display here.  If you visit here, you have to abide by the rules, of which the most is to be respectful – no shorts, no tank tops, no drinking, no smoking, no hands in pockets, and no photography.  You will be ushered in by the guards in two straight lines and will only be allowed to see him from the moving line.  You cannot stop and see the embalmed body.  Though it seems like a tedious procedure to go through for a few seconds of viewing, it is still nonetheless an interesting experience.
If you travel to Ho Chi Minh, the economic city of Vietnam, we have a guide for you to spend 1 day in Ho Chi Minh City
---
2. Visit the Hoa Lo Prison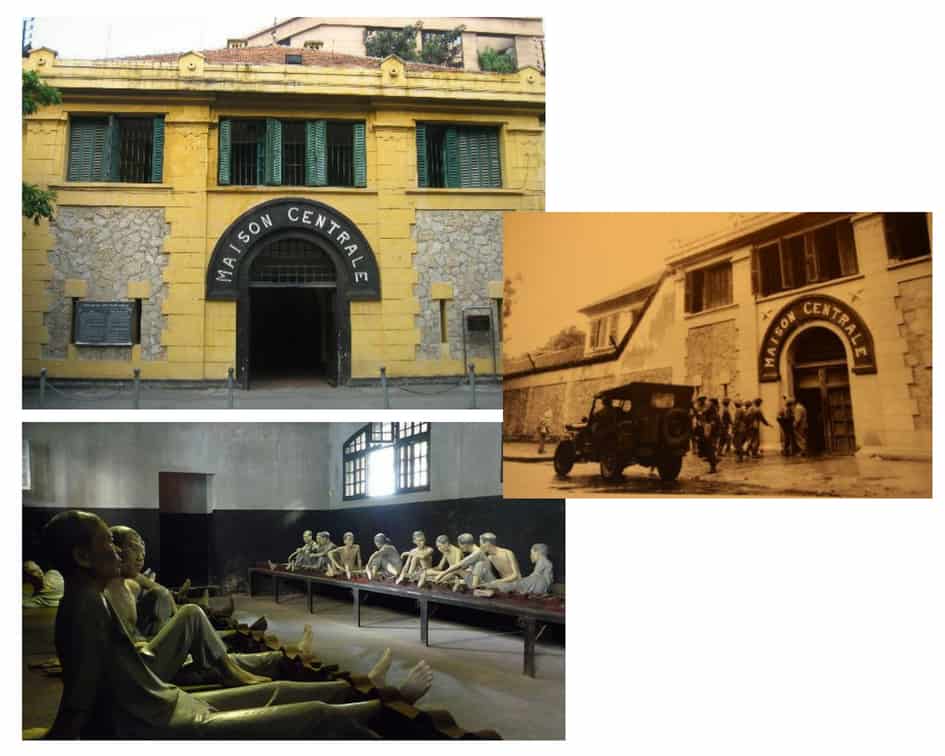 The Hoa Lo Prison is another historical sight worth visiting if you are trying to find things to do in Hanoi.  This prison was first built during the French occupation in Vietnam and then later used for American prisoners during the Vietnam War.  Over the years, it gained the nickname "Hanoi Hilton", named by the American POWs held there.  Although there isn't much to see at this prison now, it held a very relevant role during the war so it offers a unique perspective and feeling in comparison to a museum.  An interesting fact is that US Senator John McCain was held at this prison for sometime when he was an American POW during the war.
---
3. Eat Lunch at Cha Ca La Vong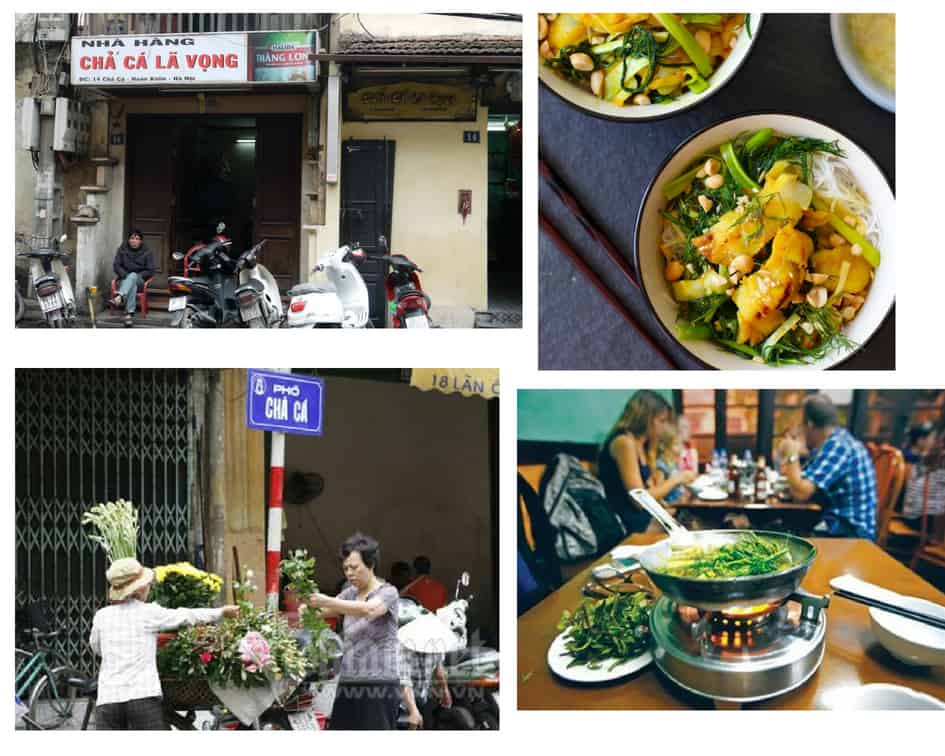 After a heavy morning full of learning and reflecting, you will be just about ready for lunch.  Close by, you will find "Cha Ca" street, which is a street named for a famous dish invented there.  About a hundred years ago, a restaurant was established here that served up a unique type of fish dish, which featured fish marinated in turmeric and pepper and fried with dill, green onions, and other greens, all served over rice noodles.  Seems simple enough but this particular dish is so famous that it was even featured in the New York Times!  Many restaurants serve this special dish now, especially on "Cha Ca" street, but the original restaurant is still there.  Keep in mind that they are well aware of the appeal of eating this dish at the original spot and therefore charge 3-4x as much than the other restaurants on the street.  However, there is a certain charm to eating at the original spot if you can look past the occasional mouse or rat crawling around your tables.  It is, after all, an incredibly old building which has seen very little in the way of restoration over the years!  And if you think you can go there just to take a look and maybe order something small, think again – there is only one item on the menu and sharing one portion is not allowed! 🙂
---
4. Go Souvenir Shopping at Dong Xuan Market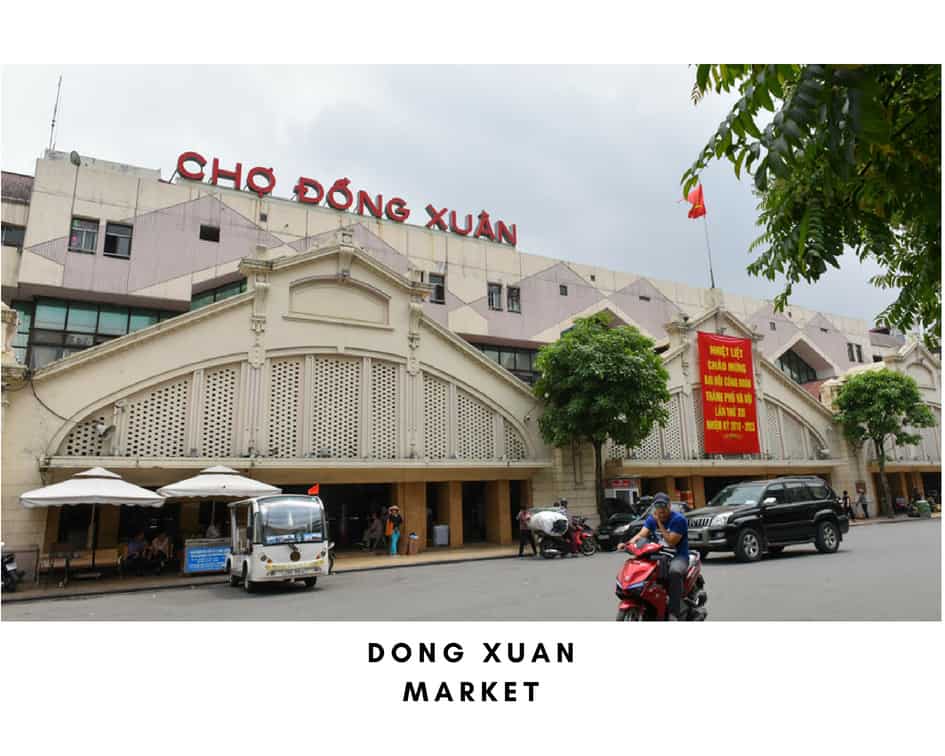 Dong Xuan Market is the biggest and most central market in Hanoi.  For anyone who is unfamiliar with Asian markets, it can be a unique experience.  It's chaotic, hot, sweaty, loud and full of people.  This market sells everything under the sun – anything you need you'll find it there.  Unlike Ben Thanh market in Saigon or other markets throughout Vietnam, Dong Xuan market doesn't pander as much to tourists so souvenir stalls make up a very small portion of the market.  You may find a souvenir to take home there but if you don't, you'll still walk away with a unique experience.  If you don't have any luck with souvenirs at the market, take a look down Hang Gai or Hang Hom streets.  For a detailed list of what to buy in Northern Vietnam, check out our previous shopping guide blogpost.  Remember to bargain!
---
5. See the Long Bien Bridge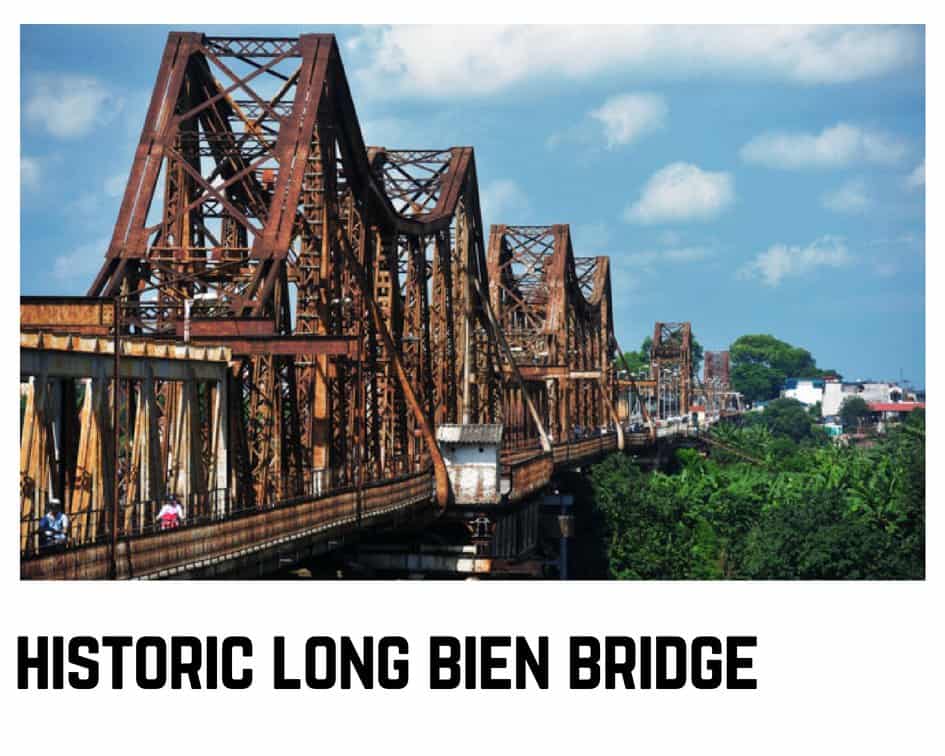 After a short afternoon stroll through the market, we recommend that you take a trip to Long Bien bridge before sunset.  Just a short taxi ride away from Hoan Kiem, this bridge connects two parts of Hanoi and goes over the Red River.  This bridge has a very interesting history – it was designed by Gustave Eiffel (of Eiffel Tower fame) and built by Dayde & Pille of Paris during the French occupation of Indochina.  It was at that point one of the longest bridges in Indochina and an architectural marvel.  Many parts of the bridge were destroyed during the Vietnam War and some of that damage can still be seen today.  Restoration efforts have been ongoing for many years, but the bridge has remained in use almost the entire time for small vehicles and pedestrians.
What's more interesting about this bridge is that the surrounding area is one of the poorest areas of Hanoi.  Impoverished people live on boats underneath the bridge.  Many of these people come from other parts of Northern Vietnam looking for work in this urban capital.  The lifestyle is unique and completely different from what you see in the centre of Hanoi or even elsewhere in Vietnam.  The best time to visit the bridge is just before sunset and then stay for sunset before heading back.  That way, you get to see some of the surroundings in daylight and then get some beautiful pictures of the sunset over the Red River.  It is a breathtaking sight in more ways than one, and a perfect way to round out your Hanoi experience.
---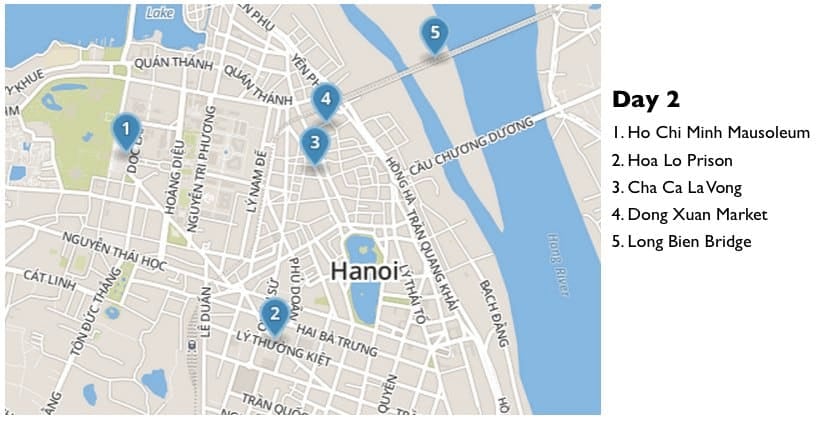 I hope you enjoyed this Vietnam travel guide by XO Tours.  We currently do not offer any tours in Hanoi, however, if you are in Ho Chi Minh City and would like to go on fun and unique city tour, please check out our "Sights" city tour.