Ho Chi Minh City, or Saigon as it's referred to by the locals, is a mecca for foodies, with a lot of must-eat restaurants. Many returning travelers may think they've tried everything there is to eat in Saigon however there are many memorable eating experiences that even seasoned Vietnam travelers and most locals don't know about. In this blog post, we've rounded up a few of the most unique dining experiences in Ho Chi Minh City, from Vietnamese fine dining establishments where you can't see the food in front of you to street food venues where you have to catch your own dinner.
Please note: we receive no compensation from any of the dining venues we mention in this article.
TABLE OF CONTENTS
(Please click on the links below to jump directly to the section you would like to explore)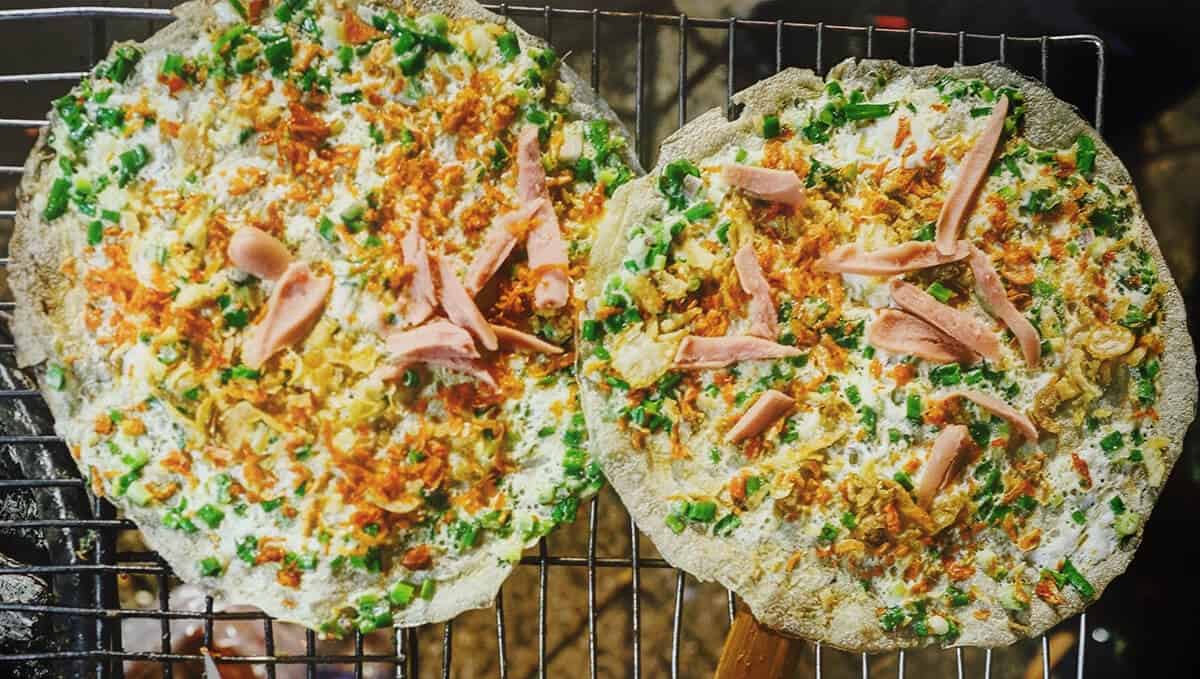 Dinner Cruises

Saigon is a city of lights, and watching all those bright lights shimmer and ripple on the water of the Saigon River is truly a sight to behold. The only better way to take in the sight other than being on the riverside is to actually get out on the water yourself, particularly if there is food involved! You can do just that by joining one of the many dinner cruises offered in  Ho Chi Minh city.

The dinner cruises in Saigon are generally 2-3 hours long and include entertainment. Guests will usually need to make their way to their chosen boat's departure point at a given time (often around 6:00 PM), although some dinner cruises pick the guests up at their hotels. Once there, they will be let on board and allowed to find a table where they will spend the evening. Protip, get there a few minutes early if you book one of these cruises. The cruise will very likely sell out, and you do not want to get stuck at a table next to the kitchen — especially since the kitchens for these cruises tend to be noisy due to space restrictions.

Once the boat is out on the river, dinner will be served. Some cruises, like Indochina Queen, have a set menu with table service. Others, like Bonsai cruise, have a buffet with several entree options, usually seafood-based. In either case, vegetarian meals are nearly always available because of Saigon's large Buddhist presence. The food offered on these Saigon dinner cruises is generally passable but is not the main reason most people book a dinner cruise.

The main attraction other than the serene, gorgeous view of the city is the entertainment. The river cruises put on shows with magicians, musicians playing traditional Vietnamese instruments, and other types of acts you won't find back home.

Some popular Saigon dinner cruises include:
Indochina Queen, $

Bonsai Cruise, $$

Saigon Princess Cruise Dining, $$$
Tickets for the cruises are sometimes available at the door, but we recommend booking online beforehand to ensure availability.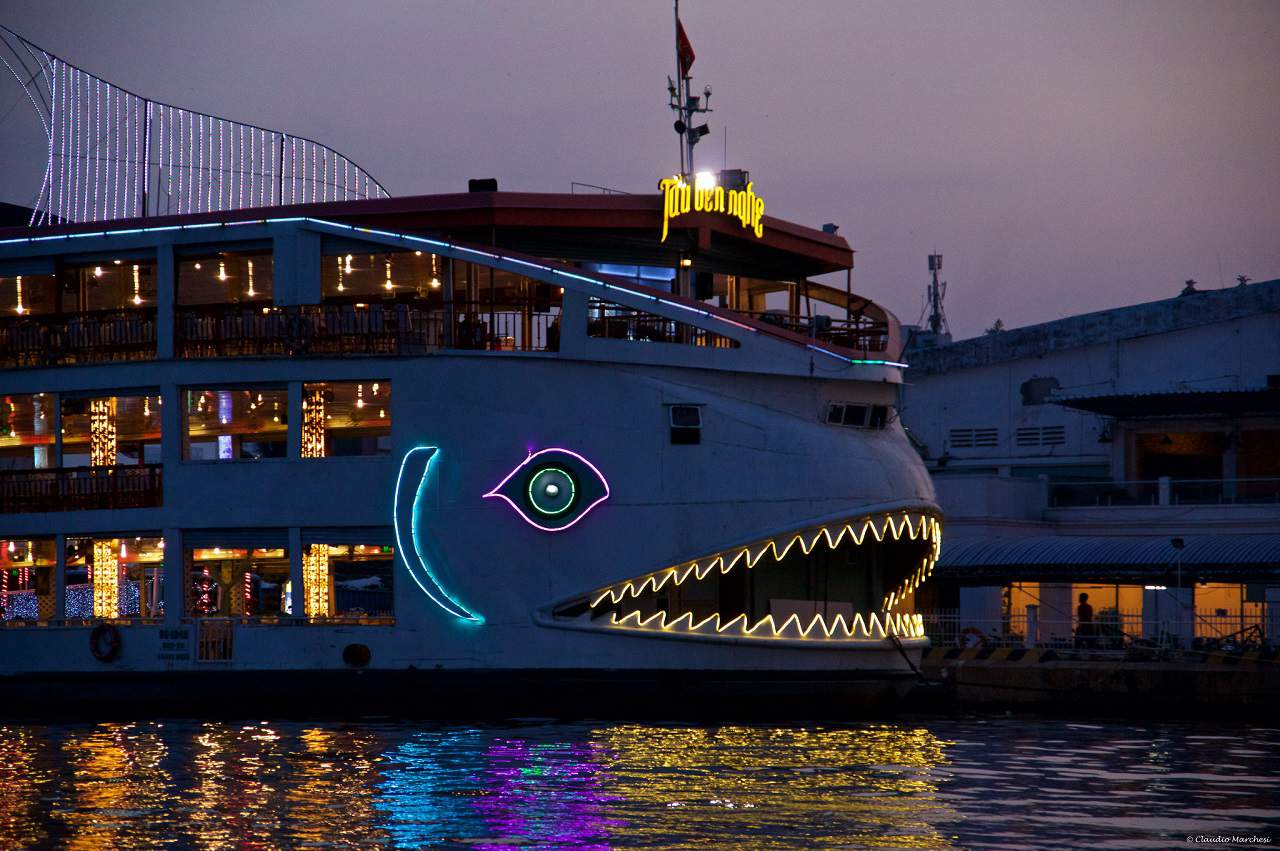 Rooftop Dining
Another great way to view the controlled chaos that makes Saigon so uniquely beautiful is by taking it in from above. And luckily, the city has a lot of fantastic rooftop restaurants that allow you to look over the bustling streets in style. A panoramic view is the best way for visitors to get a feel for the geography of this modern Asian metropolis. As an added bonus, the rooftop venues are usually much cooler since they are literally above the cramped avenues and motorbike fumes.
The rooftop restaurants collected in the table below not only offer a unique viewpoint of Saigon but they also generally have really tasty food.
| | | |
| --- | --- | --- |
| Name | Viewing Area | Notes |
| Breeze Skybar | Marina, Financial District | Colonial art-deco design gives it a cozy old-world charm. A great atmosphere for lunch. |
| Rex Rooftop Garden | Marina, Nguyen Hue Promenade | Bar open 24 hours. Great live music and a family-friendly vibe during the evening. Not as high as some rooftops. |
| Anan | Local Market, Bitexco Tower | A large menu and a unique view of an old wet market and modern skyscrapers |
| Shri Rooftop Lounge | Turtle Lake, Notre Dame | Kitchen run by notable Spanish chef Javier Gomez. An exciting atmosphere for dinner. |
| Pandora Sky Lounge | Tao Dan and 23/9 Parks | Discounts on food from 7:30-9:00 PM |
| Cafe Eon | All of Districts 1, 3, and 4 | Very expensive, but highest restaurant in Saigon (52nd floor) |
Rooftop bars are considerably more expensive than street food joints or even normal table service restaurants in Saigon. Keep in mind that the incredible views at these places are in high demand nearly all the time. Be sure to call and reserve a table in advance, and request to be seated at the edge of the roof.
Fish For Your Own Dinner
Freshly caught fish is simply delicious. It is even better when you catch the fish yourself. Combine that with the delicious herbs and spices that the chefs at these DIY fish restaurants sprinkle on the food before grilling or steaming them, and you've got a mouth-watering meal you just can't get at home.
These "leisure villages" are far from tourist attractions; they're hotspots for local families and friends to spend the day together. As such, the staff don't usually speak great English, but you can definitely get by with Google Translate or if you're willing to gesticulate in order to get your meaning across. They're relaxing, they're authentic, and they are a great way for people of all ages to have a unique dining experience together. They're also a great place to go if you want to have some fun activities to go with your food, since they have hammocks, swimming pools, and sometimes even live shows with traditional music or magic.
Two of the better locations for this unique experience are:
Nguyen Huu Tho street, located on the westernmost edge of the city (technically, it is just outside the borders of Saigon proper, in the suburban district of Nha Be). It is roughly a 25-minute drive from the center of district 1 without traffic. Two good restaurants for catching your own dinner on the street are "Vuon Thu Gian" and "Thap Nga.

"

Binh Quoi, an entertainment area built on a man-made island in Binh Thanh district that is a 20-minute drive northeast of district 1. Look for the venues called "Rach Dua," "La Vong Quan," and "Lang Am Thuc Van Hoa Tay Nguyen.

"
Regardless of which location you choose to visit, you will pay a bit more than at a traditional seafood restaurant — maybe $7-14 for a whole fish. The experience is distinctly Vietnamese, though, and it's worth paying a few extra dollars (or Vietnamese dong, as the case may be) for memories that will last a lifetime.
"Secret" Restaurants
Most of Saigon's best restaurants are part of the pulse-pounding hustle and bustle that characterizes the city, but there are also a few well-kept secrets that only locals or visitors who really do their research know about. Some are hidden down back alleys and others have no sign advertising their presence to passersby.
Staying under the radar gives the venues an intimate feel that makes you feel like a member of a private club. It's a feeling you won't find anywhere else during a trip to Ho Chi Minh City, since privacy and secrecy are two things sorely lacking in most of the city's culture.
Most of the "secret" restaurants took their design inspiration from speakeasies. They opted to keep the alcohol and the atmosphere but add an awesome food menu and a modern twist. They may not be great places for kids because of that, but they do offer a unique dining experience for adults.
| | | | |
| --- | --- | --- | --- |
| Name | Location | Price | What Kind of Meal to Expect |
| Alley50 | An alley in the marina district | $$ | Caviar-topped oysters and a cocktail |
| The Alley Cocktail Bar and Kitchen | An alley near Ben Thanh Market | $$$ | Spicy fried rice with a wine pairing |
| Urban Basement Craft Beer and Kitchen | The basement of a hotel, Independence Palace area | $$$ | A burger and a craft beer |
| El Camino Korean Tacos | Away from the street, a speakeasy style entrance near 30/4 Park | $$ | Tacos and a margarita |
Distinctly Vietnamese Experiences
There are some experiences that might seem positively pedestrian by Vietnamese standards but which are definitely memorable for visitors. A few of our favorites are:
Shellfish restaurants on Vinh Khanh
District 4 is known for fresh shellfish (or "Oc," as the locals will call them) and the marvelous Vinh Khanh Street is the hub for eating it streetside. Finding a place to eat shellfish once you arrive at the street certainly won't be difficult — there are dozens of shellfish places packed into the busy street — but it might be a little overwhelming if you are new to Saigon. Shellfish is also a food that can easily go bad if stored incorrectly, especially when it is kept on the sidewalk of a crowded street. So unless you are confident in your own street food appraisal skills, we'd recommend either "Oc Oanh" or "Oc Loan."
Before you even sit down, the experience will have cemented itself as a memorable one. The sheer number of people crowded onto low plastic stools and tables is a sight to behold. There are singers, musicians, sword swallowers, fire breathers, and dancers performing regularly on the streets in front of the restaurants.
Once you do sit, one of the waitstaff will dart deftly through the throngs of diners to hand you a menu. It will probably be in Vietnamese, and translations won't help much for most of the items. Luckily many of the menus have pictures and there are standbys like fried noodles with beef, steamed shrimp, and sauteed scallops if you are not sure what to order, but most of the items will be exotic shellfish ("ốc" or "sò") that we virtually guarantee you have not seen or heard of before.
DIY Barbecue
Saigon has a lot of barbecue places where customers pick raw meat and vegetables from a buffet and bring it to their table. The waiter or waitress then brings out a small portable grill, places it in the center of the dining area. The customers then cook the raw food they picked out to the amount of doneness they prefer. Customers can order rice, broth, or noodles to eat with their delicious barbecue. These BBQ restaurants are called "quan lau nuong," with "quan" meaning "shop," "lau" meaning "hotpot," and "nuong" meaning "barbecue."
This kind of outdoor DIY barbecue place is not seen in most western countries, possibly because it is generally against health regulations to give customers uncooked meat in an outdoor setting. So unless you are, again, an experienced street foodie, you may want to stick to "Quan Nuong 1/10" in district 4, "De Phat Tai" in district 8, or any other "quan lau nuong" with a lot of people eating there.
The most convenient way to explore uniquely Vietnamese street food venues like "quan oc" and "quan lau nuong" is to join an evening street food tour like The XO Foodie Tour. This acclaimed and popular tour focuses on introducing diners to memorable street food dining experiences. XO Tours has been working with the same handpicked restaurants for nearly a decade, which means you will be eating at the coolest places without risking sickness.
Dining in the Dark
Although the dining in the dark restaurant concept is not exactly new, Noir was the first restaurant in Vietnam offering this type of dining experience. When you arrive at Noir you will be instructed to don a blindfold and complete a puzzle wherein you fit nine differently-shaped blocks into nine corresponding holes. The puzzle is meant to transition guests from operating mainly on visual cues to instead focusing on tactile cues; it will help them with the meal ahead.
After the puzzle, each diner will be given 3 set menu options to choose from; Western, Asian, and vegetarian. Once each guests chooses which set menu they want, they will be led by a wait staff (who are all blind) to their table in a dining room that is completely dark. When everyone is seated, the waiter or waitress lets the guests know by guiding their hands where their eating utensils and drinking glass are. When the food is ready, the staff will set down in front of them a 10-course meal beginning with three starters, then three mains, and ending with four desserts. Although 10-courses may sound like a lot, the portion sizes are fairly small, so it's not a huge meal.
We recommend that everyone in a group orders the exact same set, so that each person can compare what they think they're eating with their dinner companions, and at the end of the meal, find out who was the most accurate. You'll actually be shown photos of your meal after you are finished, but having a little competition with the other members of your party during the meal is a good way to add to what is already sure to be a memorable evening. Eating at Noir will surely make you reevaluate the role of sight in your own dining process.
Noir is one of the most popular restaurants in Ho Chi Minh City, so we recommend making reservations in advance.  All of the meals are expertly prepared on par with the best fine dining restaurants in the city. Those who have been rave about the superior quality of the food as well as the unique and exciting dining atmosphere. 
Honorable Mentions
Su Su Waterfall Chicken

— Su Su's chicken is first bathed in a thick steam infused with onions, garlic, and other spices, like a delicious steam room treatment. The chicken is then run under "waterfalls" of boiling oil on a conveyor belt in order to cook it. It's the only place in the world that prepares fried chicken like this. In fact, the owner designed the machines himself and had them specially engineered. The process is fun to watch, and the delicious result definitely justifies the effort put into the preparation.

Com Nieu

— This famous "flying clay pot" restaurant was made famous by Anthony Bordain, who reviewed it years ago. The restaurant's rice is prepared in clay pots, which allows it to take in more flavor during cooking. The real fun begins when the rice is ready to eat, though. The chef smashes the clay pot, extracts the sticky rice cake that has been cooking inside, and literally throws it through the air to a waiter, who catches it on a plate and serves it to a diner. The place's popularity has spurned on the opening of a few locations. We practically guarantee you won't see rice prepared like this anywhere else in the world.
This guide of some of the most unique dining experiences in Saigon will no doubt spice up your trip to Vietnam — both literally and figuratively. Of course, Saigon is just as large as it is vibrant and colorful, and we're sure there are many other exciting eateries we do not yet know about. We encourage you to do some exploring on your own in addition to visiting some of our recommendations. And be sure to let us know in the comments section below if you find any unique dining experiences you want to share with your fellow Ho Chi Minh City travelers!