Ho Chi Minh City is truly a mecca for shopping enthusiasts!  Everything from handicrafts to imitation brand name clothes and shoes is available at a fraction of what it would cost overseas!  As tourism has increased over time in Ho Chi Minh City , so has the establishment of trendy boutiques that cater to a tourist crowd looking beyond the typical souvenirs.  However, you can find the same treasures in the many shopping areas throughout the city.  Our aim of this article is to guide you through your Vietnam trip.
Shopping in Ho Chi Minh City is a lot of fun but it takes a bit of skill and guidance to help you find what you're looking for at bargain prices!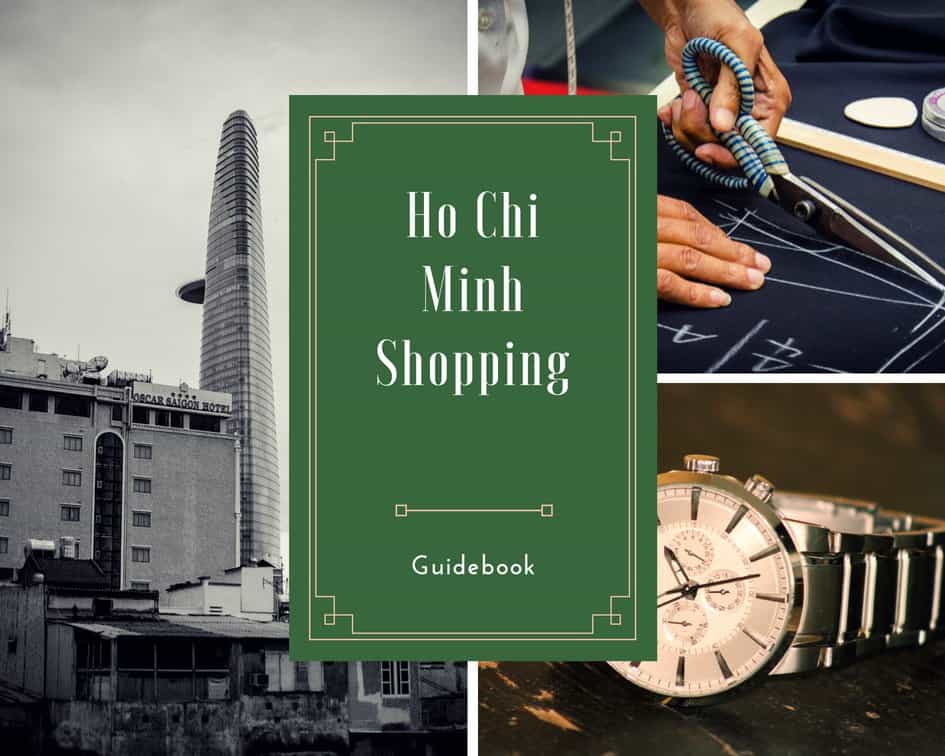 Shopping in Ho Chi Minh City:
(click on the list below to jump directly to the category)
Ho Chi Minh City shopping requires that you always bring Vietnamese Dong to pay for your purchases. Although there are more and more shops in Ho Chi Minh city that allow customers to pay by credit card, or even exchange currencies on the spot, you should always ask before making a purchase. If you're taking Vietnam tours up north, and you need shopping advice and tips, please check out XO Tours' Hanoi Shopping Guide
---
1.

CLOTHES
Vietnam is a manufacturing country so imitations of brand name clothes are generally cheaper than the suggested retail price!  You can find both high-end brand clothing and mall brands like American Eagle Outfitters, Gap, Old Navy and more while shopping in Ho Chi Minh City.  Many locals shop for clothing in the stores along Nguyen Trai street or at Saigon Square.  Keep in mind that there are 3 locations for Saigon Square (Saigon Square 2 & 3 are currently closed – update 2023) and, oddly, they have the same name!  Many people refer to the new location as Saigon Square 3.  All 3 locations carry similar items but Saigon Square 3 is cooler and more spacious than the original location. In international terms, Saigon Square is the equivalent of an Outlet Mall shopping experience; but you can bargain! This is a very popular option for tourists and expats alike.
Location of Nguyen Trai Street shopping
Location of Saigon Square 1


---
2.

SHOES
Ho Chi Minh City seems to have a specific street for everything, and shoes are no exception.  In fact, the city has two streets dedicated entirely to shoes!  As is the case with clothes, you will find great imitations of brand name shoes while shopping in Ho Chi Minh City. Be careful with the quality of these imitations as the heel or main body of the shoe may show wear and tear very quickly. You can find a list of shops selling authentic athletic footwear at the end of the video shown above.
Ly Chinh Thang street is lined with shoe shops which carry shoes in a variety of sizes and styles.  The other shoe street, Luu Van Lang is just outside of Ben Thanh Market and one block away from Le Loi street.  The shops on this street have more sports shoes and sandals whereas the shops on Ly Chinh Thang street carry more fashion shoes.
Location of Shoes Street 1 (Ly Chinh Thang)
Location of Shoes Street 2 (Luu Van Lang)

---
3.

HANDBAGS AND LUGGAGE
If you need to buy luggage to transport your newly purchased goods, visit Le Lai street between New World Hotel and Ben Thanh Market.  You will see an entire street of luggage shops with the most well-known brands such as North Face, Samsonite, and more!  Alternatively, if you need a fashionable handbag or wallet while shopping in Ho Chi Minh City, visit Saigon Square or Binh Tay Market in Cho Lon.  If you plan on using the handbag around the city, make sure the straps are secure enough so that you are not a victim of petty theft.
Location of Le Lai Street luggage shops
Location of Saigon Square 1
Location of Binh Tay Market in Cho Lon

---
4.

WATCHES
Yes, it's true, you can find excellent fake watches while shopping in Ho Chi Minh City!  Name the brand and you will find it!  Many of them are impressive imitations but you will have to feel the weight and inspect the metal on the watch to ensure that the quality is good.  Of course, Ben Thanh Market has countless stalls selling watches but expect to pay a hefty price.  If you have time to explore, check out Binh Tay Market at Cho Lon or the many small shops around the market for a better bargain.  Shop owners around the city buy their stock at this market at wholesale prices.  You can also go to Saigon Square 1 which also carry watches.
Location of Ben Thanh Market
Location of Binh Tay Market in Cho Lon

---
5.

HANDICRAFTS
Vietnamese handicrafts are very unique and intricate.  Vietnam is especially famous for lacquerware and coconut dinnerware.  Bowls, plates, spoons and chopsticks make great gifts and decoration!  You can also find fabulous fabric creations with patchwork and threadwork embroidery.  Or, if you prefer wood items, you might like the handcrafted wooden boats and figurines that are often sold at the markets.
The best place to find a huge variety of lacquerware at the best bargain prices is An Dong Plaza, near Cho Lon in Chinatown. We find that the choices for fabric and wood crafts are the best at Ben Thanh Market.
Location of An Dong Plaza
Location of Ben Thanh Market

---
6.

ANTIQUES
Try antique street (otherwise known as Le Cong Kieu street) just outside of Ben Thanh Market.  People have commented that the stores are riddled with imitations but you may find a diamond in the rough!  Items include old money, stamps, war memorabilia, figurines made of ivory or bone and more.  Be careful when buying "antiques" in Vietnam however as it is illegal to export real antiques out of the country.

---
7.

PAINTINGS
Ho Chi Minh City is home to many art galleries which host the most talented local artists.  However, for copies of famous pieces of art or for original paintings by lesser-known artists, visit the "painting street".  Like shoes, there are not one but two streets that are chock-a-block full of painting shops!  More locals shop at the painting stores in District 5 than the one in District 1, but you will surely find a great selection wherever you choose to go!
Location of Paintings Street 1 (Tran Phu Street, District 5)
Location of Paintings Street 2 (Bui Vien Street, District 1)

---
8.

FABRIC
Vietnam is often touted as the next custom tailoring capital of the world!  If you have time to tailor custom outfits, we strongly recommend that you visit 'fabric street' to find an excellent selection of cloth for your tailored creations.  Fabric street is located directly across from Tan Dinh Market.  You will find even better deals on the fabric inside the market, although the stores across the street have a wider selection of fabric types.  You can also visit Soai Kinh Lam material market in Cho Lon.  This is a wholesale market so the prices are cheaper and the choices are more abundant.  Tailors will charge less if you come with your own fabric but make sure you check with the tailor first with regard to how much material is needed for your garments.
Location of Tan Dinh Market 
Location of Fabrics Street (Hai Ba Trung)
Location of Soai Kinh Lam Material Market

Vietnam is a cash-based society, which means that there is no such thing as a fixed price.  You must absolutely bargain for the goods you wish to purchase. Remember that, in a market, there will be several stores that carry the items that you want.  Therefore, the best strategy in getting things at an appropriate price is not getting attached very quickly to what you want to buy.  In many cases, the owner will call you back if you walk away and agree on a reasonable price!  Use the following phrases to help you with your negotiations while shopping in Ho Chi Minh City!
---
Final Word of Advice:
Do you have a limited amount of time in Ho Chi Minh City? Looking for a for a one-stop shopping experience?
We recommend in order of importance:
Ben Thanh Market
Saigon Square
An Dong Plaza
Note: It pays to keep in mind that Ben Thanh Market, albeit convenient, can be much more expensive than the other markets due to its central location and frequency of tourist shoppers in search of the perfect souvenir. When shopping at Ben Thanh Market you should start with 40-50% of the original asking price and negotiate from there.  If the store owner does not lower the price, you can just as easily go to the next stall. In comparison, you should expect to get no more than 10-20% discount on goods that you purchase at Saigon Square. You will see more locals shopping at Saigon Square or An Dong Plaza.  Wherever you choose to shop, we are confident that you will be thoroughly impressed with what Vietnam has to offer.  We hope you have fun shopping in Ho Chi Minh City! If you find yourself completely knackered after the day and you are still looking for some adventure, consider our Vietnam massage guide.
Finally, if you're overwhelmed by the size of Ho Chi Minh City and want to make the most of your time, consider booking our popular "Sights" morning city tour, and our famous "Foodie" street food tour! You can learn more about both tours by visiting our homepage by clicking our logo at the top.